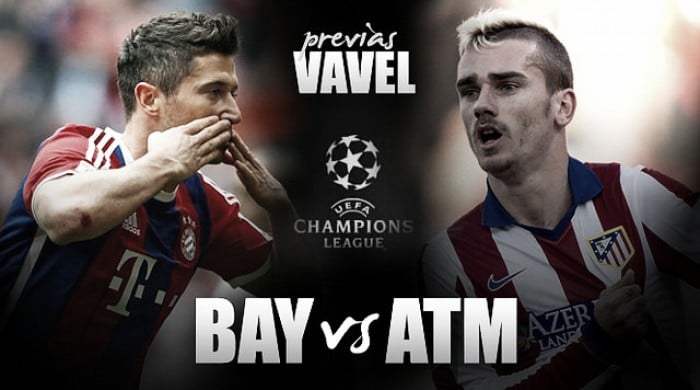 Pep Guardiola has won a Bundesliga title in every season that he's been in charge at Bayern Munich, and is expected to add another to his collection this year, and yet when all is said and done, his time at Bayern will be defined by what he accomplished in the Champions League. It might not seem fair, but that's what he signed up for when he took over Jupp Heynckes' treble-winning side.
When he managed Barcelona, he was credited with revolutionizing the modern game of football. He coached his team to trebles on two different occasions, and oversaw the rise of Lionel Messi as the greatest player in the world. Despite playing alongside world-class players like Samuel Eto'o, Thierry Henry, and Zlatan Ibrahimovic, Messi stood above all of them and became a poster boy for the Catalan's success.
Now, at Bayern Munich, he has come up short in the Champions League semifinals twice in a row, both times against Spanish opposition. A 1-0 deficit against Atlético Madrid, another La Liga team, threatens to extend that streak. With Guardiola Premier League bound next season, he is determined to go out on top and deliver a European trophy to the German giants.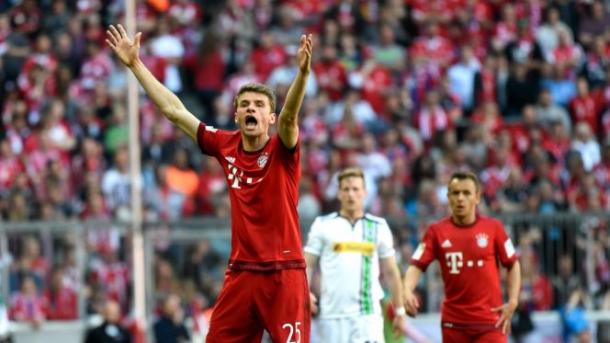 League campaigns
It must be said that Bayern Munich have not been as prolific in the Bundesliga as they have been in Guardiola's past terms. His previous sides clinched the league title with four and seven games to spare, respectively – the latter was done in record time.
This year, with two games left in the season, they had a chance to clinch the Bundesliga and focus all their efforts towards the Champions League but they could only draw against Borussia Mönchengladbach at home, keeping Borussia Dortmund in the race, even if they have an outside chance of winning. Fox Soccer also noted that it would've been the first time under Guardiola that Bayern won the league at home, but they squandered that chance.
Atlético's La Liga campaign, meanwhile, has been far more dramatic. At the start of the month, with Barcelona atop the table comfortably by nine points, it was unthinkable that anyone could catch up to them. Five weeks later, Atlético is right there with them with 85 points at the top.
In an effort to keep their winning streak alive, while hoping that a result goes against Barcelona, Atlético has grinded their way to 1-0 wins in their last three games. Rayo Vallecano were the last opponent to fall victim to the Rojiblancos, as Antoine Griezmann added another tally to his total. He has 20 league goals on the season and 29 in all competitions.
Injuries
A big part of Bayern's season has been injuries. The centre-back position, in particular, has been where they've been hurting with long-term injuries to Holger Badstuber and Jérôme Boateng which prompted them to pick up Serdar Tasci in January. They have Boateng back, but Badstuber will be missing for this tie. The injury bug has plagued wingers Franck Ribéry and Arjen Robben all season long, but while the latter is out for the season, Ribery was seen back in training ahead of this match.
Atletico have been healthier in comparison, but they've had their fair share of injury problems. They missed Diego Godin in the first tie yet still shut out Bayern Munich, which really speaks to their defensive acumen. Tiago and Yannick Carrasco have also picked up injuries recently, but their midfield and attack hasn't missed them. However, it was recently reported that Diego Simeone's squad will be at full strength for the second leg, which means that Godin could play yet.
Keys to victory
So what does each team need to do to advance to the Champions League final? For Atletico, they must stay disciplined and keep up their excellent play at the back. Defending for the entire match would be a mistake since that would invite pressure – Juventus tried to do that and failed. With just a one-goal lead in the aggregate, they must counter-attack with every opportunity they get, and in Fernando Torres and Griezmann, they have excellent speed on the counter.
For Bayern, they must pressure Atletico's centre-backs at all times. They are a very tough team to break down, and even though they only trail 1-0, it feels like 3-0. Dictating the tempo of the game will be crucial if they want to see out this result, and leaving Thomas Muller on the bench will be unacceptable.
Whatever happens, we will surely be in for an unforgettable second leg.