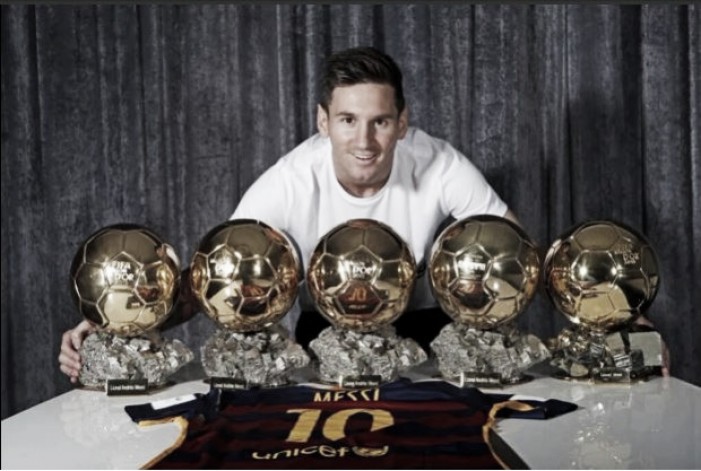 Lionel Messi beat Cristiano Ronaldo and Neymar to win his fifth Ballon d'Or on Monday but is the diminutive Argentine the greatest player of all time?
There have been many world class performers over the years but the general consensus is that Messi and Ronaldo are both in the group of candidates to be the best player ever. Players like George Best, Johan Cruyff, Ferenc Puskas and Alfredo di Stefano have been mentioned in the conversation but the two who are most often regarded as the best are Pele and Diego Maradona but has Messi now done enough to surpass them?
The candidates
Pele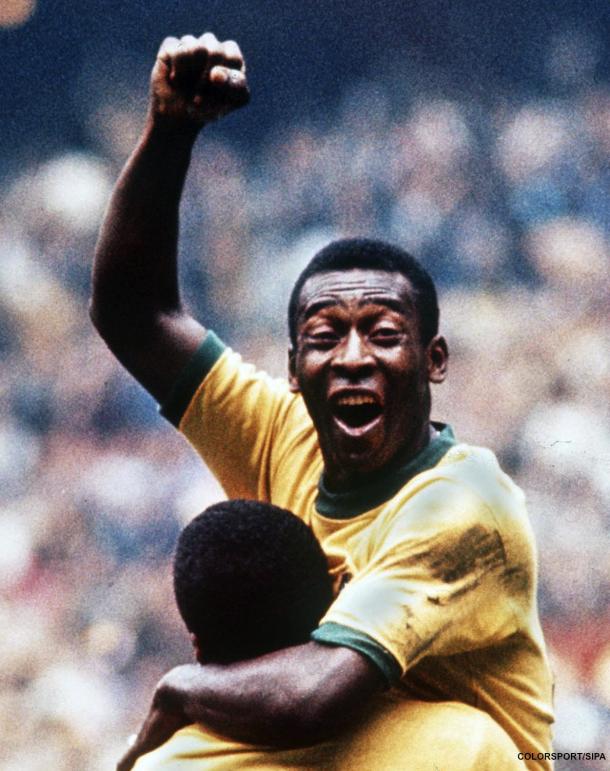 Pele was born in Tres Coracoes, Brazil in 1940. He played for several teams in his early years but moved to Santos as a teenager and made his first team debut as a 15 year old in 1956. His international debut came in 1957 but he announced his arrival on the world stage in 1958 when he became the youngest player to score in a World Cup Final with a brace in Brazil's 5-2 win over Sweden. Brazil retained their crown in 1962 but Pele got injured early on in the tournament and did not feature during the latter stages. Pele added another World Cup in 1970 as part of a team that was widely believed to be one of the best ever and once again he played a key role in Brazil's success.
Pele spent most of his club career with Santos where he won multiple trophies including back to back Copa Libertadores titles in 1962 and 1963. He left Santos in 1974 and had a short spell with New York Cosmos but he was past his best by this time although he still performed well and is credited with increasing the profile of football in North America. Pele scored 1281 goals throughout his career although many of these came in friendlies and exhibition games while on tour with Santos, as was common at the time. He still holds the record for most goals for the Brazilian national team with 77 goals in his 91 official caps. Many publications have named him as the best player of all time over the years and he is without doubt one of the games all time greats.
Diego Maradona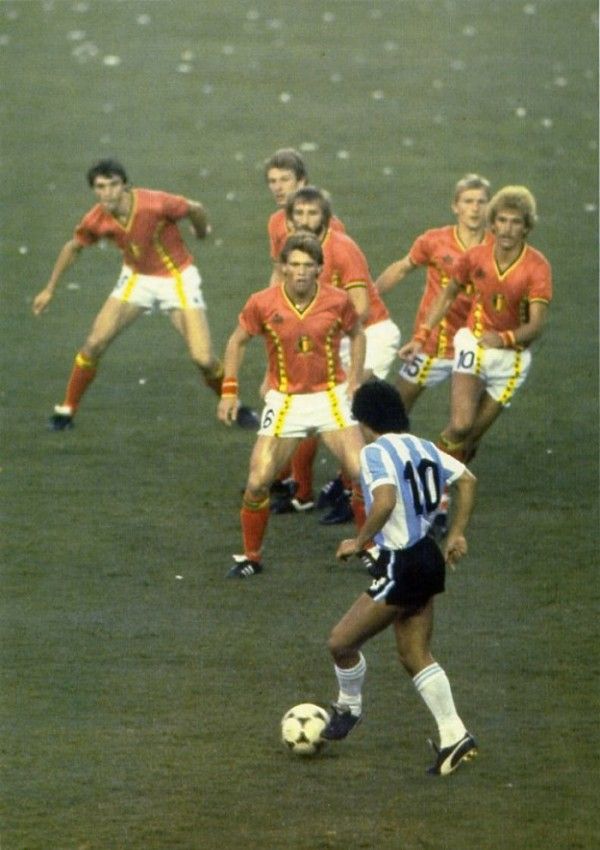 Maradona was born in Buenos Aires, Argentina in 1960 and began his professional career with Argentinos Juniors. He made his debut at 15 before making his international debut as a 16 year old in 1977. He was deemed too young for a place in Argentina's squad for the 1978 World Cup which they went on to win as hosts. In 1980 he moved to his boyhood club Boca Juniors before being signed by Barcelona for a world record fee of £5 million just after the 1982 World Cup. He helped the Catalan giants to Copa del Rey victory in 1983 but left just after the 1984 final when he was involved in an on the field riot after Athletic Bilbao had beat Barcelona 1-0. It was decided that would be his final game for the club and he signed for Napoli for another world record fee of £6.9 million. Maradona is still the only man to have been bought for a world record fee on more than one occasion.
It was during his time with Napoli that saw both the best and worse of Maradona on and off the field. He helped the club to two Serie A titles, a Coppa Italia and a UEFA Cup in his time there and he was also a Napoli player when he captained Argentina to victory in the 1986 World Cup. Maradona was sensational during the competition, scoring five and setting up five of Argentina's 14 goals including outstanding solo efforts against England and Belgium as well as the infamous "Hand of God" goal. Four years later he captained Argentina to another final although he wasn't as impressive and West Germany gained revenge for their defeat in the 1986 final. After that things started to go wrong for Maradona when he failed a drug test and was banned for 15 months for taking cocaine. He had spells with Sevilla, Newells Old Boys and Boca before eventually retiring in 1997 but not before he was sent home from the 1994 World Cup after failing another drugs test. They say there's a fine line between genius and insanity and Maradona is a prime example of this. At his peak he was on top of the world but he also had his own demons and in the end they got on top of him but he will still be remembered as one of the all time greats.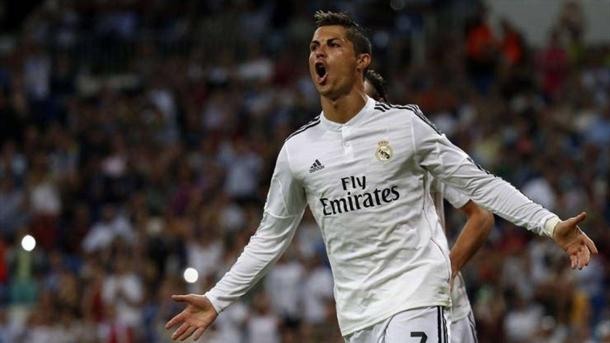 It's often said that the best players come along once in a generation but Ronaldo knows better than anyone that that isn't always the case. In almost any other period in history Ronaldo would have been the outstanding player of his time but unfortunately for him, and luckily for the rest of us, he and Messi were born just two and a half years apart. Ronaldo began his career at Sporting Lisbon in his native Portugal but moved to Manchester United as an 18 year old. In his early years at United Ronaldo was an out and out winger and although he was incredibly tricky and skillfil his decision making was often poor and his delivery wasn't quite up to the standard of David Beckham who had just moved to Real Madrid and fans were often less frustrated. However, Ronaldo has always had a tremendous work ethic and is said to have spent many extra hours working on his game and by the end of his six years in Manchester he had reinvented himself as a goal scoring machine. Naturally this brought much attention and he won his first Ballon d'Or in 2008 before moving to Real Madrid in 2009 for a world record fee of £80 million.
His goal scoring has continued in Madrid and he has now scored over 300 goals for Real and in less than seven seasons he is already the clubs record goal scorer. He won another two Ballon d'Or titles in 2013 and 2014 and finished runner-up to Messi again this year. Throughout his career Ronaldo has won four league titles (three with United and one with Real), two Copa del Rey's, an FA Cup and two Champions Leagues (one each with United and Real) and he has proven himself as one of the games greats.
Is Messi better?
It makes sense to start this with the one player we can fairly compare Messi to, his rival Cristiano Ronaldo. Between them Messi and Ronaldo have won the last eight Ballon d'Ors and in seven of those years the other finished runner-up (Andres Iniesta finished 2nd behind Messi in 2010). Together they have raised the bar of what it takes to be the best footballer in the world and the debate over which one is the better player has been ongoing ever since Ronaldo beat Messi to the Ballon d'Or in 2008.
Messi and Ronaldo are very different players. Messi's qualities are a lot more technical in that he is more likely to take on players and his range of passing is as good as any of the games top midfielders. He is also one of the games best goal scorers. Ronaldo's game, certainly in recent years, is based more on his physicality and scoring goals. While scoring goals is obviously a huge asset, Messi has often scored more than Ronaldo and it's really only been over the last few seasons that Ronaldo has took over Messi in that category and even then in the years since Ronaldo has moved to Real Madrid he has been outscored by Messi with their respective goal tallies standing at 350 for Messi and 338 for Ronaldo.
Ronaldo is a little older than Messi and after Messi's success on Monday it looks unlikely that by the time their respective careers are over he will have matched Messi's tally of five Ballon d'Ors. Many criticise such awards but the people who vote are all knowledgeable about the game and the fact they have voted for Messi over Ronaldo on five occasions must count for something.
Obviously it is difficult to assess individuals in a team sport but a part of that has to be how they fit into a team and in that area Messi really leaves Ronaldo behind. Messi is the perfect team player who has fulfilled several roles for Barcelona and Argentina in an attempt to get the best result for the team while Ronaldo has always demanded the starring role which is sometimes to the detriment of the team.
In terms of their success on the pitch Messi is well ahead of his rival with seven La Liga titles, three Copa del Rey's and four Champions Leagues. Some may try to put this down to Messi being in a better team than Ronaldo but that is a flawed argument as Real Madrid have always had world class players all over the pitch. The difference is while Real have built a team to get the best out of Ronaldo, Barcelona have used Messi in a role that will get the best results for the club and this is why he has collected more team and individual honours and there can be little doubt that Messi is ahead of his Portuguese rival.
It is more difficult to compare Messi to Pele and Maradona as the game has changed over the 60 years that their respective careers have followed. It is true that the quality of pitches has improved over the years and that modern players do get more protection than in years gone by but neither point is really strong enough to argue against Messi. Messi would have played on difficult surfaces in his early years and when it came to the big games for Pele and Maradona the surfaces were fine. Also Messi hasn't exactly had it easy himself in terms of dealing with rough treatment from opponents and he is often on the receiving end of some brutal challenges. To his credit, unlike many of today's players, he generally gets up and gets on with it instead of rolling around like a prima donna.
Another argument used against Messi is the lack of a World Cup victory. In 2006 Messi was a youngster just breaking into the Argentina squad and played a limited role as Argentina reached the quarter-finals before losing on penalties to Germany. In 2010 Diego Maradona's Argentina once again reached the quarter-finals before losing heavily to Germany. The 2014 World Cup was Messi's best showing to date and he performed well in the first five games as Argentina reached the last four. The semi-final was a tense affair against the Netherlands which Argentina won on penalties to set up another World Cup meeting with Germany. Messi played well in the first half of the game but once again it was the Germans who came out on top thanks to an extra-time goal from Mario Gotze which in the eyes of some denies Messi his place as the best player in the history of the game.
Is it fair to judge how good a player is on the outcome of one match? Of course it isn't. Especially in a game as tight and as tense as the 2014 World Cup final was. Winning a World Cup is an excellent honour but it doesn't make or break a player and modern football is a lot more club orientated than it was in previous generations. Nowadays top clubs sign players from all over the world with less restrictions than there would have been in Pele and Maradona's eras. Back then teams would have only had a few foreign players in their teams and international squads would have been made of players from their respective leagues with a few exceptions but now the top clubs are stronger than international teams and Messi has had no shortage of success in the Champions League which is now the most difficult tournament to win in football.
Another factor that favours Messi is modern football is a lot harder than it was in years gone by. Diet and fitness levels are much better than they would have been in previous eras and everytime he steps on the field Messi is going up against professional athletes in peak condition. Much is made of the lifestyle many players used to enjoy and Maradona is a prime example of a culture where players were indulging in many vices off the field.
Football clubs have really embraced technology over the last 20 years and the training methods have been tested time and time again and at the top level there is nowhere to hide. Despite all this Messi still outshines everyone around him in this era and it is the opinion of this writer that Messi is playing at a higher level than anyone else has ever achieved. Whether Pele, Maradona or anyone else for that matter would have been able to embrace modern methods and still perform better than their rivals is a debate for another day but the reality is Messi is doing this in an era when he can't get by on being quicker or stronger than everyone and for that reason he deserves to be recognised as the best player of all time.
How long can he keep it up?
Messi has been playing regularly for Barcelona for about 10 years now and it has often been the trend that those who play a lot of football in their teens will suffer for it later on in their careers but at 28 years old there have been few signs of decline. Usually a player will start to slow down as they get older and while Messi has never been the kind of player to chase through balls he does rely on a burst of pace when he's dribbling that has left many opponents trailing in his wake. At some stage that burst will leave him but he does have the tools to adapt his game when that day comes.
As already mentioned Messi's passing is as good as anyone's but perhaps even better than that is his ability to spot a pass that nobody else has seen. There are few more intelligent footballers around than Messi and while everyone watching sees an opening, Messi sees something else and before you know it the ball is in the back of the net and the defence are left wondering what happened. Ability like that should see Messi continue at the top level for many years, albeit in a slightly different role but there is no reason why there can't be more Ballon d'Or success for the greatest player ever to play the game.