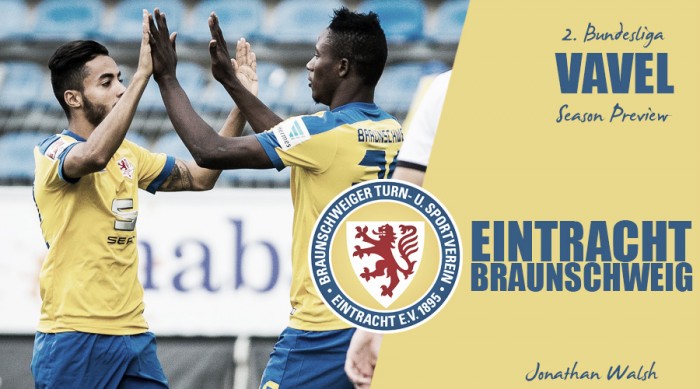 After a tumultuous, testing season last time out, Eintracht Braunschweig are hoping to bounce back in style and return to the very top end of the 2. Bundesliga table.
Torsten Lieberknecht will be desperate to see the Lions hit the hights the did during the promotion campaign not so long ago, especially with the promotion race wide open.
The quality is there, but can Braunschweig produce it on a regular basis to overturn the top teams and do it on a regular basis?
Plenty of promise, nothing to show for it
When you come out of the season with the third best defensive record, normally you would expect to have kept pace with the leading pack in terms of promotion. This was not the case for Braunschweig, who finished 19 points from third place and a play-off berth. Why? A lack of goals. Only Karlsruher SC scored less out of the other top 10 teams.
Goalscoring was a problem but before the winter break they were sandwiched in the promotion battle, just four points behind 1. FC Nürnberg in third. That gap eventually widened by a further 15 points, a quite frightening statistic. Alongside the fact that they won just four games following, the top teams maintained incredible consistency.
The loss of Emil Berggreen hit harder than expected, as the goals and points dried up. The positive, however, is that the team knows they can do better and won't settle for another campaign like the one past. One thing is for sure, their manager certainly will not stand for it; he will be pushing to get back into the Bundesliga.
Time to get back into the top six
Having recorded their joint-lowest finish in the four years that Lieberknecht has been managing Braunschweig in the 2. Bundesliga, he will be targeting an improvement on that. Their squad is, arguably, one of the best in the league and having Saulo Decarli, Joseph Baffo and Marcel Correia as the starting centre-backs is a credit to their recruitment.
Combine that with Rafal Gikiewicz and the base is there to build from; especially with Phil Ofosu-Ayeh and Ken Reichel running amok at wing-back. It is up to those ahead to deliver this year, with profligacy simply unavoidable in what could prove to be one of the tightest and hotly-contested promotion races to date.
Whether or not they can make the Eintracht-Stadion the fortress it has been in seasons past once again could be key, and their raucous home support will most certainly give them their full support. A top six finish, top three even, is well within this squad's capabilities; it is more a question of if they can produce the goods, not can they.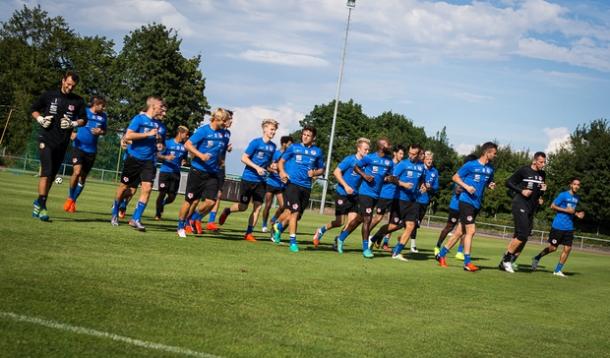 Abdullahi headlines new arrivals
After the struggles that followed from Berggreen's departure, it was inevitable that the front-line would be strengthened. Phillip Tietz has been afforded a professional deal at the club and looks set to provide a leading role among the bench players, and Onel Hernández - from VfL Wolfsburg II - could do similar off on the right-hand side.
Quirin Moll, another free transfer, had a very solid campaign during Dynamo Dresden's run to promotion and will be relishing the chance to do similar with Braunschweig.
Julius Biada seems to be a very promising free transfer from SC Fortuna Köln. The 23-year-old signed a three-year deal this summer and showed the potential that saw him trained at Bayer Leverkusen and Schalke. After failing to register a scorer point in the 2014-15 campaign, he managed 13 goals and 11 assists last term from attacking midfield.
The star signing was that of Suleiman Abdullahi, who arrived for over €1m from Viking of Norway. The Nigerian youngster has shone in pre-season and the fact that he leaped above the legendary Paul Breitner to become the club's most expensive signing says all you need to know about how highly he is rated; all signs point to good things from him.
Holtmann heads for Mainz, Pfitzner and Vrancic also depart
The main man, in terms of form, left the club this summer to head for pastures new and 1. FSV Mainz 05. Gerrit Holtmann's short stint in the second tier was fruitful and remarkable at the same time, as he took to the division like a duck to water. His fee more than covered that of Abdullahi's, and he can not be questioned for making the move.
In terms of other players leaving, Mads Hvilsom has been sent on loan - once again - to try his hand with Esbjerg fB. Damir Vrancic and Marc Pfitzner were not offered new deals and instead emotional farewells from the club they helped bring through the divisions. Promising young forward, Julius Düker has also departed for 1. FC Magdeburg.
Aside from Holtmann's departure, it is very much the same Braunschweig side that Lieberknecht had at his disposal last season. That should bode well for team morale and continuity, with the new signings adding further depth to that. However, will they be able to account for Holtmann's loss? Only time will tell.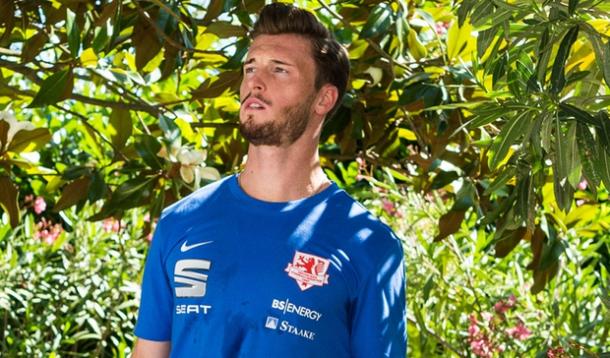 Brilliant build-up for Braunschweig
Overall, the friendlies couldn't have gone much better from a Braunschweig perspective. There were no 10+ winning margins like the majority of the league, but they have played some pretty tough teams and came out with some very promising results; this can only bode well for the upcoming season.
That began with a comfortable win over a select XI, before a follow-up 3-0 triumph over Eintracht Northeim. Danish outfit, Odense BK were up next and Abdullahi continued his scoring form to earn a draw. Their game with Hessen Kassel ended 0-0, with two wins coming against Bohemians and Waldhof Mannheim next.
Pre-season results in full
Eintracht Braunschweig 9-1 BZ-Stadtauswahl: Tietz (30'), Moll (32'), Omladic (39') Khelifi (45'), Abdullahi (59'), Zuck (60', 65'), Hochscheidt (66'), Kumbela (81'); Gehde (23').
Eintracht Northeim 0-3 Eintracht Braunschweig: Zuck (28'), Kumbela (66'), Abdullahi (71').
Eintracht Brauschweig 3-3 Odense BK: Abdullahi (39', 57'), Biada (85'); Festersen (35'), Jönsson (49'), Yao (71').
KSV Hessen Kassel 0-0 Eintracht Braunschweig.
Eintracht Braunscwheig 2-1 FC Bohemians: Hochscheidt (12'), Abdullahi (45'); Cizek (65').
SV Waldhof Mannheim 2-7 Eintracht Braunschweig: Koep (30'), Sommer (45'); Abdullahi (1'), Hernandez (11'), Omladic (49', 54', 76'), Tietz (68', 81').
Eintracht Braunschweig - SC Bastia: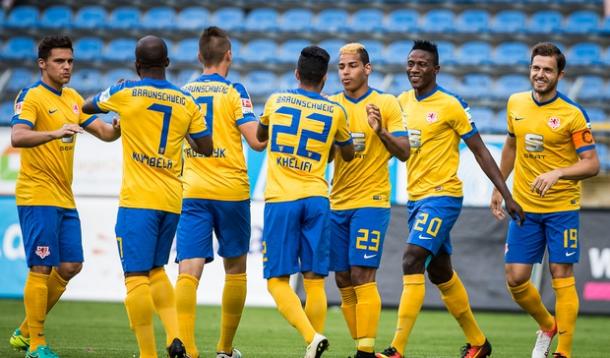 Attackers need to excel
Even just going by pre-season, it looks like Abdullahi could be the difference maker in Eintracht's line-up. Six goals in six games represents regular goalscoring, something that was sorely missed when Emil Berggreen moved to Mainz during the winter transfer window. They may have a fight on their hands to keep their new Nigerian forward.
Alongside Abdullahi, Salim Khelifi is another man that big things are expected of this season. The Swiss winger starred on the opposite wing to Gerrit Holtmann, and it will be interesting to see whether or not he can handle the pressure of being Braunschweig's chief chance creator. Nevertheless, he will be desperate to pick up where he left off.
However, it must be taken into consideration that the Lions have more strings to their bow than just the above duo. Nik Omladic and Jan Hochscheidt can both be difference makers when it comes to going forward, while young Phillip Tietz will be hoping to skip over Domi Kumbela and Orhan Ademi in the pecking order for Abdullahi's back-up.
Lieberknecht's consistency continues
In what will be his eighth full season at the head of Braunschweig, Lieberknecht will be hoping his team can continue to put in the dogged performances that they usually do, week in, week out. He will be hoping that this can translate into more points, as the Eintracht-Stadion outfit are more than capable of earning promotion.
The 42-year-old switched from Braunschweig's usual 4-4-2 during the last few years to an unorthadox 3-3-3-1 formation. That led to many questions being asked as to what he was doing, changing a winning formula. However, it still secured a finish that Lower Saxony side could be proud of; they still haven't finished lower than eighth in the second tier.
This year, with more experience of it under their belts, things could finally come together. The Lions could take advantage of the tightly bunched competition behind VfB Stuttgart in the race for promotion. With the new additions to add a little more depth, it could be Braunschweig celebrating a Bundesliga return come May.