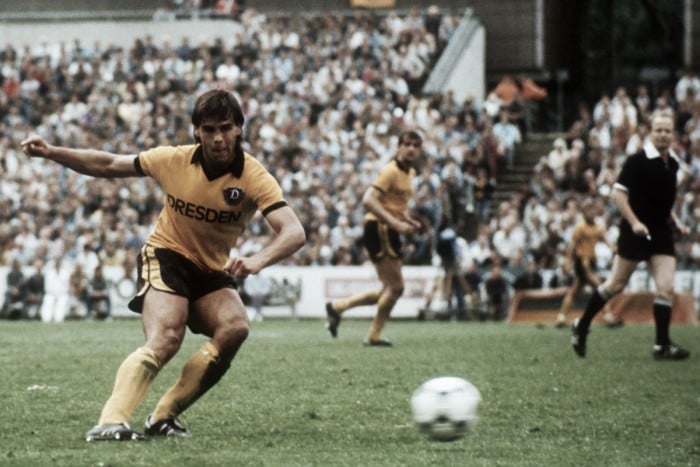 Twenty-six years ago in 1990, Germany became reunified following the fall of the Berlin Wall, and the state of East Germany was no more. Former Soviet Union statesman Mikhail Gorbachev had started to rebuild the social and political structure – whilst his politics arguably led to the reunification of Germany. Hungary and Czechoslovakia relaxed their borders and during 1989, more and more East Germans flocked to the West German embassies in Prague and Budapest, seeking political asylum.
The history of East Germany and reunification
During the same time, the ruling Socialist Unity Party (SED in Germany) were celebrating their 40th anniversary – but were met with tens of thousands of demonstrators demanding change. Army, police and the secret police (Stasi) dispersed the crowds, but in a matter of days, the demonstrators were back in numbers.
Erich Honecker was forced to step down from the SED and within a matter of days, crossings between East and West Germany were open – although it would be another 11 months before reunification on November 9, 1989.
Prior to the fall of the German Democratic Republic (GDR), East German football had lagged behind that of the west. Dynamo Dresden had started out as Deutsche Volkspolizei Dresden (a police affiliated club) who were founded in 1953 and connected to the "Sportvereinigung Dynamo" under the leadership of Ministry for State Security (Stasi).
To get a sense of what football in East Germany was like – the Guardian split the teams into four categories in order to get a better understanding:
Dynamos: Dresden and Berlin were the biggest clubs with the Dynamo prefix, and these were connected to the secret police. Erich Mielke (Head of the Stasi), was a powerful and ruthless leader, and so players didn't really have their say.
Vorwärts: Clubs such as SV Vorwärts der KVP Leipzig (now 1. FC Frankfurt (Oder Brandenburg)) and ZSK Vorwärts Berlin were ran by the Ministry of Defence.
Clubs such as FC Magdeburg and FC Carl Zeiss Jena which had no affiliation with secret organisations.
Working teams such as Turbine Potsdam and Rotation Babelsberg.
Football was a much loved sport in East Germany, and one that was well attended. Helmut Schön – a World Cup winner in 1974 – started out at SC Dresden which would then become SG Dresden-Friedrichstadt in 1946. Just four years later, Friedrichstadt met Zwickau at home, in what would be a play-off for the championship in the GDR. Attended by over 60,000 people, Friedrichstadt took the lead but it was Zwickau who recorded a 5-1 victory which caused uproar as the winners were known as an 'artificial' club.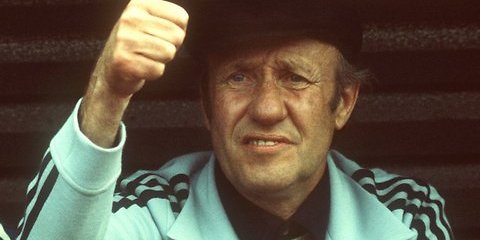 Just weeks after this loss, orders came from above to dismantle SG Dresden-Friedrichstadt and send their players to BSG Tabak Dresden – a tobacco factory team.
Relocation, relocation, relocation
Then came the formation of Deutsche Volkspolizei Dresden. After being robbed of SG Dresden-Friedrichstadt in the football-mad city, Dresden finally had a team again. There's an age old saying that politics and football should not mix, but ultimately, they do.
Seventeen players from 11 different cities were delegated to Dresden – which would form the nucleus of the newly-found club. Just three years after the formation, in 1953, that team won the East German title – which would be the birthday of SG Dynamo Dresden.
Mielke heard the news that Dynamo Dresden had clinched the title from his office in Berlin. With no prestigious football club in Berlin, Mielke announced that the players from Dynamo Dresden would move to the capital and become Dynamo Berlin in November 1954. Whilst they had lost the majority of their title winning team, all that Dynamo Dresden had left was its youngsters, who would play in the second division. Dynamo Dresden did not return to top flight football until 1962.
Hovering around mid-table scrutiny, Dynamo Dresden finally made their comeback during the 1970s, winning five titles (1971, 1973, 1976, 1977, and 1978). Dresden loved its football. Every match would see attendances of around 25,000. Whilst other clubs in the DDR-Oberliga would be lucky if they saw 10,000 fans per week. To this day, the population of Dresden are fanatic about their football club and extremely loyal to their colours.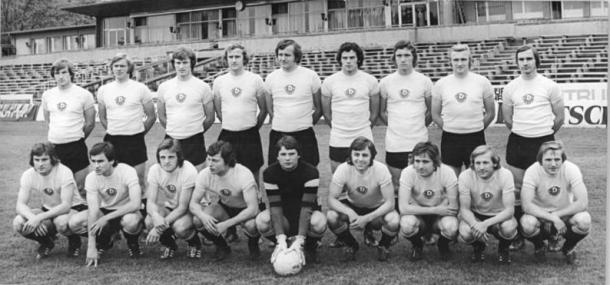 East Germany slowly but surely got the following and respect they deserve. Dynamo Dresden produced players such as Ulf Kirsten and Torsten Gütschow – both of whom were named East German Footballer of the Year. The most notable Dynamo Dresden player is Matthias Sammer – who played for the club from 1985 to 1990, during which he earned 23 caps for East Germany, before going on to making 51 appearances for Germany – winning the European Championship in 1996 - following the reunification. Sammer was also named European Footballer of the Year in 1997 following his performances for both Germany and Borussia Dortmund.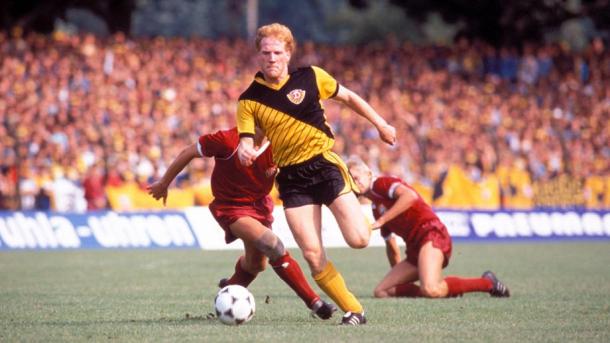 Believe it or not, Dynamo Dresden made the 1988-89 UEFA Cup semi-finals, where they were knocked out to runners-up Stuttgart.
The 1990-91 season would be the last for GDR football. Dynamo Dresden were combined into the Bundesliga where it was decided that the top two teams in GDR football would be included – the other being Hansa Rostock.
There was a genuine hatred between East and West German teams. When playing in the west, Hansa Rostock and Dynamo Dresden would be met with a chorus of 'Put the walls back up'. Whilst there was no physical barrier between East and West German teams – there was a physiological one.
Whilst playing in the same league, East German clubs lagged far behind those of West Germany. Dynamo Dresden lost both Kirsten and Sammer to Bayer Leverkusen and Stuttgart whilst they lost another three starters to Fortuna Köln. Agents descended on Dynamo Dresden and before they could react – they were DM16 million in the red. Paying outrageous sums for average players and shady sponsorship deals, Dresden finished the 1994-95 Bundesliga season in last place and to heap more misery on the West German club, the DFB declined Dynamo Dresden's licence application for the second division, thus demoting them to regionalised amateur football. If it hadn't been for Hansa Rostock's promotion, the Bundesliga would be completely made up of West German teams.
To this day, Dynamo Dresden have yet to return to the top flight. From competing in leagues such as Regionalliga Nordost, Oberliga Nordost-Süd and Regionalliga Nord, Dynamo Dresden finally ended a three year stay in the 3. Liga with promotion to the 2. Bundesliga in 2011.
Despite all of this, the loyal Dresden population followed their side through both good and bad.
Dresden relegated yet again causes uproar
After flirting with relegation back into the 3. Liga in 2014, Dynamo Dresden went into the final league game against Arminia Bielefeld needing a win in an all-or-nothing game, with both clubs level on points. Fabian Klos opened the scoring for the visitors that day before things got worse for Dresden, as Cheick Gueye saw red for a second-bookable offence. Klos netted the second for Bielefeld but a comeback from Dresden saw Mickael Pote and Robert Koch equalise for the hosts. Hearts were broken in the 86th minute when Kacper Przybyłko scored the winner for Bielefeld, breaking the hearts of Dresden supporters.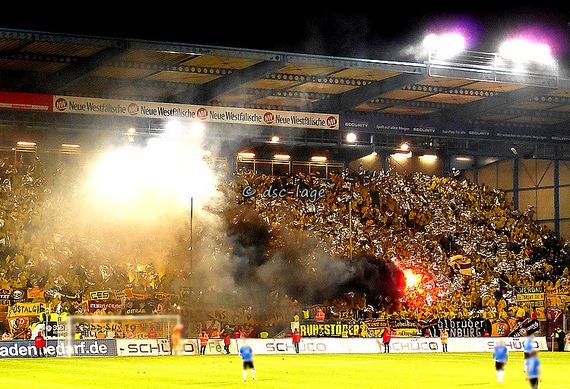 Following relegation, there was a "sense of tension" around Dresden as Dynamo fan Ludwig Uhlmann recalls. "After relegation, fans held aloft a banner of which said 'You've got one hour to leave this city'," said Uhlmann. "We call this problem 'Category C'.
"It was a big depression in the city after three years in the 2. Bundesliga."
Life in the 3. Liga meant that Dynamo Dresden had the chance to rebuild. Financially, relegation to the third tier could have spelt disaster for Dresden – who were operating on one of the smallest budgets, despite being one of the most supported.
In 2014, the City Council of Dresden agreed in principle to offer financial support to Dynamo Dresden, of which a percentage was used for the upkeep and running costs of the state-of-the-art Rudolf-Harbig-Stadion. Even with a struggling team, ticket sales continued to increase with fans possessing a die-hard love towards their Dynamo Dresden.
Dresden finally a club doing things the right way
Between 2014 and 2016, Dynamo Dresden underwent change. The East German club had a fairly large contingent of French players which included the likes of Idir Ouali (now at SC Paderborn 07), Lynel Kitambala and then captain Romain Brégerie (now at FC Ingolstadt 04). Whilst they were brought in for a low sum, they didn't know the meaning of playing for a club like Dynamo Dresden.
March 2014 saw the arrival of former player Ralf Minge as Director of Sport. Growing up in East Germany and spending 11 years as a striker for the club, Minge knows the ideology of Dynamo Dresden – and has been the key man in the transformation on their return to second division football.
Minge had spent time managing Bayer Leverkusen's second team whilst also spending a year managing the German Under-20s. Using his contacts wisely, Minge has recruited players from fourth division sides and players from U23 Bundesliga clubs, such as Quirin Moll from SpVgg Unterhaching and Luca Dürholtz from Bayer Leverkusen II. Niklas Kreuzer arrived from Rot-Weiß Erfurt whilst Dynamo Dresden's leading goalscorer in their promotion winning 2015-16 campaign Justin Eilers arrived from VfL Wolfsburg II. The 27-year-old has netted 21 goals in the 3. Liga, creating a partnership with Pascal Testroet (18 goals), who Minge signed from Arminia Bielefeld.
From overrated French players to bringing youngsters through their academy, Minge is the brains behind the club in its current state. Dynamo Dresden finally secured their return to the 2. Bundesliga with a 2-2 draw away at local rivals FC Magdeburg. It was of course Eilers and Testroet who overturned a two-goal deficit to confirm promotion back to the second division after a two year absence.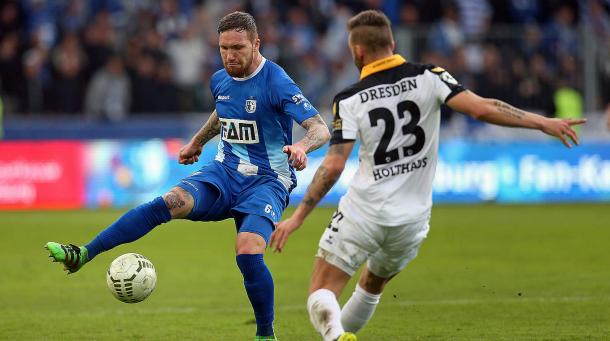 Despite Eilers and Trestoet scoring the goals, it's been local boy Marvin Stefaniak who has gained all the plaudits from fans. Developed through the Dynamo Dresden youth academy, the U20 German international has recorded over 20 assists this season, and with a long-term contract – fans expect Stefaniak to remain in Dresden for a long time to come.
The restructure of Dynamo Dresden is a "sense of relief," says Clemens Berger, a lifelong Dynamo Dresden supporter. "There is also a feeling that this could be the start of a new successful era."
Dynamo Dresden is a club steeped in tradition since its formation in 1953. Being one of the most supported clubs in East Germany, it can only be a matter of time before this iconic club is finally rewarded with a return to the Bundesliga. With no debt on their books and a Director of Sport who has the clubs best interest in his heart, Dynamo Dresden has the core to become the club it once was.
____________________________________________________________________
VAVEL would like to thank Clemens Berger and Ludwig Uhlmann for their time to talk about Dynamo Dresden.