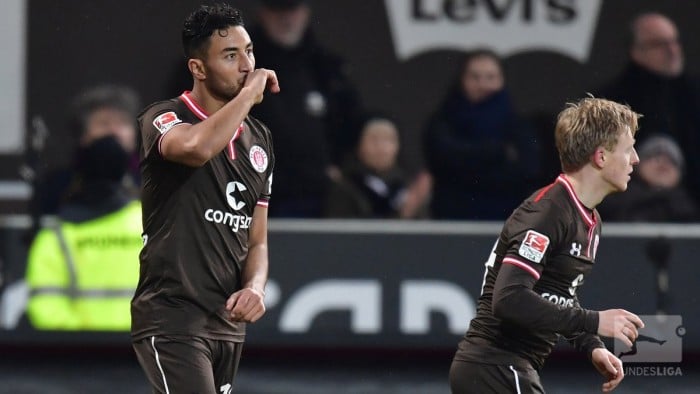 A hat-trick from Aziz Bouhaddouz followed goals in either half from Mats Möller Daehli and Waldemar Sobota, as St. Pauli earned an emphatic 5-0 win over Karlsruher SC.
Team news
Following their gut-wrenching last-minute draw with Arminia Bielefeld last weekend, Ewald Lienen made two changes in the hope of getting three points under the floodlights. Sören Gonther and Mats Möller Daehli came in for Lasse Sobiech and Johannes Flum.
As for Karlsruhe and Mirko Slomka, sweeping alterations were made in a bid to turn things around following their 2-1 defeat to 1. FC Union Berlin last time out. Bjarne Thoelke, Hiroki Yamada, Grischa Prömel and Dimitrios Diamantakos in for David Kinsombi, Enrico Valentini, Franck Kom and Jimmy Hoffer.
Möller Daehli in charge
The return of Möller Daehli was greeted warmly by St. Pauli fans and he took just a few minutes to show why. A ball into his feet on the edge of the area saw him turn his man before bursting away from Thoelke. The Norwegian then took aim but fired over from 12 yards out.
Marc Hornschuh would test Dirk Orlishausen moments later, though his header was comfortably gathered by the KSC captain in an early flurry of action from the hosts. Karlsruhe had opportunities of their own to come forward in the first 10 minutes but a fine block and some brave defending kept Stefan Mugosa at bay.
It was no surprise that they game would have an early goal, and the man who made it would come as no shock either. Enver Cenk Sahin's initial touch to bring the ball under control was somewhat fortunate, but his pace to get in on goal was anything but. His curling effort clipped the post and Möller Daehli was on hand to tap-in the rebound.
Moritz Stoppelkamp tested Philipp Heerwagen's reactions out immediately afterwards, though the St. Pauli stopper was equal to the winger's spectacular 25-yard volley. St. Pauli were close to breaking through on several occasions, though Karlsruhe were on their toes to intercept their cute passes before they set Aziz Bouhaddouz free.
Karlsruhe found it hard to live with St. Pauli's press and play in general, though the hosts still had to survive a few heart-racing moments. Come half time, the Hamburg-based club had a deserved lead.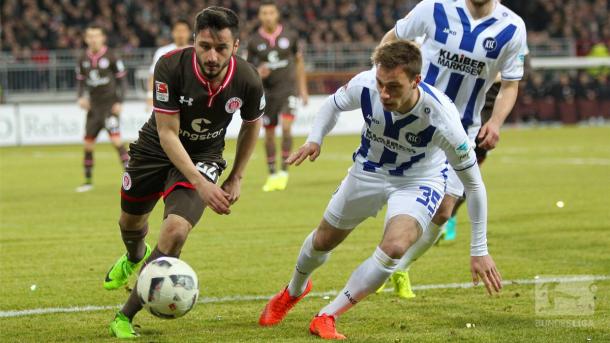 Cenk Sahin and Bouhaddouz steal the show
There was one change at the break as Charis Mavrias replaced Dennis Kempe, but there was no change in the flow of play. Instead, they almost found the second goal that had eluded them in Bielefeld a week prior. Christopher Buchtmann's free-kick was met brilliantly by Bouhaddouz, though his header came back out to safety off the bar.
However, St. Pauli would not be denied and that crucial second arrived just five minutes into the second half. A wonderful run from Cenk Sahin again proved to be key to unlocking the all-at-sea Karlsruhe defence. His marauding drive down the right saw his cross parried by Orlishausen, and Sobota was able to force the ball in from four yards.
Two became three just 120 seconds later as the visiting defence fell apart. Another moment of individual class proved to be their undoing, however, as Sobota returned the favour for his team-mates as his cross to the back post was on a plate for Bouhaddouz. The Moroccan dived for the ball and got there, finishing off a fine move.
Just when things appeared to be settling down and Karlsruhe were on the attack, St. Pauli heaped further woe on Slomka's side. A long clearance was brought down by Jordi Figueras but he was dispossessed instantly by Bouhaddouz. He exchanged a one-two with Cenk Sahin and the Turk cut back to Bouhaddouz to tap home past Orlishausen.
Karlsruhe finally did steady themselves and had chances to get back into the game, yet Diamantakos found Heerwagen in determined mood. He twice denied the Greek, before coming to punch away a dangerous free-kick before any of the visitors could pounce on a potential loose ball.
Instead of a consolation, it would be St. Pauli who added the final goal of the game and Bouhaddouz who got it. A long ball over the top found him in space and a strong run into the box looked to be followed by a pass to Lennart Thy. That was blocked but Bouhaddouz stayed calm to chip over Orlishausen from close range to rubber stamp the result.