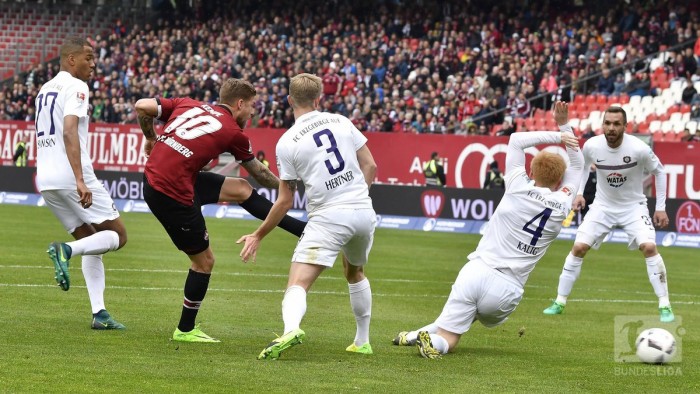 Cedric Teuchert's 82nd minute winner for 1. FC Nürnberg gave them a hard-fought 2-1 win over a stubborn Erzgebirge Aue on Saturday afternoon. Mario Kvesic's stunning free-kick had levelled after Tobias Kempe's opener, though Domenico Tedesco's men couldn't hold on as they tasted defeat for the first time under his leadership.
Team news
Michael Köllner made three changes to his side for the game, which came after a disappointing 2-0 home loss against FC St. Pauli. That saw Miso Brecko, Even Hovland and Dominic Baumann drop out as Ondrej Petrak, Kevin Möhwald and Tim Matavz earned starting berths.
As for Tedesco and Aue, their impressive form continued as they beat 1860 Munich 3-0 last weekend. Still, Tedesco wanted to rotate and Clemens Fandrich, Cebio Soukou and Sören Bertram were sacrificed to bring Mario Kvesic, Nicky Adler and Pascal Köpke back into the side.
Kempe gives Nürnberg the lead
Nürnberg were on the front-foot from the start and exerted plenty of early pressure, yet found the Violets' defence in staunch and stoic form. However, Aue had the best opening early on. Raphael Schäfer rolled back the years with a fine save from Dimitrij Nazarov's arching effort, which brought the very best out of the veteran stopper.
Finally, the pressure paid off for Nürnberg to take the lead. A quick throw from Schäfer started the move, which culminated in Möhwald crossing to Kempe. The ball was slightly behind the winger, though some good hold-up play and a clever turn saw him swivel and curl low into the bottom corner out of Martin Männel's reach.
There would be a late chance in the first half which fell for the hosts as Dave Bulthuis made a major error to allow Adler in on goal, though Schäfer's legs were able to spare the Dutchman's blushes. Only moments before had Bulthuis been subject to cries for a penalty, though Köpke's claims fell on deaf ears.mistake allows Adler in, Schafer saves
End-to-end second half
The beginning of the second half was intense, and Köpke once again had a penalty appeal turned down. This time for a handball, but Arne Aarnink waved away their appeals. To make matters slightly more frustrating for the former Nürnberg forward, a sprawling Schäfer managed to make himself big enough to get a hand to the ball.
It took a dramatic turn after that, as Patrick Kammerbauer was sent off as he tripped the advancing Köpke when through on goal. 22 yards from goal, Kvesic stepped up and sent an unstoppable, dipping and darting free-kick up and over the wall straight into the top corner. It was a quite stunning goal, and nothing less than Tedesco's men deserved.
Things didn't slow down there, and the usually steady Schäfer spilled the ball not once but twice and Christian Tiffert's attempted chip from the edge of the area was cleared just in time. Tiffert's deflected effort was gathered well by the veteran stopper, while Fabian Kalig had to be alert to block Teuchert's curling effort.
The end-to-end nature of game continued throughout, but the crucial blow came after a period of pressure from the hosts. A fine through ball from Hanno Behrens saw Louis Samson slip at the crucial moment and Teuchert take charge. He drove menacingly at the Aue defence and sent a low shot into the bottom corner to spark wild celebrations.
Aue were not going down without a fight and found themselves denied by the woodwork at the death. Tiffert's corner was on the penalty spot and Albert Bunjaku nearly broke the hearts of his former club, only to see his header comeback off the bar. The win for the hosts make them safe from relegation, miracle aside. The same can't be said for Aue.