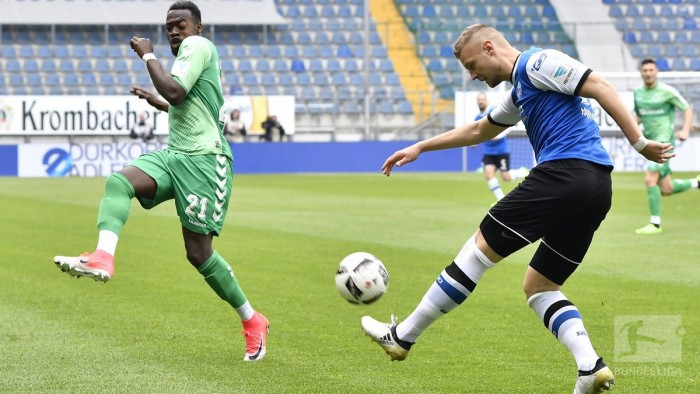 Serdar Dursun's 92nd minute equaliser earned SpVgg Greuther Fürth a share of the spoils and a 1-1 against a Arminia Bielefeld, who had led through Andreas Voglsammer.
Team news
Jeff Saibene made two changes following their remarkable turnaround at 1. FC Heidenheim last weekend, as captain, Fabian Klos and David Ulm returned to the side. Michael Görlitz and Reinhold Yabo both dropped out as a result.
As for Janos Radoki, his men had fought and battled hard to beat Dynamo Dresden 1-0 on Friday evening. He opted for three alterations following that game, as Mathis Bolly, Jurgen Gjasula and Benedikt Kirsch replaced Veton Berisha, Andreas Hofmann and Patrick Sontheimer.
Bielefeld on top
Despite playing against a Shamrocks side that were aiming to beat the league's eternal point record and finish above their rivals, 1. FC Nürnberg for the first time in over a generation, Bielefeld were the more comfortable side early on. They went close in the opening stages, too, as Klos' flicked header went narrowly wide of the far post.
Saibene's men were in control thoughout the half and aside from a few half chances, there was no real threat coming from Fürth. Though, to their credit, they held off the Bielefeld advances well but there were a few openings for the hosts. Christoph Hemlein's header went narrowly wide from an excellent deep cross from Florian Hartherz.
An even better chance went the way of Voglsammer just prior to half-time as smashed Klos' knock-down into the side-netting. However, this was not before Benedikt Kirsch was given a straight red card by Matthias Jöllenbeck after a nasty, studs-up lunge on Tom Schütz.
Mistake, missed chances and Dursun decides the game
The second half began slowly, but sprang to life when Balazs Megyeri attempted to bowl the ball out to Marco Caligiuri. The defender didn't catch on in time what exactly what was happening, and the ball trundled into Voglsammer's path. The Bielefeld forward was faced with an open goal, and didn't pass up a simple opportunity.
From there, the hosts had several chances to stretch their lead as Fürth were pushed further and further back. Ulm volleyed just off target before two opportunities arrived within a minute of one another. First, Hemlein vollyed narrowly wide from a tight angle before Florian Dick's effort almost found a way in before Megyeri got a hand to the ball.
Then came the Franconian revival. Marcel Franke headed narrowly wide before Dominik Schad's hopeful effort at the death was spilled by Daniel Davari. He tried desperately to claw the ball back but instead Dursun pounced to break Bielefeld hearts. They remained 17th and could fall further behind the pack above, Fürth are still in sixth.