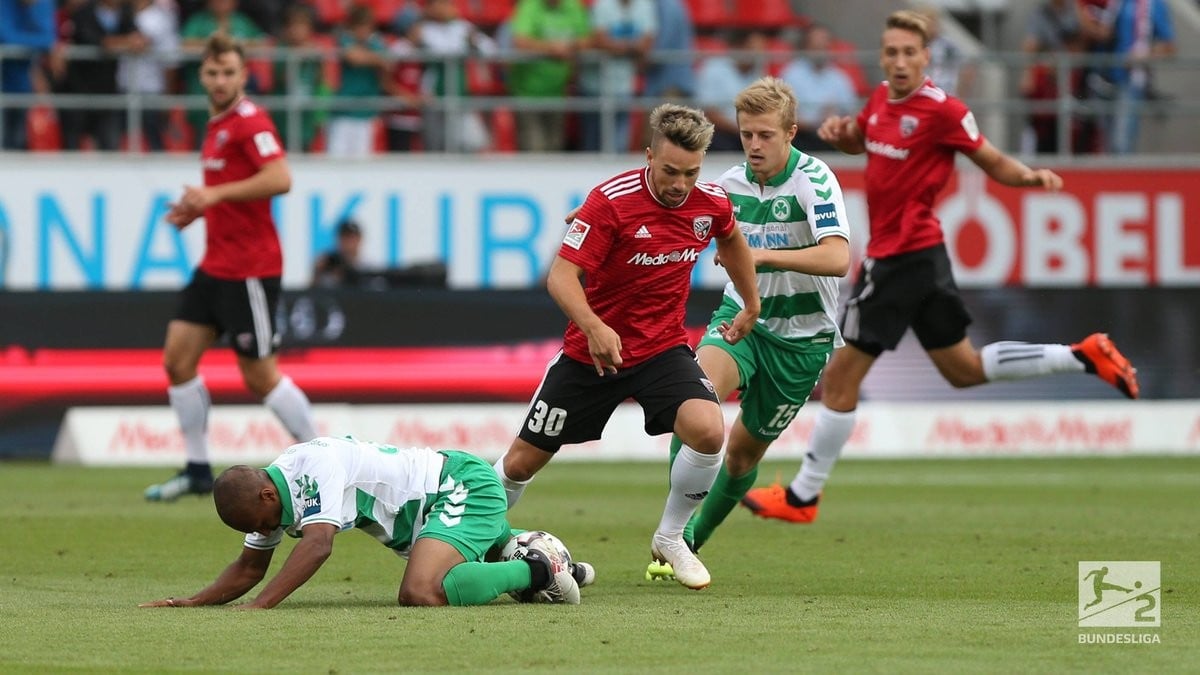 FC Ingolstadt 04 were held to a draw by SpVgg Greuther Fürth in the 2. Bundesliga on Friday evening, with Thorsten Röcher saving them a point.
Dario Lezcano and others had wasted numerous chances for die Schanzer in the first half, and Fürth duly punished them through a Lukas Gugganig header not long after half-time.
Röcher, a summer arrival from Sturm Graz, earned Ingolstadt their first point of the season though with his strike with 19 minutes remaining.
Ingolstadt waste numerous chances to take the lead
Stefan Leitl made two changes to the Ingolstadt side that last to SSV Jahn Regensburg last weekend, with Tobias Schröck and Sonny Kittel replacing Marcel Gaus and Osayamen Osawe. Damir Burić also made two alterations fore this Bavarian derby, despite beating SV Sandhausen on Sunday. Marco Caligiuri and Fabian Reese were replaced by Richárd Magyar and David Atanga, a loan signing from Red Bull Salzburg.
It took the hosts a little while to get going, but when they did they seemed determined not to score, with Lezcano the worst culprit. He was clearly offside when receiving a long ball through from Marvin Matip, but the flag stayed down has he struck wide. An even better chance was gifted to him skilfully by Konstantin Kerschbaumer, but somehow in was the same result.
A third shot wide followed, after new boy Röcher headed down a Thomas Pledl cross, but he scooped it past both Sascha Burchert and the far post. Worse was to come, although Lezcano wasn't at fault this time. Pledl did all the hard work in beating Maximilain Wittek on the wing, but Röcher, after a couple of attempts, struck into the bar, before Pledl himself blasted the ball into the crowd.
Fürth had started well but their first notable chance to open the scoring only came with ten minutes left in the first half. Julian Green did well to control the ball and keep it away from Matip, but even he was unable to direct a shot on target. The same can't be said of Atanga, whose strike from outside the box had to be put wide by Marco Knaller. Mario Maloča headed the resulting into the hands of the Ingolstadt goalkeeper, whilst a good chance for Kerschbaumer at the other moments later was also saved, by Burchert.
Gugganig heads Fürth ahead before Röcher levels
Soon after the break, Lezcano had another big chance to finally get on the scoresheet. A Kittel corner came out to Lucas Galvão, who put it back into the box. Lezcano received the ball and had only Burchert to beat, but the Fürth keeper was able to keep his effort out. At the other end, Atanga had another opportunity for the Shamrocks, but Knaller kept it out with his feet.
The away side would take the lead shortly after though. Benedikt Gimber might have thought he'd denied Atanga another sight of goal with a good tackle in the box. From the Wittek corner though, the tall Austrian defender Gugganig met it with his head and found the back of the net.
They came close to double their lead just over ten minutes later, with Green having a shot saved by Knaller before the keeper, now Ingolstadt's number one following the departure of Örjan Nyland to Aston Villa, also saved the rebound effort from Atanga. Those saves would be crucial, as they would be level soon after. A Kittel corner bounced off Schröck, with Röcher hardly believing his luck in receiving the ball so close to goal – he didn't waste the chance.
Daniel Keita-Ruel, who scored twice on debut for Fürth last week, thought he had them back ahead just two minutes after the equaliser. Half-time substitute Tobias Mohr crossed the ball in for him and he headed past Knaller, but he was correctly given offside. As for the hosts, a wild effort from scorer Röcher was never troubling Burchert, neither was a blast over the bar from sub Agyemang Diawusie.
Set pieces at both ends gave the two teams chances to win the game in the closing stages, which included five minutes of stoppage time, but they couldn't take them in the end and would have to settle for a draw – that would at least put Fürth temporarily top in the embryonic 2. Bundesliga table.