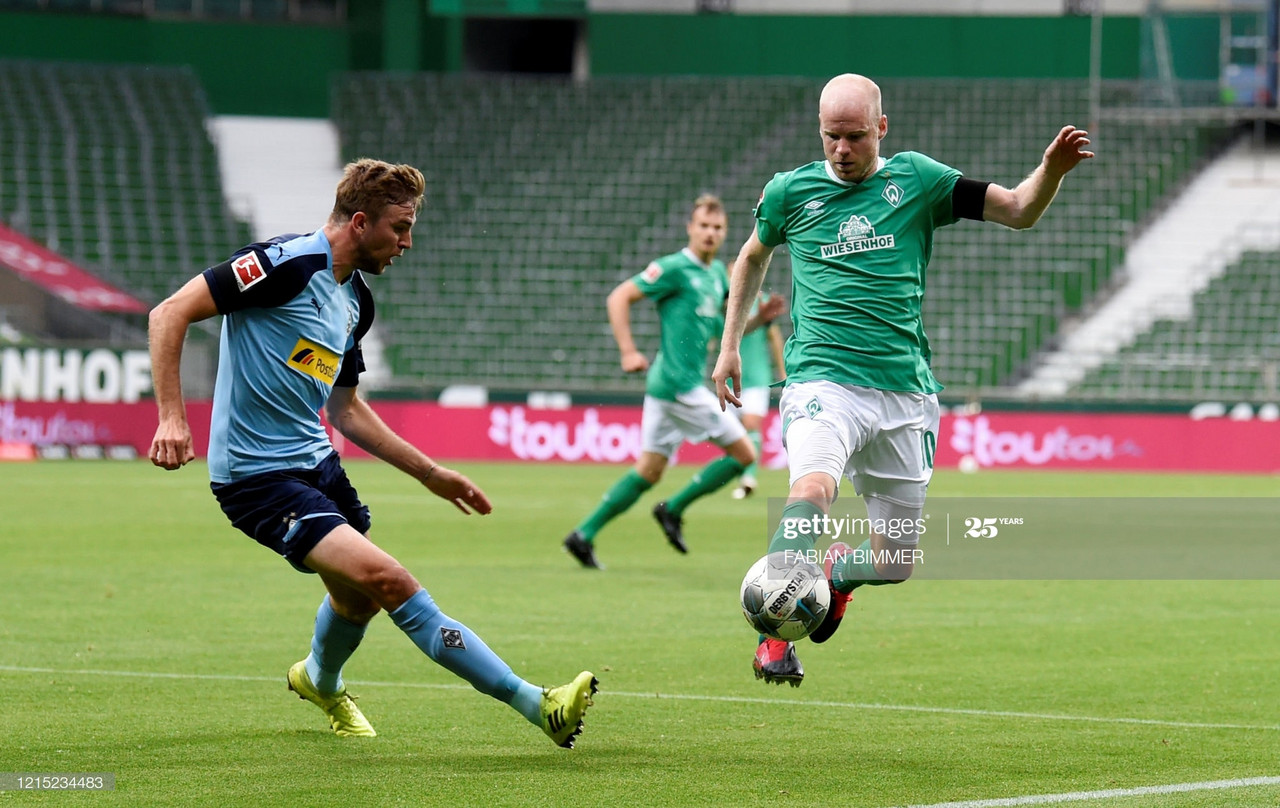 It was honors even at the Weserstadion on Tuesday night, as Werder Bremen drew 0-0 with Borussia Monchengladbach. Both teams were going after three points, but neither will be too unhappy with one.
Bremen will be the more disappointed of the two sides, as they were the better team throughout, but just could not break the deadlock. At the very least, they managed to secure another clean sheet, showcasing their much improved defense.
Story of the match
The first big chance fell to the home side, as a shot from Davy Klaassen deflected towards goal. Yann Sommer stood tall though, and was able to make the save.
That proved to be the only real highlight of a first half that was very even, but also very boring. Monchengladbach had more of the ball, but Bremen seemed to have more energy off of it.
Bremen would come close to opening the scoring five minutes after the halftime break. A free kick from Milot Rashica was drilled towards goal, and Sommer was forced into making a decent save. The rebound fell to another Bremen player, but his shot was also saved by the goalkeeper.
The home side kept pushing forward, and created another chance near the hour mark. Klaassen managed to pick up the ball near the edge of the area before quickly getting a shot off. However, he skied it, hitting it well over the crossbar.
Although Monchengladbach still controlled possession, it was Bremen who continued to look much more dangerous. There was a spell of a few minutes where they just kept sending cross after cross into the area, forcing the opposing defense to deal with chance after chance. They just couldn't break the deadlock, as Monchengladbach held on.
Monchengladbach would come close with five minutes to go, as Stefan Lainer unleashed a shot from distance that deflected on it's way towards goal. Jiri Pavlenka was up to the challenge, reacting quickly to make the highlight reel save.
Bremen responded well, and really should have grabbed a later winner. Davie Selke was played through on goal by Klaassen, and looked to place a shot into the bottom corner. He bottled it, however, kicking the ball right at Sommer, who had little issue making the save from close range.
That would prove to be the last chance of the contest, as Bremen just could not manage to break the deadlock. They would have loved to get all three points, but they can still be happy to get one point that digs them a little bit further out of the hole they dug themselves into. If Fortuna Dusseldorf lose tomorrow to Schalke, then Bremen will only be two points behind them with a game in hand.
For Monchengladbach, it was a point that put them back in 4th after Bayer Leverkusen lost to Wolfsburg.
Takeaways
Midweek issues
A big reason why this game may have been so lifeless and dull to start was because it took place during the Bundesliga's first midweek slate of fixtures since it restarted.
As this contest took place on Tuesday night, it meant the two teams only had two days of rest since their last matches came on Saturday afternoon. That is usually a tough turnaround to make, and current circumstances made it even harder for players to stay fit.
Since they had been off for over two months, everyone was lacking that crucial match fitness going into the first game back a week ago. They had somewhat regained that, but fatigue had also started to set it. That was clear to see in this game, as the energy both teams usually bring wasn't quite there on the night. It came in spurts, sure, but there were also a lot of slow moments on the night.
The good news is teams were able to make five substitutions due to the new rule put in place by the Bundesliga, so the amount of fresh legs did allow for a more exciting finish. Still, it was not quite the fast paced nonstop actions fans of the league have become accustomed to.
Sommer struggles
Someone who was especially dreadful on the night was goalkeeper Yann Sommer, who almost cost Monchengladbach on several occasions.
He has been a star for them this season, but something went wrong on the night, as he looked like a shell of himself.
The goalkeeper was nervous throughout the entire contest. Sommer failed to catch crosses that he should have, opting to just punch them away instead. He was even worse with the ball at his feet, giving it away to Bremen way too many times. The Swiss international was just lucky to have been bailed out by his defense, who somehow still kept a clean sheet despite his poor performance.
They might still be in the hunt for the top four, but Monchengladbach will need Sommer to put this showing behind him, and go back to being the elite goalkeeper they know he truly is.
Man of the match: Florian Neuhaus
One of the only players to really do anything during the first half, Monchengladbach midfielder Florian Neuhaus was superb, especially early on.
Constantly on the ball, Neuhaus just kept driving forward and putting pressure on the Bremen defense. They dropped back as a result, giving the player space to shoot from distance. He may not have scored, but he did force some good saves out of Pavlenka, and had one shot fly only inches wide of the post in the second half.
Neuhaus also did his job in the middle of the park, making the right pass when need be and coming back to provide cover for his own backline. It was a solid shift from the 23 year old, and it's clear he's got a bright future ahead of him with performances like this.
Whether that future is at Monchengladbach or a different Bundesliga team remains to be seen, as Neuhaus has attracted plenty of interest from the league's best teams.