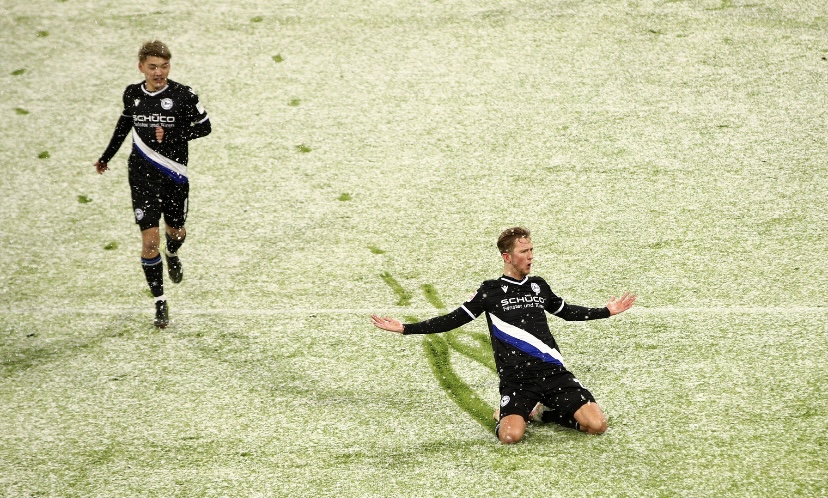 It was a Matchday characterised by stalemate in Germany's top flight as seven out of the nine Bundesliga games ended with the honours even. Still, there's plenty to learn from this weekend's fixtures.
Arminia Bielefeld expose Bayern's weaknesses and nearly pull of the shock of the season
Arminia Bielefeld will be delighted to be plying their trade in Germany's top division this year, having been promoted from the 2. Bundesliga as champions last season. Their opponents on Monday night, Bayern Munich, will no doubt be equally as pleased as they won their sixth trophy in nine months, picking up the Club World Cup last week in Qatar.
The meeting of the two, on paper, should have been somewhat of a procession for the Rekordmeister. However, it seems Bielefeld didn't read the script as they twice had a two-goal lead only for the match to eventually finish 3-3 in a thrilling affair. Uwe Neuhaus' side leave Bavaria with their heads held high, but they will be kicking themselves since they couldn't bring all three points with them and move out of the relegation playoff spot.
For Bayern, there is definitely cause for concern. Although they fought to salvage something out of this game, they yet again showed a vulnerability and weakness that they seldom displayed last season. Particularly worrying is just how frequently they go behind in games and allow their opponents chances. The stats prove it, as Hansi Flick's side have now conceded 29 goals in the league, which is only three less than they allowed in the whole of last season.
Eintracht Frankfurt refuse to let go of their European dream
Despite a general sense of malaise across the Bundesliga this weekend, the show went on in Frankfurt as they helped themselves to yet another victory against FC Kӧln - their fifth win in six.
Die Adler seemed to have created a real recipe to success which they served up to their advantage. For the entirety of the match, the link up play between Andre Silva and Filip Kostic was dynamic and dangerous; it a small miracle that they didn't combine for a goal. Though they were frustrated by Kӧln, Adi Hutter's side never looked in doubt as the waves of attack just didn't seem to stop for his side who eventually reaped their just reward through a Silva goal (his 18th of the competition) and a second goal in in as many matches for Evan Ndicka.
Accumulating 25 points out of a possible 27 from their last nine league games, they now find themselves firmly in the driving seat in pursuit of a European berth. Playing host to one of the league's most potent attacks, they have only been outscored by Bayern, whom they face next week in what is their biggest challenge of the season so far.
The more congested season may be taking its toll
It is important to remember that the Bundesliga usually enjoys a 5-6 week break over the holiday season, known as the 'Winterpause'. But, with a curtailed break necessitated by the league kicking off later than usual, there's every reason to suggest the fixture pile-up may be beginning to take its effect.
Avoidable mistakes throughout the league, the likes of which were rife in Hoffenheim's 2-2 draw with Borussia Dortmund, and generally lethargic performances are indicative of a group of players who are growing increasingly tired from the more congested season.
There were also three fixtures which finished goalless this Matchday (Werder Bremen vs SC Freiburg, Union Berlin vs Schalke 04 and Wolfsburg vs Borussia Mӧnchengladbach), which seems like a clear signal that there has been as much of a mental impact on the players as a physical one due to the lessened break.