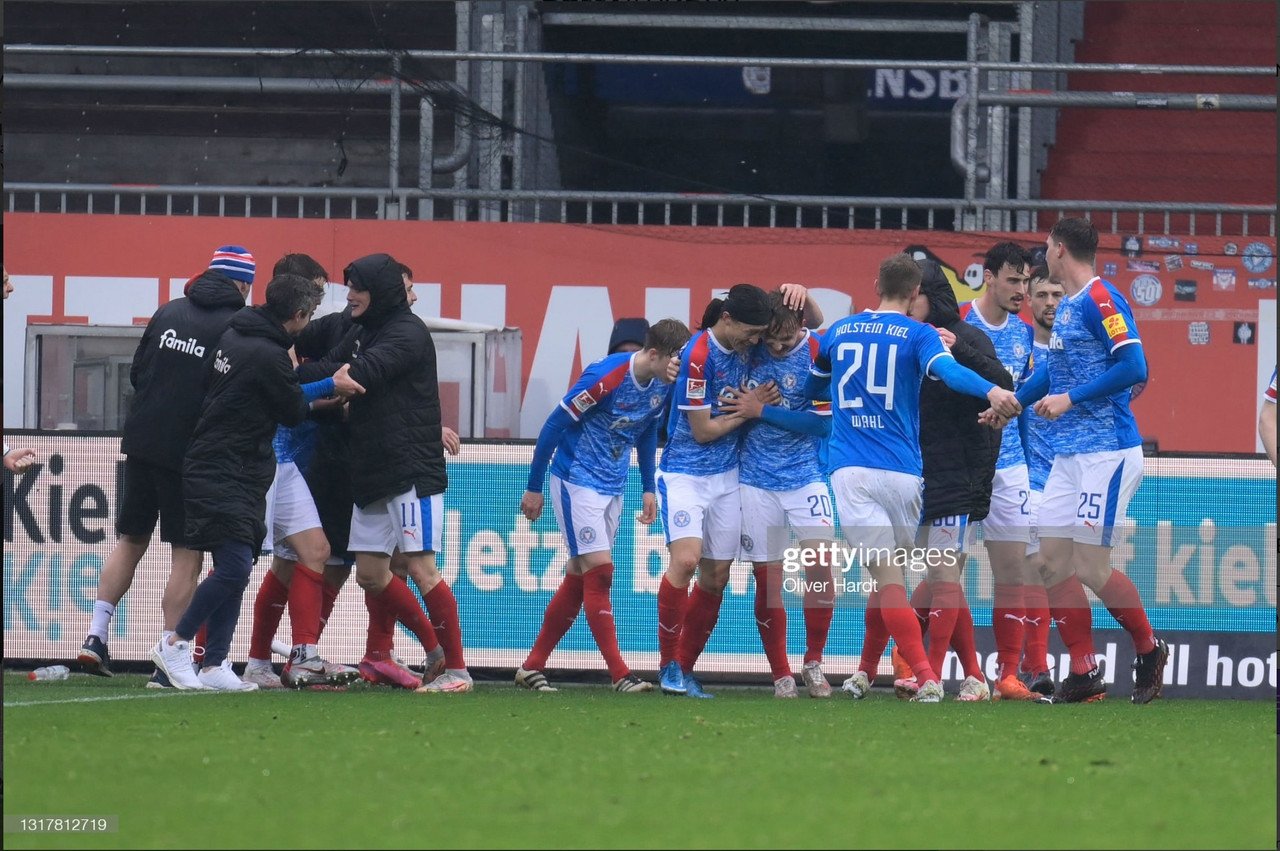 Alexander Mühling's 82nd minute winner saw Holstein Kiel move four points clear of Greuther Fürth in the fight for automatic promotion after a topsy-turvy affair against Jahn Regensburg.
A penalty from Andreas Albers, his fourth goal in as many games, gave the visitors a deserved lead. That strike would be cancelled out after Fin Bartels' equaliser in the 20th minute, though.
The second half seemed to be heading to its conclusion before a frantic seven minutes saw three goals come out of nowhere. First, substitute Albion Vrenezi thought he stole the three points for Mersad Selimbegović's men after converting from a free-kick. However, goals from Simon Lorenz and Alexander Mühling completed a late turnaround, which moves Kiel ever closer to Bundesliga promotion.
Story of the match
The visitors started the more promising of the two teams, with Kiel's defence put under early duress by a Regensburg side that had gone with an attacking lineup, starting three strikers. The early pressure resulted in the opener, as Oliver Heins' cross seemed to hit Fabian Reeses' arm in an unnatural position, which led to a penalty. Top scorer Andreas Albers stepped up to give Regensburg a deserved lead in the 15th minute, although his penalty was less than convincing.
Despite their promising play, they were pegged back just five minutes after taking the lead, with two of Kiel's more experienced players linking up. Johannes van den Bergh's cross into the penalty area caused problems for Jan-Niklas Beste, and his poor clearance landed at the feet of hometown boy Fin Bartels, who lashed home the equaliser.
The 34-year-old could have had his second towards the end of the half when he was played through, but he fired a shot over the crossbar from close range. Van den Bergh's crossing caused problems throughout the first half, but a minute before half time Lee-Jae Sung couldn't apply the same finish that Bartels had done earlier when he scored.
The second half was an extremely drab affair until the final 15. A free-kick whipped into the box by Jann George picked out substitute Albion Vrenezi, who found the back of the net to restore the visitors lead. Just like in the first half, though, their advantage lasted less than five minutes, as centre-back Simon Lorenz tied things up from a corner.
Despite looking devoid of ideas for the majority of the match, Alexander Mühling converted a late winner after an awful punch by Alex Meyer in the Regensburg goal to snatch all three points for Kiel.
Lineups
Holstein Kiel - Thomas Dahne; Phil Neumann YC, Hauke Wahl (C), Simon Lorenz G, Johannes van den Bergh; Fabian Reese (70'), Niklas Hauptmann (62'), Jonas Meffert, Lee-Jae Sung (90'), Fin Bartels G (46'); Benjamin Girth (62')
Substitutes - Finn Porath YC (46'), Alexander Muhling G (62'), Janni Luca-Serra (62'), Jannik Dehm (70'), Marco Komenda (90')
Jahn Regensburg - Alex Meyer; Oliver Hein (67'), Scott Kennedy Erik Wekesser, Jan-Niklas Beste (87') ; Jann George, Benedikt Gimber (C), Max Besusckow (67'), Jan-Marc Schneider (87'); Andreas Albers G, Kaan Caliskaner YC (46')
Substitutes - David Otto (46'), Albion Vrenezi (67') G, YC, Florian Heister (67'), Sebastian Stolze (87'), Haralombos Makridis (87')
Takeaways
Holstein Kiel moved within touching distance of the Bundesliga, but their performance was a flawed one. Between Bartels' substitution at half-time and Simon Lorenz's equaliser, they failed to do much going forward, and Regensburg looked extremely comfortable as a result. However, Kiel found a way to win in the end, and one of Germany's football fairytales may be about to reach its happy ending as a result.
As for Regensburg, a spirited showing that would have seen them nick a point on an another day was ultimately all for nothing, which is especially disappointing considering the fact that they took the lead on two separate occasions. After scoring in the 75th minute goal to go back in front, they should have been able to hold out for the win that would have secured safety. Switching off from a corner and a goalkeeping mishap from Meyer meant they didn't, and they now go into Saturday's affair with Sandhausen with survival still on the line.
Man of the match - Johannes van den Bergh
The German left back looks set to return to the Bundesliga after a period away. His crosses caused problems for Regensburg all afternoon, with Kiel's first goal resulting from one. After Fin Bartels' half-time withdrawal, it looked unlikely that someone would be able to step up to the challenge, but luckily for Kiel, Van Den Bergh did just that.