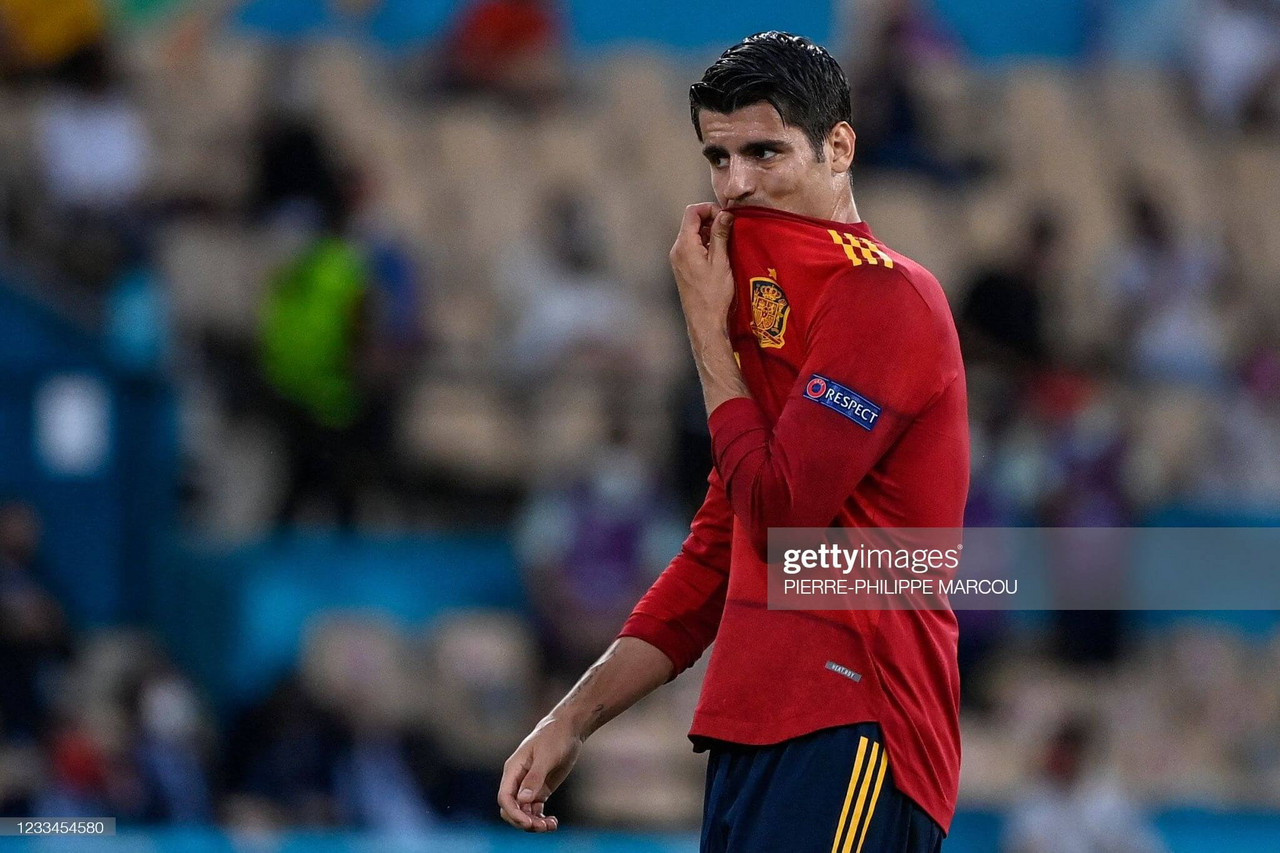 Spain striker Alvaro Morata has received the backing of his manager following his wasteful display in their opening Euro 2020 match against Sweden. Morata, who scored 19 goals for Juventus last season, squandered two opportunities to break the deadlock in the first goalless game of the tournament and was greeted by jeers from Spanish supporters when he was substituted after 66 minutes.
Spain created numerous goalscoring chances on the back of dominating much of the game, and registered over 83 per cent possession towards the latter stages of the first half. However, poor finishing and an easing up in the second half cost Spain and meant their campaign has got off to a disappointing start.
Luis Enrique, the Spain manager, would not be drawn on Sweden's containment tactics, which saw the visiting side only manage 174 passes compared to Spain's 954. But Enrique did insist that his team have no need to worry about their chances of progressing from the group.
"I think Alvaro had a great game," Enrique said of his striker, who was selected ahead of the in-form Villarreal forward, Gerard Moreno. "Of course we all want to take our chances, but other players had chances too. I think he's used to it but of course we want to see that support from the fans.
"That's football though; it would have been nice to dedicate a win to the fans because they were fantastic for most of the game. We are going to analyse this game in detail, as we always do, but in this case I think it's really clear, we've all seen what happened this evening so there's really not too much to go into."
'We were better team by far'
Enrique appeared frustrated by Sweden's defensive tactics and their desire to hang on for a point from the start. The Spain manager also criticised the pitch at the Estadio la Cartuja in Seville and the warm conditions which sapped energy from his players.
"We were by far the better team," the Spain manager continued. "The opposition tried to hang back, we completely controlled the game and tried to create as many chances as possible. We had sufficient chances to win the game. What went wrong? It's the fact we didn't take those chances.
"I don't have much of an opinion [on Sweden's approach]. The coach decided how he wanted to play and that's completely right of course. At times you can make that decision and the other team an outdo you. They played the way they usually do against us with two strikers.
"We only allowed them to have one or two chances, whereas we made the sufficient number of chances to win the game. But I really don't have an opinion on that, that's a question for Mr Andersson not me. We still aspire to winning the group."
Koke, who was guilty of missing two good chances also in the first half, said that Spain "only missed the goal" from their dominant performance. "The team played good football and created chances," he said. "The opposition has locked in and the team has done everything it had to do to win the game."
On whether Spain's next game against Poland is a must-win one for them, Koke replied: "We go out to win every game, whatever we have done. We are very calm. Many people do not trust us and that will make us stronger. We will continue working, the goal will come. We don't care what people say at all. We will continue along the same lines."