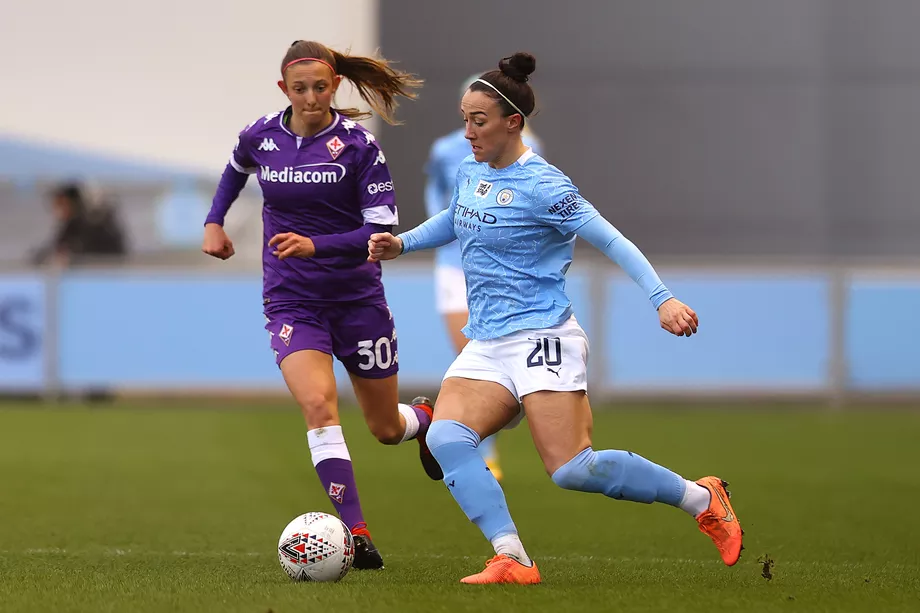 Just as in the first leg of their clash with Fiorentina in the UEFA Women's Champions League, Manchester City jumped out to an early lead and never looked back today. As they had in the home leg, the Citizens struck early and now cruise into the next round.
Last week's tie saw City take a 2-0 in the fourth minute on goals from Lauren Hemp and Ellen White. White opened the early scoring again today, striking home in the ninth minute. Caroline Weir made it 2-0 on a terrific PK in the 18th minute, and White got her brace 32 minutes in. Down big early for the second straight match, Fiorentina had no defence for the super-powered City attack. City dominated possession and the ball seldom left Fiorentina's end. The halftime whistle was the only thing that stopped the Citizens' merciless attack on the home side.
The stat line was a terrifying statement of City's control of this match. The side had 15 shots to Fiorentina's two; four corners taken and none conceded; and 75% possession. Gareth Taylor started French international Karima Benameur between the pipes in her first action of the season, she had little to do to keep her clean sheet.
The second half greatly resembled last week's tie, as Taylor used his superb bench and the Citizens continued to roll. Chloe Kelly and Sam Mewis came on for Weir and Hemp to start the half. Mewis made her presence felt, scoring City's fourth in the 60th minute, then adding her second just 18 minutes later.
City's defense was just as dominant. The Viola recorded but a single shot on target for the match; it was their only shot on target in the two meetings. The City backline showed their depth today as legends Steph Houghton and Lucy Bronze did not feature yet Fiorentina was still unable to mount any offense.
This was a good match for City, as it allowed Taylor to fully use his bench and see how different players work with each other. He used all five of his allowable subs, getting valuable minutes for Millie Davies, Laura Coombs and Aoife Mannion in the second half. It is very heartening to see Mannion play solid minutes after her return from injury.
City look like world-beaters heading forward. With a full, healthy complement, this team is playing fantastic football. They score easily, defend like a mobile brick wall, and have all the confidence in the world.
City will find out their opponents in tomorrow's quarter-final draw at UEFA headquarters in Nyon, Switzerland at 11:00 tomorrow. The first leg of the quarters will take place 23/24 March; the second leg will take place 31 March/1 April. The Citizens face Bristol City on Wednesday at Twerton Park in their next Women's Super League fixture.
Fiorentina returns to Serie A league play next Saturday with a tie at league leaders Juventus. The Viola have their work cut out for them in this fixture. Juventus sport a perfect 15-0-0 league record, have scored 47 and conceded just seven, and have lost only to super-power Lyon in all competitions in the last 18 months.