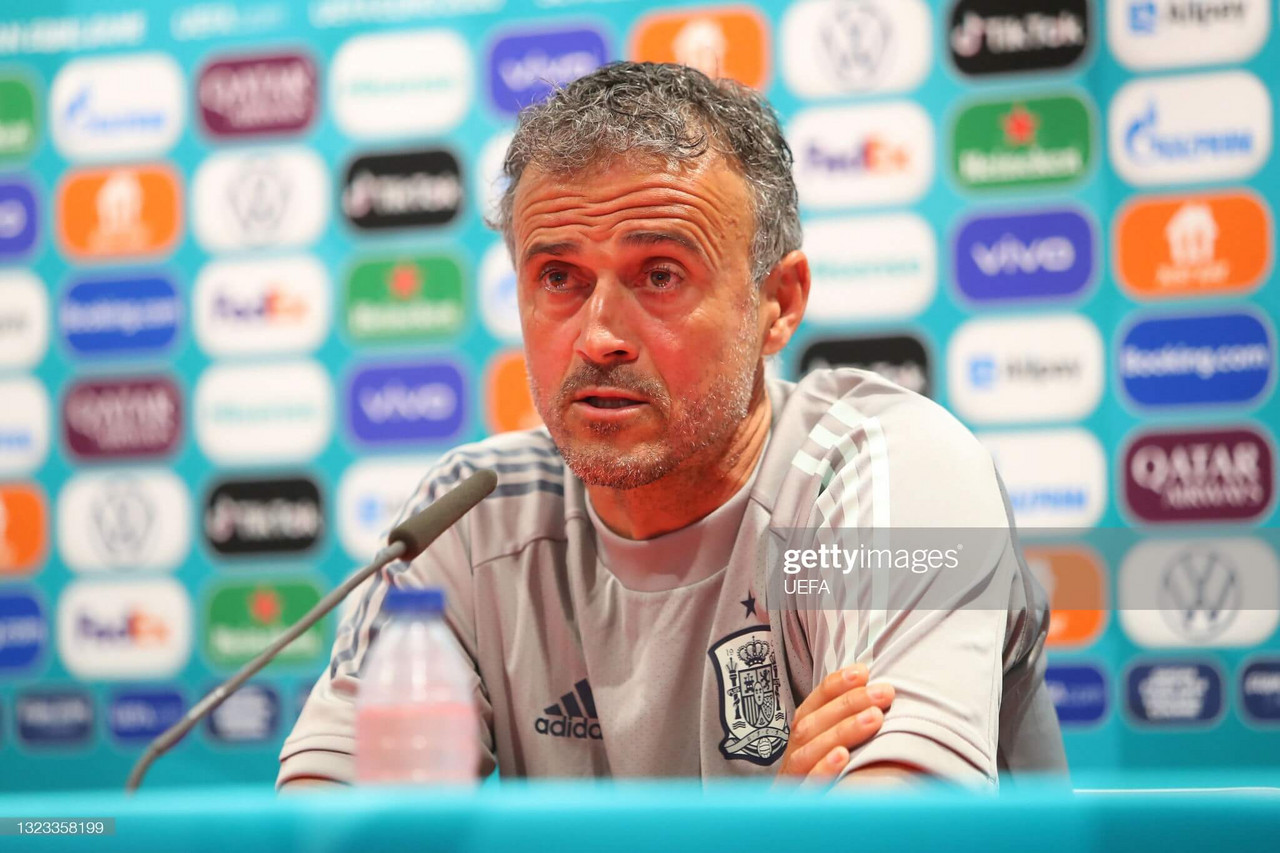 Spain manager Luis Enrique has played down his team's chances of winning Euro 2020 on the eve of their first match against Sweden in group E. Enrique admitted that Spain are not the favourites in the group but instead said they are in a group of favourites.
Spain face Sweden on Monday evening before playing against Poland and Slovakia. Enrique's squad drew plenty of attention when it was announced last month, mainly because of the absence of any Real Madrid players for the first time in history, and on paper it appears weaker than the one which won back-to-back European Championships in 2008 and 2012.
However, La Roja still boast plenty of good players and, crucially, the manager has picked on current form rather than experience. At his disposal, Enrique has players from Champions League winners Chelsea, Europa League winners Villarreal, La Liga victors Atletico Madrid and Premier League title-holders Manchester City.
"You can't say we're favourites – rather, we're in a group of favourites, given what the national team have won despite our most recent tournament performances," Enrique said. "We need to show we are confident and I'll be reinforcing this to the players, but when I look back at how we played against Portugal I'm even more motivated.
"We aren't the tournament favourites either – the real favourites are the current champion. There are six or seven nations who can contend to be 'other' favourites and I'm happy if people reckon that we are in that group. I accept that pressure."
Sweden are Spain's first opponents and the two nations faced each other in the qualifying stages for the competition with Spain winning 3-0 in Madrid and drawing 1-1 in Solna as they topped the group ahead of their Scandinavian opponents. "They don't have any player who might be regarded as a global star, but they stand out as a collective," Enrique said.
"If you ask me to sign up for losing tomorrow but winning the next two and qualifying first in group then I would be OK with that. But the truth is the first game is like taking the temperature: 'Are we OK?' That's what it's like. The first game can serve for generating confidence, seeing how much the competition means to us, and if you win in a way that shows your qualities then that's a great way to start."
'Disruption hasn't changed my plans'
Spain's preparations for the tournament were hampered by both captain Sergio Busquets and central defender Diego Llorente both testing positive for Covid-19, which forced the team to halt group training for a week and construct a standby squad just in case of an outbreak.
"Recent events haven't altered my plan," Enrique said despite Busquets being ruled out of this game. "I've had a very clear plan for a long time, although coaches always have to adapt to circumstances. We may not be able to count upon our captain but I have a very squad and I'm delighted with it.
Jordi Alba will captain Spain in place of Busquets at the Estadio la Cartuja in Seville on Monday. "It's been a lot of years for me at the top level, under pressure," the Barcelona defender said. "The pride and ambition and adrenaline are still completely intact. But you're right, despite the same hunger, I take it all, even being captain, with a greater sense of calm.
"Our style, our game plan, never changes. Never mind the opponent. That will be the same and what happens is that the results will come. The match promises to be really tough, against a rival who, personally, I really like watching. We'll see what happens but everyone in our squad has the same idea – play well and win.
"At all the stadiums we go to, the Spain fans really get behind us. We might have several thousand fans and I think it's vital that people come to the game, get behind us and that we make them feel proud with how we play. We'll give everything we have in order to win."