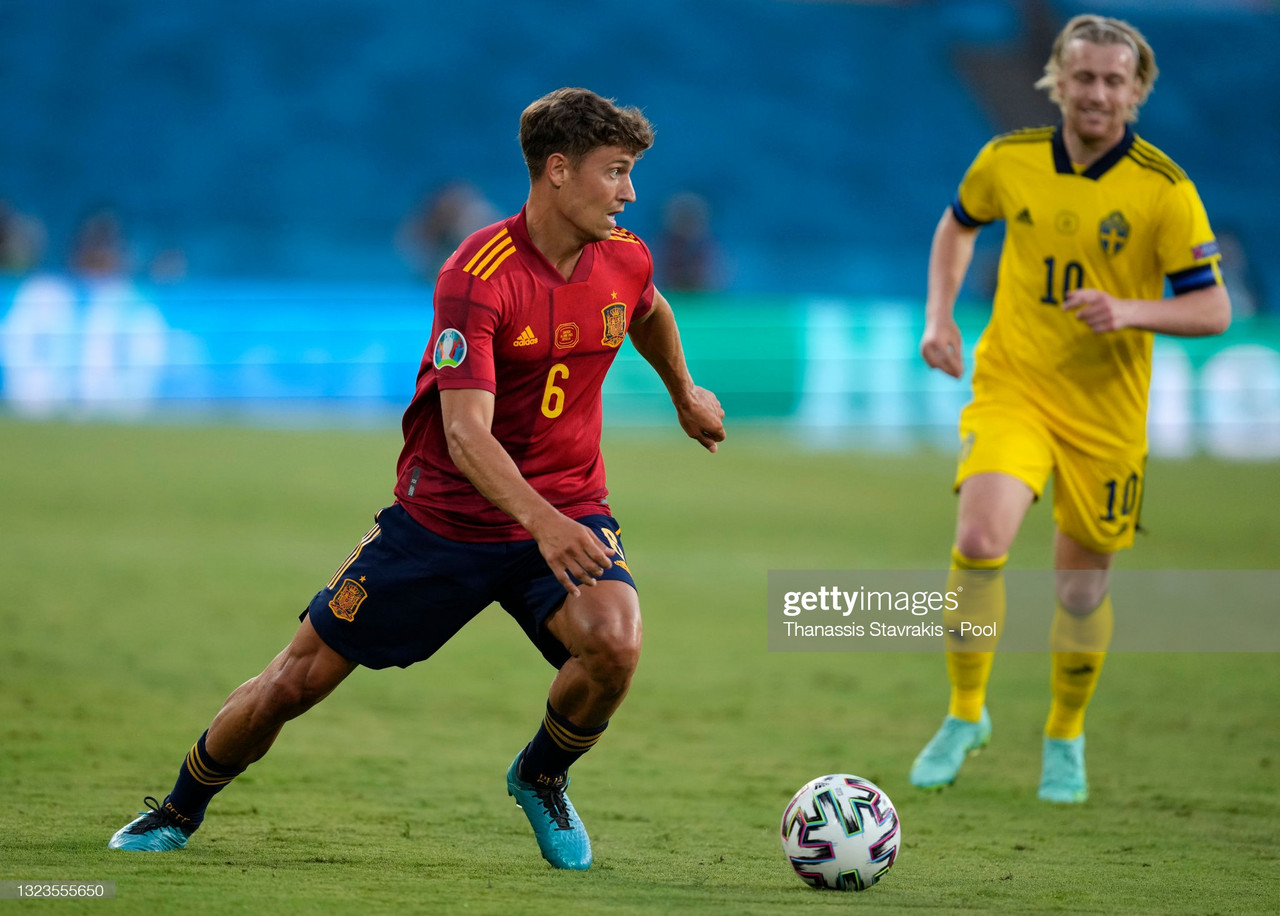 Spain's possessional dominance
Both sides lined up close to what many pundits predicted. Despite lining up in a defensive and rigid 4-4-2, Sweden manager Janne Andersson will "make no apologies" and will no doubt be ecstatic that he was able to stop Spain from scoring.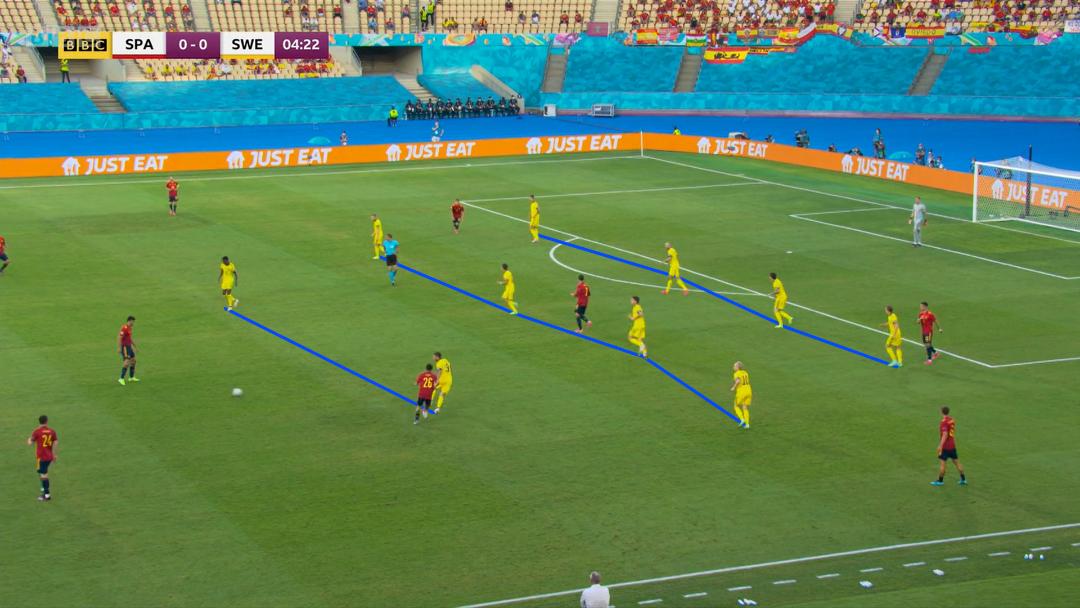 Spain on the other hand lined up in an equally as predictable 4-3-3 although, because of their dominance of possession it frequently turned into a 2-3-5 with Aymeric Laporte and Pau Torres remaining on the halfway line as the two fullbacks would push up to support the forward line. This meant the wide Swedish midfielders who were marking them were forced further back further hindering their chances of getting out of their defensive third once possession was won.
Spain were able to dominate the ball in both halves, in the first they used several specific tactics to carve out chances which should have been put away. Sweden's narrow structure meant Spain were forced to look wide for space. Koke, the right sided midfielder would consistently take up positions were you think an orthodox right back should be at the edge of the Sweden final third.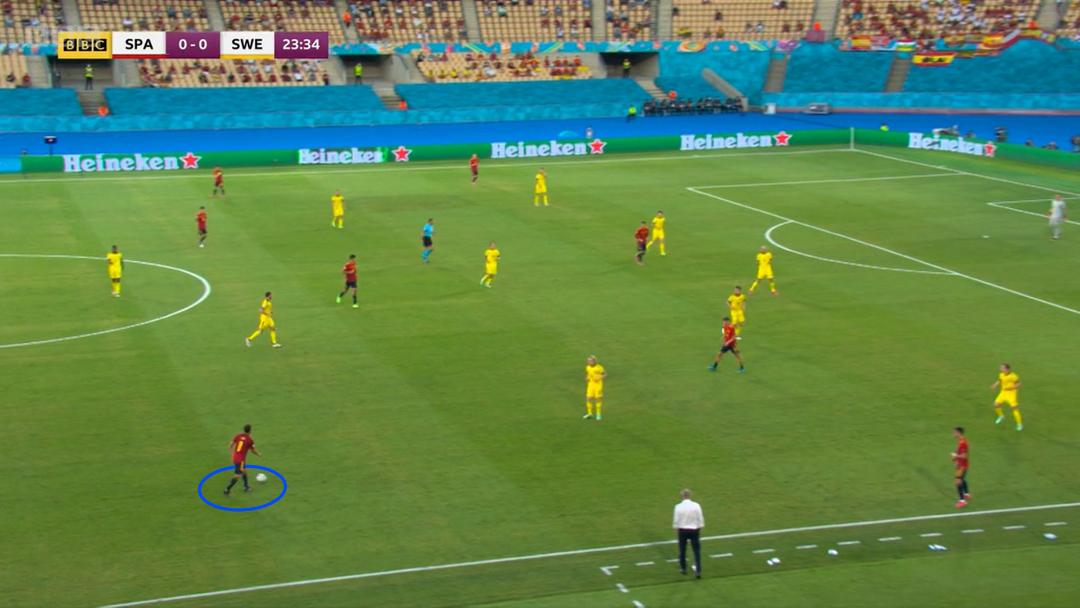 This deep position not only acted as cover for right back Marcos Llorente to attack down the flank, but it also provided Koke with incredible time on the ball to look for either a cross, a switch or a ball down the line for Llorente. Koke is afforded this time because the Swedish midfield does not want to break its defensive line in chasing him down or else they could be passed around quite easily by a team with this level of technically ability. This was a masterstroke from gaffer Luis Enrique and a goal should have came from this. Half way through the first half, Koke swung in a cross where Dani Olmo makes poor connection and is well saved by Robin Olsen.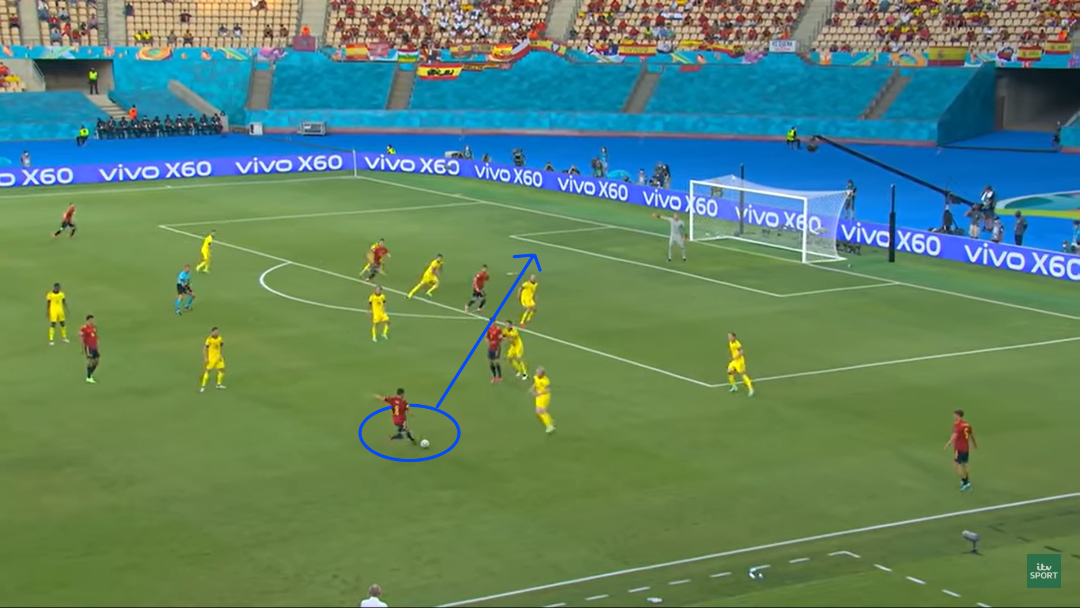 Despite some poor finishing, Alvaro Morata did well linking the play with some good passes towards the onrushing Olmo and Ferran Torres. Morata withdrawing from the forward line into the midfield not only helped his team dominate the possession, but it has the possibility to cause confusion and open gaps in the defensive line because if defenders follow this False 9 into the midfield they will leave space behind them which the wide forwards can exploit.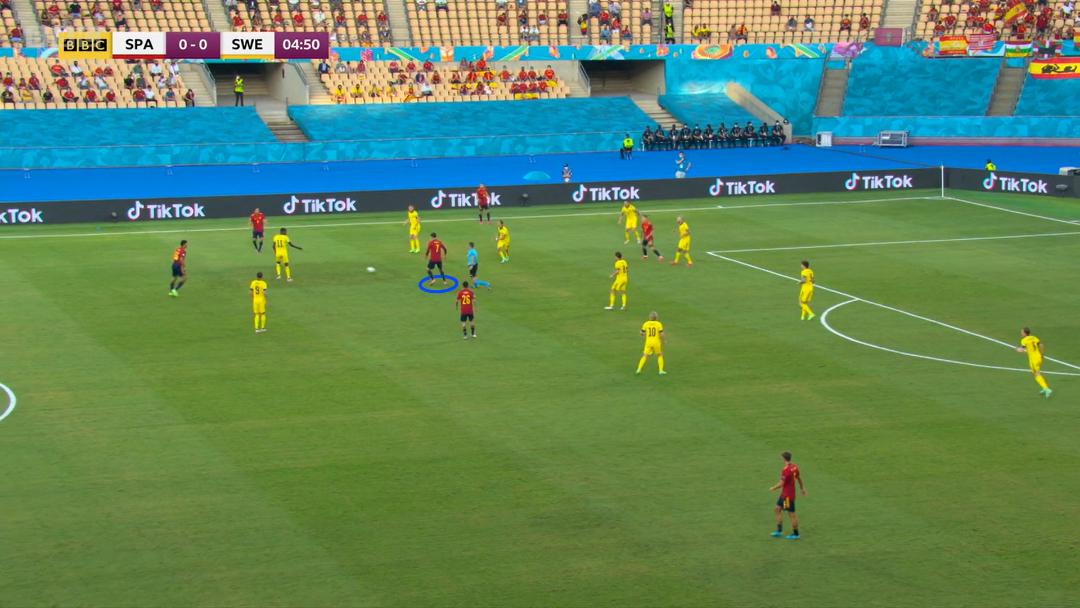 Rodri played at the base of the midfield triangle and his defensive output was key to maintaining possession and protecting the aerial weaknesses of his backline. Due to Sweden's preference to play direct football if they won possession in their own third they would frequently launch long balls to the forwards immediately. Rodri's positioning meant many of these poorer balls could be intercepted allowing Spain to stay on the front foot.
Rodri was key in winning aerial battles for his nation too, from goal kicks and freekicks deep in their own half goalkeeper Robin Olsen would send the ball as far as he could to forwards Marcus Berg and Alexander Isak however Rodri dropped onto either of these forwards and had remarkable success in limiting Sweden's long ball influence in the first half.
Barcelona youngster Pedri had a rather disappointing game, although the midfielder rarely gave the ball away he rarely took risks either, his passes lacked any real penetration or progression. Instead, this resulted in a lot of sideways and backwards passes with Jordi Alba being the main recipient. Admittedly though, Pedri did pull off some rather impressive and progressive passes to his captain towards the end of the game.
Spanish goal threat
Morata had a rather poor performance in front of goal, despite his ability to link play well with the midfield and wingers, the striker truly performed more false than that of a nine. Far too many times throughout the game deadly crosses where whipped in while Morata, the only attacking Spainard with any aerial pedigree was on the outside of the box either looking for a pull back or attacking too late because of his withdrawn role.
Despite the weaknesses of the false nine, Luis Enrique cannot be blamed for Morata's poor day at the office. Towards the end of the first half, Morata was gifted the best chance of the game because of a missed interception from Marcus Danielson. If Morata could have placed that effort in the bottom corner, Enrique would have been praised for a tactical masterclass.
Gerard Moreno's introduction in the 74th minute signalled a kitchen sink moment for Spain and an appreciation that they would have to become more direct to get a crucial breakthrough goal. After his introduction, the Villarreal striker offered a predatory presence in the penalty box. The forward would frequently try to get on the end of several Jordi Alba crosses although there was no success.
Sweden counterattack threat
Sweden had a rather simple way of building it up instead of trying to play through the intense Spanish press, goalkeeper Robin Olsen would launch long balls for one of the two strikers to win and flick on to their partner.
Through much of the first half, Olsen would target the central areas of the pitch however, Rodri's success in winning these duels and eliminating a major Swedish weapon meant by the end of the first half Olsen was beginning to aim for the left side of the Spanish defence. No one on that side has any remarkable aerial ability, (Alba, Torres and Pedri) Olsen aimed his long passes here for the rest of the game and enjoyed success from it. Alexander Isak's chance at the end of the first half came from a long ball to that exact position.
Alexander Isak was quite impressive for Sweden and was unfortunate not to pick up either a goal or an assist. When Sweden pushed forward on the transition, Isak frequently had the ball at his feet and kept the ball surprisingly well despite being surrounded and often isolated when tracked back by the athletic Spanish backline.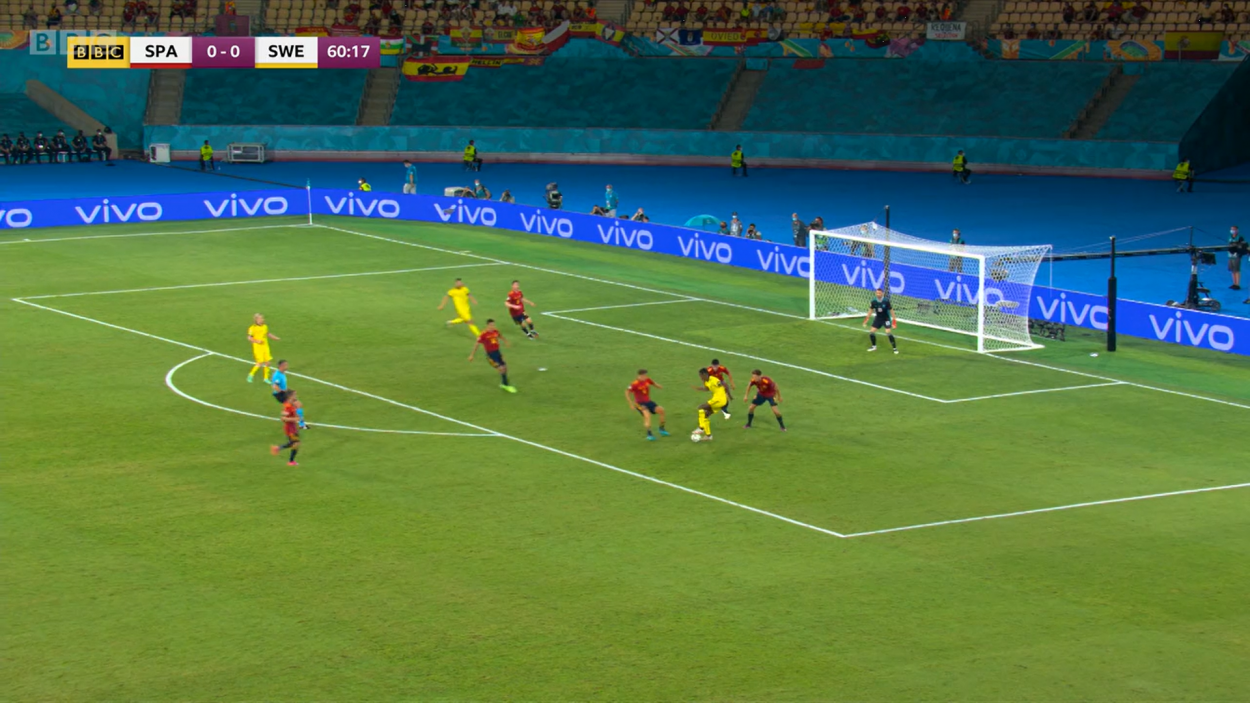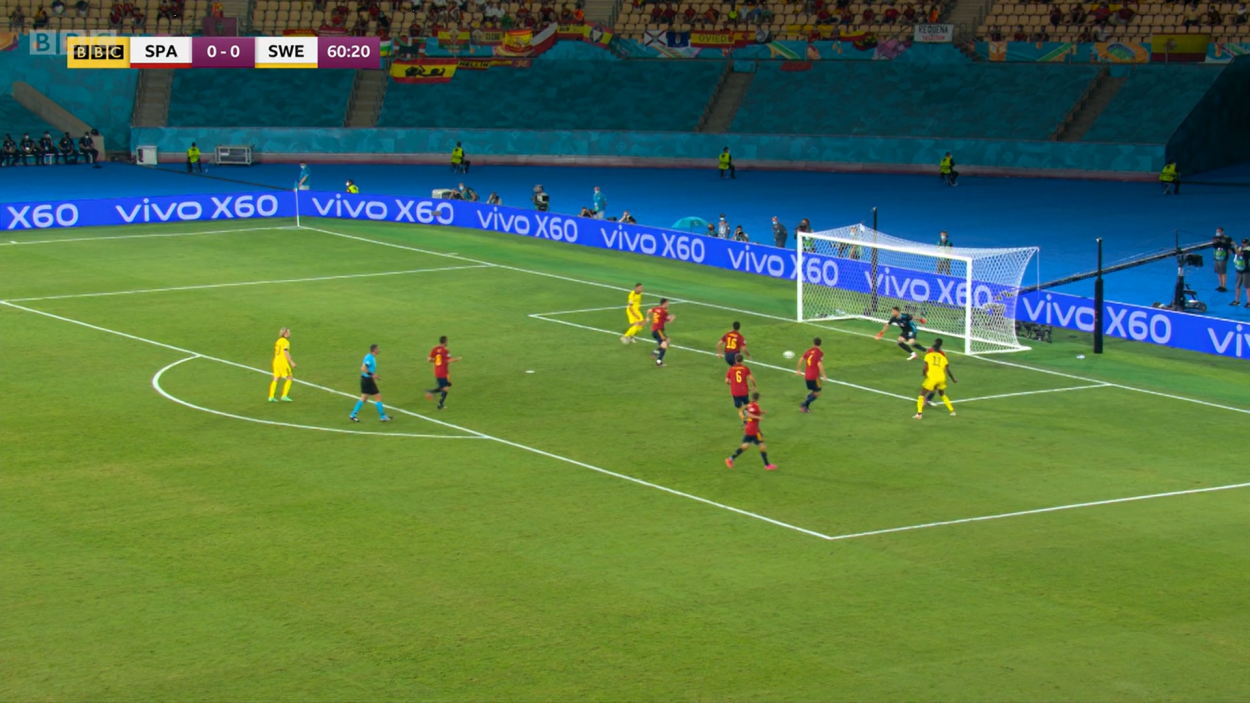 The above screenshots show one such example, despite being surrounded by three Spanish players, Isak managers to wiggle his way through before playing a delicious pass across to Berg which he should have tapped home for the opening goal.