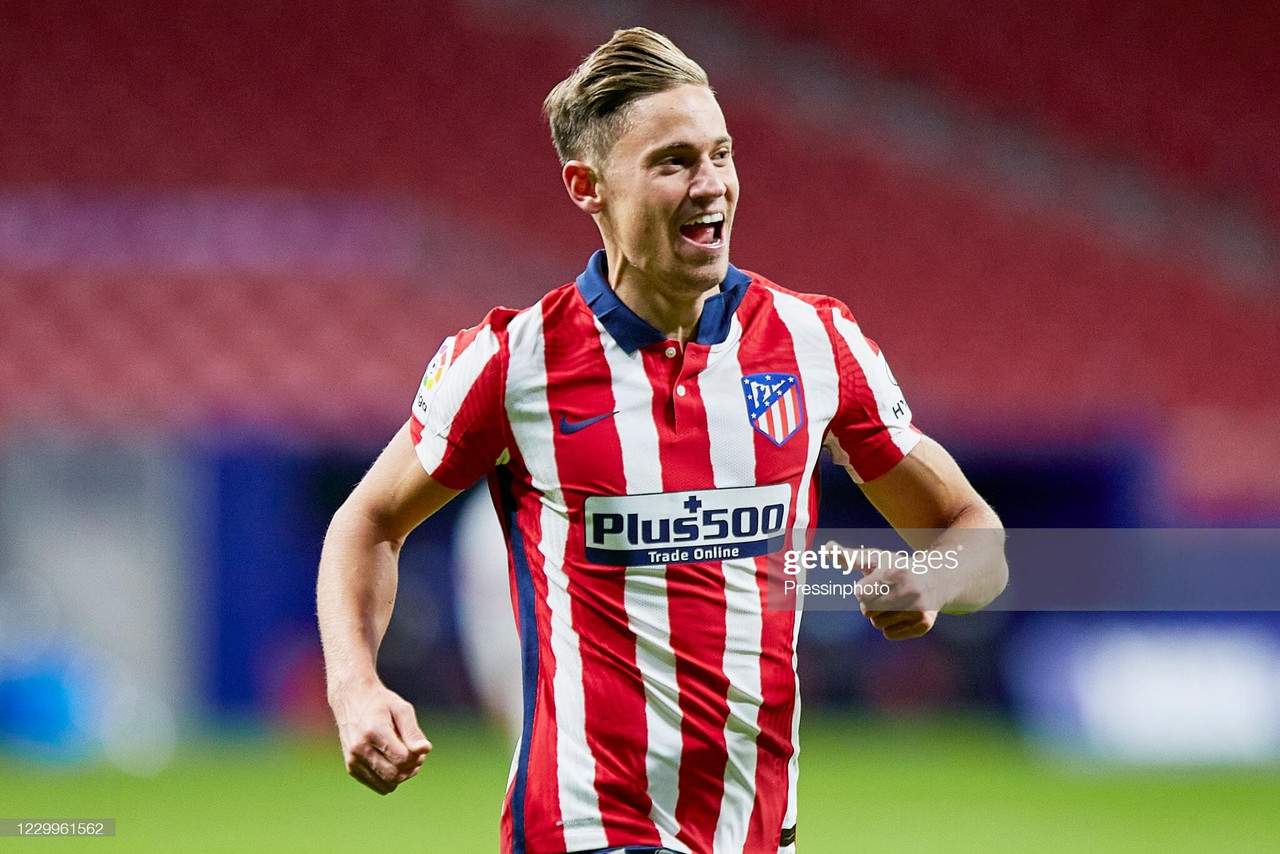 It is almost a year since Marcos Llorente scored a brace in front of the Kop and sent Diego Simeone running down the Anfield touchline in jubilation. His quick-fire extra-time double turned the Champions League last-16 tie against Liverpool in Atletico Madrid's favour.
Back in March last year, when stadiums were still full, the travelling Atletico supporters were delirious as Llorente wheeled away in celebration. The Spanish club progressed to the quarter-finals, where they were eliminated by RB Leipzig, but that evening at Anfield was the turning point in Llorente's career at Atletico. So much so that the 26-year-old named his dog 'Anfield' as a constant reminder of that March night.
Llorente came off the bench that evening and single-handedly knocked-out the reigning champions of Europe in their own backyard. Even he will admit that it was then that his time as an Atletico player began in earnest. Before then, Llorente had been a deep-lying central midfielder in and around the Atletico squad but by no means an automatic starter.
Change of position key to Llorente's rise
It was therefore a touch of genius by Simeone to reassess Llorente's position and place him in a more advanced position. The Atletico manager's decision has certainly paid off. Llorente has been involved in 17 goals (nine scored and seven assisted) in all competitions so far this season. His numbers are similar to Bayern Munich's Joshua Kimmich and Kevin De Bruyne of Manchester City and his performances are of a consistently impressive nature.
"Titles are important, but as a coach what fills you [with pride] is when you see the growth of a footballer like Marcos," Simeone said last week. "When we see a footballer with the ability to do different things than what he had been doing in his career, we jump on it.
"It happened with Griezmann, with Saul, with Juanfran. Why does it happen? Because footballers want and dream of never giving up. Now I watch footage of Marcos training when he wasn't even starting, we saw him scoring goals and we said this boy cannot be a midfielder.
"One day we decided to give him a chance and played him as a forward. Now we are positioning him as an interior midfielder where he feels most comfortable."
Atletico's changed approach
Being an attack-minded player in Simeone's squad has not always been an easy role to fill; just ask Alvaro Morata, Jackson Martinez and Kevin Gameiro to name a few. For much of the Argentine's decade in charge in the Spanish capital he has advocated a defensive, pragmatic style that has brought rewards: a Europa League title, La Liga title and two Champions League final appearances to name the most obvious.
However there has been a shift in Atletico's approach of late as seen with the flourish of signings Luis Suarez and Joao Felix. Following seasons of Simeone trying to subtly change Atletico into a more progressive attacking side before quickly reverting back to the defensive approach that has served him well, he has finally made the move and stuck with it - mainly because he now has the players that fit such a way of playing.
It has led to Atletico sitting top of La Liga with a game in hand too. Albeit there have been signs of a slight wobble with Atletico only managing one win in the last four and suffered their first home league defeat since December 2019 on Saturday. Yet Simeone's side are the second top scorers in the league, behind Barcelona, and they have Llorente to thank for many of them.
Llorente suits Atletico's more adventurous and lethal style. His physique is remarkable and his speed and fitness give Simeone what he demands: a relentless pursuit of the ball while defending and the ability to stretch the attack and open spaces for the less mobile Suarez to score.
Despite flourishing in the right midfield role for much of the start of the season, in which he built a great working relationship with right-back Kieran Trippier, Llorente has been adaptable; filling-in in central midfield and recently at right wing-back.
"In the end, if I had not come across Simeone at any moment in my life, I'd still be playing as a defensive midfielder," Llorente told Marca in December. "All the credit goes to Simeone for playing me in a different position. There are coaches who see that and he is one of them. Sometimes it works out well, other times it does not. He got it spot on with me. His merit was seeing I could play in that position."
Stats show Llorente's pedigree
The right-footed attacker is regularly the highest-ranked Atletico player in the Spanish newspapers' match reports, some even go as far as to say that he is currently the best player in the country, and his form is as good as ever: creating or scoring eight goals across seven of his last nine games. It has led to Paris Saint-Germain being touted as interested in his services.
Atletico supporters haven't been able to show their new-found love for their fresh-faced star in person yet given the crowd-less stadiums; in fact the game at Anfield was the last time that supporters watch Atletico in person. That said, some rojiblancos supporters were initially slow in embracing Llorente because he was brought up in the Real Madrid academy and made 22 appearances for the club that both his father and great uncle represented in over 500 games.
Llorente is certainly of good pedigree and his season on loan at Alaves in 2016/17 gave him consistent top-flight experience but Zinedine Zidane didn't give him much of a chance when he returned to the capital and so was sold for €20M to their cross-city rival in 2019. He only managed a single goal for Atletico in his first eight months but then Anfield happened and his career has progressed from there.
"It's been the best year for me as a footballer, not just because of what happened at Anfield, which was the most special night of my career, but for the consistency after that game too," Llorente continues, "I'm scoring goals, giving assists... something that wasn't in my head.
"After the lockdown I played an important part in the team, qualifying for the Champions League and we weren't in the top four before the pause, due to the pandemic. This season has been the same, I'm doing my bit for the team and playing well so I'd say it has been my best year. I'm really happy I joined Atletico - I've no regrets."
To come full circle, Atletico meet English opposition again in this season's round-of-16. Simeone's side take on Chelsea on neutral territory in Bucharest on Tuesday and Thomas Tuchel would be wise to advise his left-sided defenders of the threat that Llorente possesses. In a team of the promising Felix, clinical Suarez, experienced Koke and agile Jan Oblak, Llorente is often the difference maker.
Tuchel may even show his players a video of Llorente's devastating impact when he last came up against an English team: the night that transformed Llorente's career.