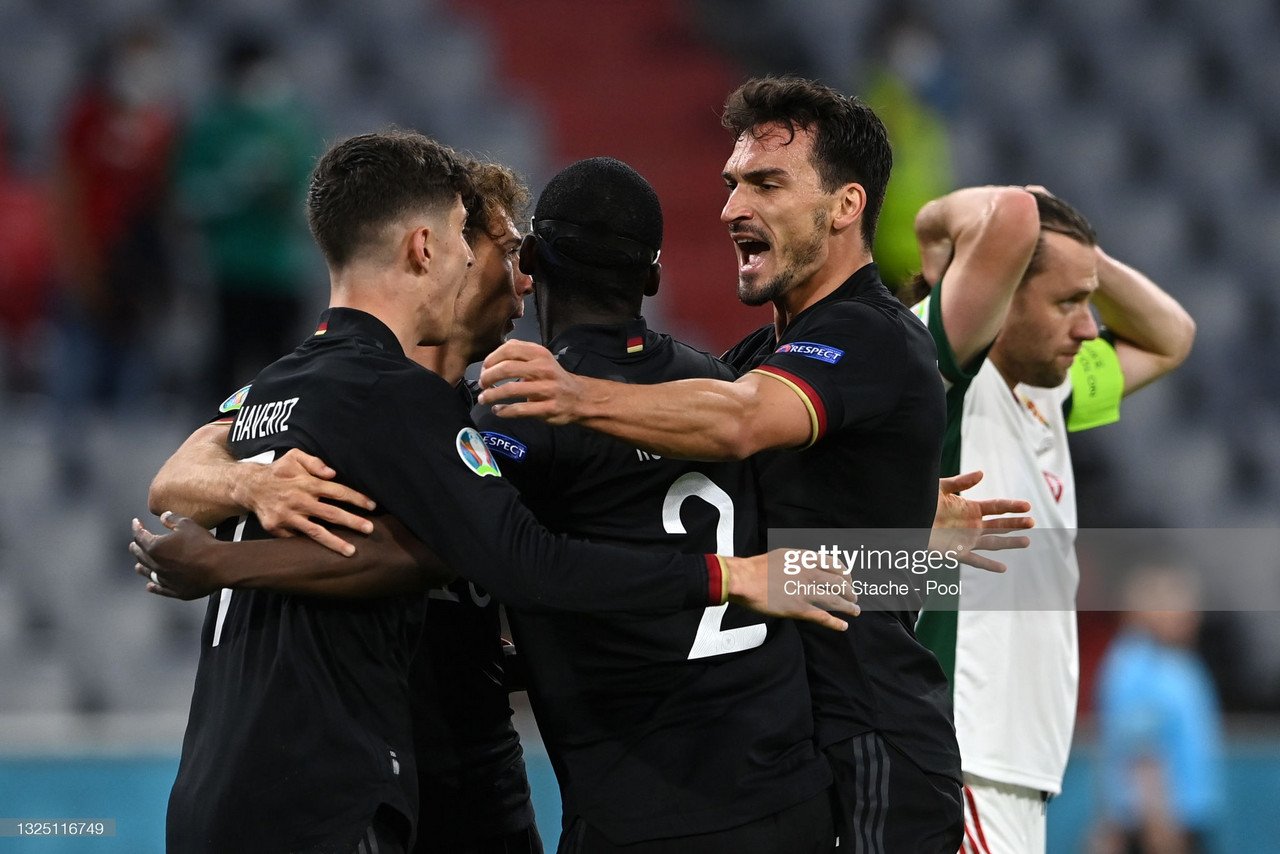 Germany breathes a sigh of relief after Leon Goretzka's late equaliser was enough to draw 2-2 with Hungary, finalising their second-place finish in Group F, allowing a close escape from the group of death.
Germany were expecting to follow up their 4-2 win against Portugal on Saturday with a comfortable victory against group underdogs Hungary. However, this expectation quickly faded with a brilliant header from captain Ádám Szalai in the 11th minute, who rose between the German centre backs following an inch-perfect cross from Roland Sallai.
As necessary, Germany's response was quick, and with his nation's first corner of the game, Borussia Dortmund's Mats Hummels rattled the crossbar with a strong header. Almost immediately, a passage of indecisive defending by the Hungarians enabled Matthias Ginter to poke the ball towards goal, however it went straight into the hands of a grateful Péter Gulácsi.
The right-hand side of the German team were dominant on the ball, with Joshua Kimmich and Ginter playing numerous crosses into the box, each missing touches from their front-line teammates who struggled to get in behind the Hungarian defence.
Hungary continued to win the ball back as Germany struggled to create chances in the heavy rain, with possession unable to penetrate the Hungarian back-line, stopping any direct German attack from ensuing.
Hungary went in for half time as a last-16 side. Shockingly, Germany went in bottom of Group F and faced consecutive group stage knockouts in major tournaments for the first time in their history.
Following half time, the dynamics of the game stayed the same; Germany dominated possession but were unable to put it to use as Hungary remained solid at the back.
In the 66th minute, a long freekick from Toni Kroos caused Gulácsi to flap and miss the ball, allowing Hummels to head centrally before Chelsea's Kai Havertz headed in from close range. However, a brilliant kick off by Hungary saw an instantaneous reaction in which a small ball over the top of the German defence was met by the head of András Schäfer, glancing below the arm of oncoming Manuel Neuer.
With little time remaining, Germany needed a goal to ensure qualification for the round of 16. Hungary sat deep whilst Germany remained stagnant, with the breaking down of deep-lying opponents and the lack of final product in the last third proving to be Germany's main weaknesses, complicating last-16 qualification.
With six minutes left to go, the German substitutes combined; Jamal Musiala cut back in the box, pulling the ball back to Goretzka. His first-time touch to Timo Werner led to a rebounding shot which kindly fell back into the path of Goretzka, who thumped it beyond Gulácsi to equalise and thus finish the game 2-2.
The draw was enough to send an underwhelming Germany side through to the knockout stages of the tournament, who will now face England at Wembley Stadium. Hungary will be proud of their performance, after their emphatic start was enforced by a brilliant defensive display, providing an extraordinary end to their immense Euro 2020 campaign.
Doubts have arisen as a result of Germany's inconsistency during the group stage. Joachim Löw's men portrayed their offensive abilities in their 4-2 win against Portugal, however this threat seemed to have diminished in the game against Hungary. This will provide England fans with hope when it comes to their clash in the round of 16, which commences on the 29th of June.