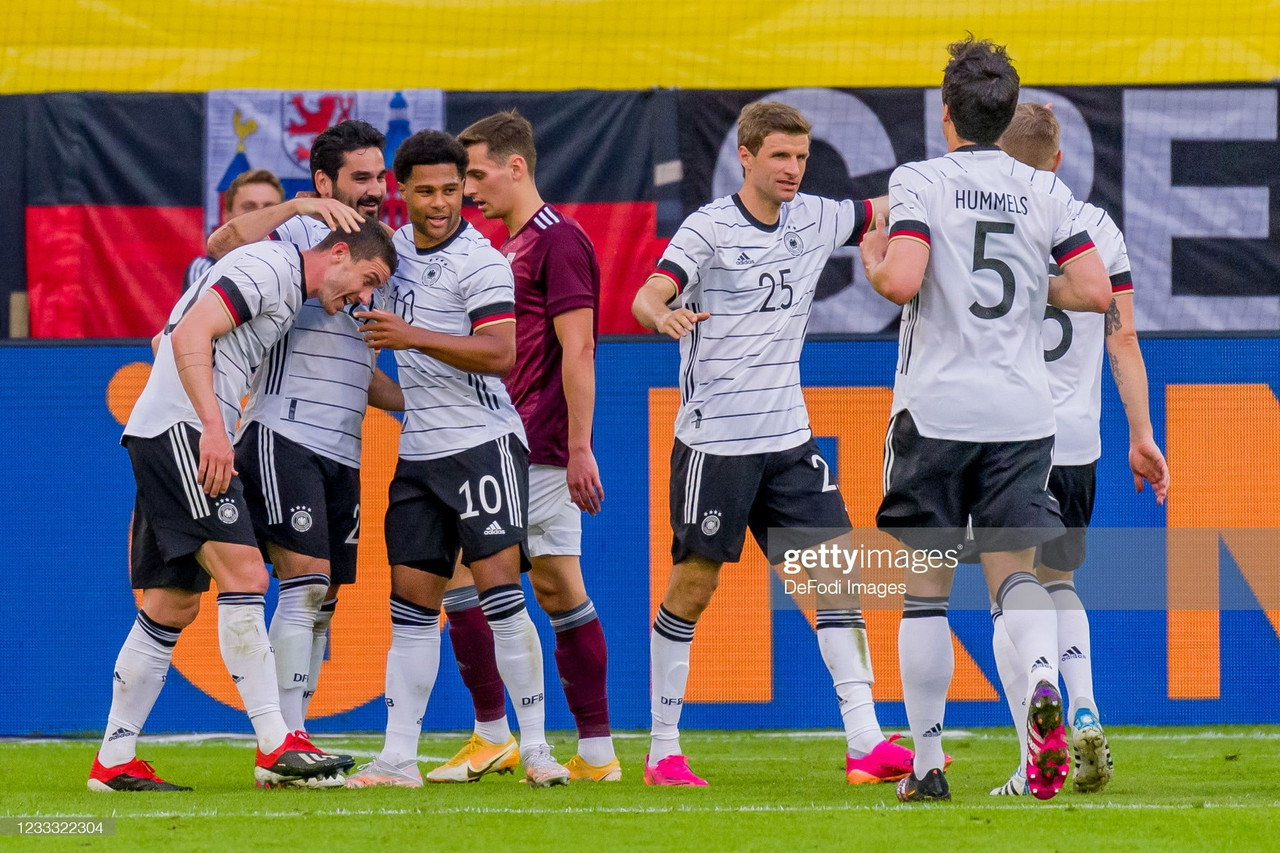 Die Mannschaft look to bounce back after a dreadful World Cup in 2018 with a victory this summer.
However, it will be no easy task, with a difficult group stage alongside France, Portugal and Hungary as well as a difficult path through the knockout phase.
Here are five predictions for Germany, looking to claim their record fourth European Championship for the first time since 1996.
Now, strap in.
There is a real possibility this can happen, forgetting the past 10 months or so of troubles.
Timo Werner is an exceptional striker on his day and has all the tools to score plenty of goals over the next month.
He can score from in and around the box and, in a system he is comfortable with from the start, he could easily have a fruitful summer.
With the countless amount of talent around him feeding him the ball, he will get more chances than he did at Chelsea this season and he is bound to take a few of them.
He needs to break out of the slump he found himself in in the Premier League, and a strong summer should kick-start his club-career at Stamford Bridge.
If he can displace Thomas Muller, his task becomes infinitely easier playing in such a talented team.
If he can't, he will need to provide from the bench, being that extra spark that could be needed in games.
Player of the Tournament – Ilkay Gundogan
Manchester City had a lot of standout performers this season, Ilkay Gundogan was definitely one.
He continued his stunning form throughout the season, scoring vital goals for his club on the way to the league title.
And his form has stayed with him, with a strike for his country against Latvia in the 7-1 win alongside a very solid performance.
He will be a linchpin in the middle of the park, chasing up the loose balls to keep his team on the front foot.
He will look to supply the forward players and will do all he needs to get his team into the attacking positions required to win the game.
And, in the trickier group stage games, he will break up play by winning the ball back to stop their opponents creating anything meaningful through the middle.
A fantastic domestic season can be capped off with a summer performance to remember for Gundogan.
Young Player of the Tournament – Kai Havertz
Kai Havertz started his Chelsea career slowly but has really come into his own in the past couple of months.
His winning goal in the Champions League final was the most recent in a growing line of impressive performances from the 21-year-old.
The German team is not an extremely young one, with Jamal Musiala the only other player under the age of 24.
Havertz is more likely to play a starring role than the Bayern Munich youngster, but that is not saying it is a formality for the former Bayer Leverkusen star.
Musiala has performed exceptionally since confirming his allegiance to Germany, and can make his mark on this tournament.
It is between these two and one will play more than the other, and it will be Havertz, especially in the opening game against Les Bleus.
Breakout performance of the tournament – Florian Neuhaus
Borrusia Monchengladbach star Florian Neuhaus has catapulted himself into the limelight this season, with seven goals and eight assists in the Bundesliga and DFB Pokal this season.
He is not likely to have a major role at the tournament but, when called upon, could be a valuable asset to have.
That surprise factor could play into his national team's hands, and will likely be a player that can come on in games to add something new.
He will be utilised in central role, yet he would also be a good option when the team needs a goal as he can play between the midfield and forward lines.
One to watch for sure.
Overall team performance – Round of 16.
There is a tricky challenge ahead of Germany and Joachim Low's last tournament will end frustratingly early.
It will be a surprise to see them win every game in the group, and luck will have to be on their side if they are to progress as group winners.
So, if it is second place group finish, the team will face the winner of Group D, which is likely to be England or Croatia and both teams will prove a tough test for them at that stage.
There is nothing to say they make it through the group either, of course.
If they manage to win the group, there is every chance Germany have enough experience and talent to go all the way to the end but, if they don't, the round of 16 will be their end.
It will be a sad end to Löw's tenure, but the team have been dealt a tricky hand for a group, and that is their downfall before the tournament even begins.