Group F underdogs Iceland proved many doubters wrong defeating and eliminating a heavily-favoured Austria side from Euro 2016, the final score 2-1.
Iceland will now face Group B runners-up England in the last 16 of Euro 2016 as they look to continue their inspirational rise.
Strong start for Iceland
Iceland started the stronger of the two sides, proving to frustrate Austria early on with their defensive mentality. Having used a similar set of tactics in their previous game against Portugal, Marcel Koller's side would have to find a way past arguably one of the most compact teams in the tournament.
Both sides came close to opening the lead in their crucial final group games. Three minutes in Iceland almost took a shock lead through Charlton Athletic winger Jóhann Guðmundsson's 25-yard strike that crashed against the Austrian crossbar. However, as expected, Austria did press Lars Lagerbäck's side high into their own half. Eventually the pressure almost paid off as Iceland goalkeeper Hannes Halldórsson was caught taking too long on the ball by Marko Arnautović. Nonetheless, a combination of the Austrian slipping and the ball getting away from him following his initial tackle, Halldórsson was saved of his blushes as he cleared the ball away to safety.
Despite this early pressure it was the group underdogs who controversially took the lead via a long Aron Gunnarsson throw-in. Replays showed that the Iceland captain's left foot was on the field as he threw the ball in towards a crowded Austrain penalty area. That would be irrelevant though as the officials failed to notice, leaving Jón Böðvarsson to meet the flick-on off of the throw-in to control the ball and finish it across a helpless Robert Almer.
Austria miss vital penalty
After opening the lead Iceland looked very confident in taking a more conservative approach in order to protect their lead with 25 minutes remaining until half-time. Nevertheless, Strákarnir okkar had a huge scare as with just 10 minutes to go they conceded a penalty, which could have potentially caused them to lose their lead. Ari Skúlason was penalised for holding David Alaba's arm as the Bayern midfielder attempted to win a header. To add to Austria's frustration, defender Aleksandar Dragović failed to capatlize on Skúlason's mistake striking the ball low and hard against the post.
Austria changes lead to equaliser
As the teams headed out for the second half, Koller unsurprisingly had made to substitutions in order to find a way past Iceland's immovable defense. Marc Janko and Alessandro Schöpf replaced Stefan Ilsanker and Sebastian Prödl. Iceland full-back Kári Árnason was his side's saviour in the opening ten minutes of the second half as he made to goalmouth blocks to prevent the Austrians from taking the lead.
The Austrians' persistence and quality would soon pay off though, as substitute Schöpf danced his way past multiple Austrian defenders and calmly placed the ball into the bottom right-hand corner.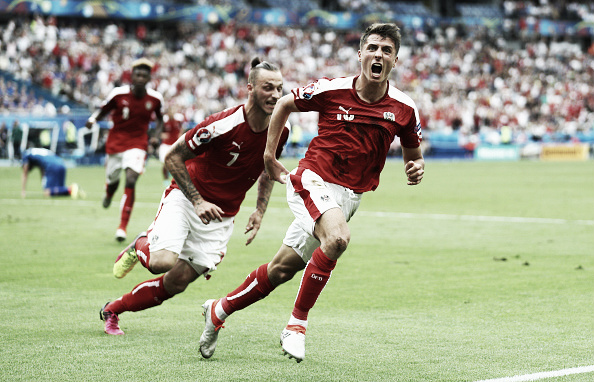 Iceland deal cruel blow to Austria
With the game set at 1-1 Austria looked all the more likely to go on and find the winner that would take them into the last 16. However, it was Iceland who would go on to find the winner. The heroics of goalkeeper Halldórsson helped the smallest nation in the tournament to victory, the highlight of a string of saves being an impressive hand to deny a swerving Alaba free-kick.
With four minutes of added time Austria sent up goalkeepr Almer in search for a winner. Following a disappointing corner he retreated to his goal with no cover if the ball was cleared by the Iceland defense, which is exactly what happened next. Birkir Bjarnason broke away, being chased by Christian Fuchs, but the Leicester City full-back could not prevent Bjarnason's pass from reaching the path of substitute Arnór Traustason, who tucked the ball away on the stretch sending Icenald fans, staff and players into jubilation.
Austria needed a win to remain in the tournament, and failed, therefore they were eliminated from Euro 2016 finishing bottom of group F on one point. Portugal's 3-3 draw with Hungary meant that Iceland leapfrogged Portugal into second place.