Belgium coach Marc Wilmots praised Eden Hazard's performance during his sides 4-0 thrashing of Hungary in the Last 16 of Euro 2016.
He believes that his captain "did his talking with his feet" after he was chosen to lead his country into the European Championships, getting the armband after Vincent Kompany was ruled out with injury.
Hazard scored a sublime goal of his own against Hungary and also set up one for Michy Batshuayi, which sets up a quarter-final match with Wales, who they failed to beat in two qualifying games for the tournament.
Coach praises Hazard for performance
Wilmots stated that captains can't always do his talking "with his mouth", because that was evident during the victory over Hungary as Hazard done his with "his feet".
Before the game the coach told his captain that he "wanted him to score" by cutting inside, and he wasn't doing that in previous matches, but he needs to "have fun" while playing.
"It was almost impossible to take the ball off him tonight," he said in his post-match press-conference. "When we are going through tough times, we can give him the ball and have a breather."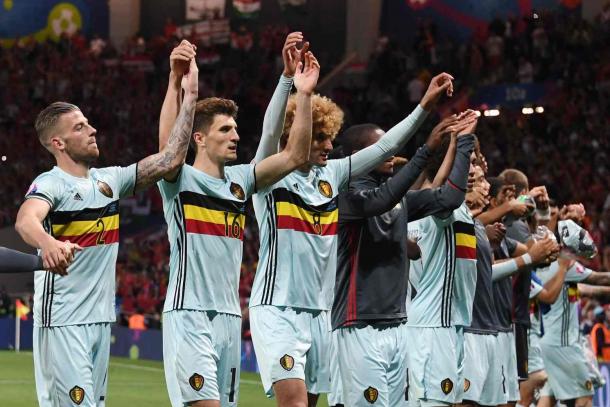 ​Belgium could have been more clinical
Wilmots' only problem with the performance against Hungary, was their wastefulness in front of goal, as the scoreline could have been even greater than it was.
At the break, Belgium were 1-0 up and looked comfortable, but Wilmots believes that they can't go in at that, because they "should have been at least 3-0 up".
He said: "It was 1-0 for too long. We were able to get the second and third goals quickly but we needed too many chances."
Belgium take their opponents out of the game when they start to move the ball quickly, according to their coach, and even though they "might be weaker" in defence, they always have players coming back.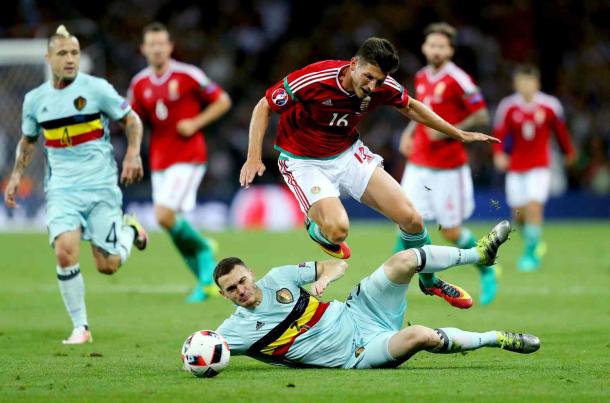 Wilmots will be forced to make defensive change
Thomas Vermaelen won't play against Wales due to the defender picking up a second yellow card and in the process, he picked up a suspension, and Wilmots said his side "shouldn't worry" about it.
"You can't hold back if you're on a yellow card, we have other good players. Thomas can have a break, he's been excellent," he said.
Wilmots isn't sure whether Vermaelen would have been able to play again just five days after the Last 16 match, but he will be "rested up" for the semi-finals, if they beat Wales.
Wilmots will be watching Germany in the next round and he isn't bothered if his side reach the final and have to play Joachim Low's side, saying "it would be great".