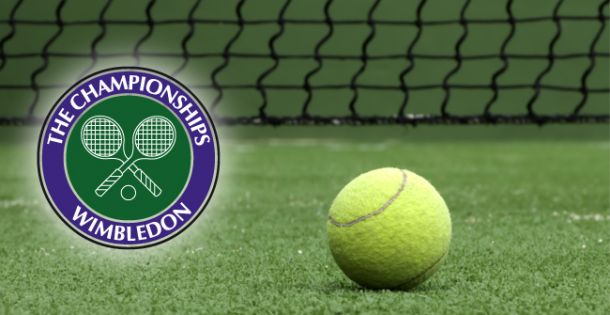 With the Wimbledon men's draw out yesterday, this article will look at how the qualifiers fared in the draw. Some definitely got a better deal than others.
I will be guiding you through the qualifiers and lucky losers that have made it to the draw as well as pin-pointing players that you should keep an eye on over the next two weeks at Wimbledon.
(Q) Konstantin Kravchuk (RUS) 
Age:29 (23.02.1985)
Birthplace:Moscow, Russia
Residence:Moscow, Russia
Best Wimbledon showing: First appearance
I'm as surprised as anyone that Konstantin Kravchuk has made the main draw as grass isn't his top surface. The Russian prefers hard and carpet courts. This will be his first grand slam main draw appearance in his entire career, having not survived in qualifying until this year. He faced an inexperienced opponent in Alex Bolt (AUS) and did what he required to make the main draw. In the first round proper he will face Gilles Simon (FRA).
Even though Simon has been struggling as of late, losing in the round of 16 to Julien Benneteau (FRA) at Eastbourne last week there isn't a shred of doubt in my mind that he will win this. Kravchuk just won't have either the grand slam know-how or the consistency required to beat Simon.
Prediction - Gilles Simon in three sets
---
(Q) Jimmy Wang  (TPE)
Age:29 (08.02.1985)
Birthplace:Saudi Arabia
Residence:Taipei, Chinese Taipei
Best Wimbledon showing: 2R (2006, 2007, 2013)
Wang Yeu-tzuoo or Jimmy Wang as he is more commonly known, has been handed a favourable first round encounter against Colombia's Alejandro Gonzalez. Gonzalez much prefers clay courts and only reached the first round of qualifying last year at Wimbledon, before having the best year of his career to get in direct this year. The 25yo from Medellin in Colombia may well steal a set but Wang is a much better grass court player reaching the second round last year and I fully expect him to come through this match barring any nightmares on the day.
Prediction: Jimmy Wang in four sets
---
(Q) Jan Hernych (CZE)
Age:34 (07.07.1979)
Birthplace:Prague, Czech Republic
Residence:Prague, Czech Republic
Best Wimbledon showing: 2R (2005, 2007)
It's fantastic to see 34yo Jan Hernych back in a grand slam main draw event for the first time since 2011. He played well during the qualifying beating Rajeev 'Rampras' Ram (USA) in the final qualifying round. His previous best showing at Wimbledon was reaching the second round in 2007 and although I don't see him exceeding that, he has a fair chance of matching it in his first round encounter. He plays Tobias Kamke (GER) in the first round and if the Czech serves well and manages to outhit Kamke then he has a good chance of winning and reaching the second round.
The match is one that could go either way but I can see Hernych just squeezing through to the second round on the day. He definitely still has the talent to do so.
Prediction – Jan Hernych in five sets
---
(LL) Aljaz Bedene (SLO)
Age:24 (18.07.1989)
Birthplace:Ljubljana, Slovenia
Residence:Hertfordshire, UK
Best Wimbledon showing: 1R (2013)
Aljaz Bedene has been granted a second chance after losing to Denis Kudla (USA) in the final round of qualifying. Due to injuries, players have pulled out of the tournament and Bedene is one of four lucky players to reach the main draw proper. The Slovenian who resides in Hertfordshire, has recently declared interest in switching nationalities to British. Whether this comes to fruition or not, time will tell but he can start with a big win here. He has a stern test in the opening round versus Kevin Anderson (RSA). I believe he can pull this off.
He only reached the first round last year after suffering with injury, so this coupled with the fact he lost in qualifying makes me sound crazy for thinking so highly of him but I really like his grass court game.
If he can return Anderson's serve with aplomb, as well as achieving a good performance of his own, he may well have a chance of causing an upset.
Prediction – Aljaz Bedene in five sets
---
(Q) Tim Puetz (GER)
Age:26 (19.11.1987)
Birthplace: Germany 
Residence: Germany
Best Wimbledon showing: First appearance
What a story Tim Puetz has become! He was the recipient of a golden set at US Open 2013 qualifying and to date hasn't played one main tour match in his career at ATP level,, yet has successfully qualified for Wimbledon. The German has been given a 50/50 match versus Teymuraz Gabashvili (RUS). To say Gabashvili isn't the most consistent of players is the understatement of the century and if the German can start well taking the first set, keeping with the Russian, Puetz could force an upset here. One thing is for sure – that golden set seems a long time ago!
Prediction – Tim Puetz in four sets
---
(Q) Alex Kuznetsov (USA) 
Age:27 (05.02.1987)
Birthplace:Kiev, Ukraine
Residence:Tampa, FL, USA
Best Wimbledon showing: 1R (2013)
Alex Kuznetsov may not have even got to this point. He was involved in a terrible car accident in 2005 when he was a junior breaking his femur. Luckily his recovery was positive and he wasn't halted in his career progression. He comes into his second Wimbledon appearance in good form defeating fellow American Tim Smyczek in final qualifying round.
He faces fiery Fabio Fognini (ITA) in the first round. The Italian had a Wimbledon to forget last year, losing in the first round to Jurgen Melzer (AUT). However, I just cannot see him losing to Kuznetsov in their first round encounter. Kuznetsov will need to start really well and hope Fognini has a bad day, otherwise it will be a straightforward win for the Italian.
Prediction – Fabio Fognini in three sets
---
(Q) Ryan Harrison (USA)
Age:22 (07.05.1992)
Birthplace:Shreveport, Louisiana
Residence:Boca Raton, Florida, USA
Best Wimbledon showing: 2R (2011, 2012)
Ryan Harrison has been handed perhaps one of the hardest challenges at this point in time. He is the lucky individual that has been given the chance of beating current Queens champion Grigor Dimitrov (BUL) in the first round. Dimitrov is not known for his consistency in grand slams only recording a second round best showing at Wimbledon to date, This year he has shown promise on grass courts though and confidence in his game which he has been lacking in the past. This could be a very good match between the two young guns but I feel it won't be as good as it potentially could be. Harrison could win a set but I expect Dimitrov to come through in the end.
Prediction – Grigor Dimitrov in four sets
---
(Q) Luke Saville (AUS)
Age:20 (01.02.1994)
Birthplace: Berri, Australia
Residence: Codogla, Australia
Best Wimbledon showing:  W Boys Juniors (2011), First main draw appearance
The young Aussie has shown grass court skill in the past winning the boys juniors Wimbledon title in 2011 as well as reaching the final a year later falling at the final hurdle to Filip Peliwo of Canada. This will be his first Wimbledon on the pro tour so nerves may come into play, but he showed he can handle nerves coming back from breaks down in the final set versus Yann Marti of Switzerland to qualify for the main draw in a match that lasted nearly four hours.
Barring nerves you would expect him to have too much grass court flair for Dominic Thiem (AUT) in the first round. The Austrian is going to be a fantastic player in the future but it's fair to say that grass isn't his best surface. I believe Saville will come through in the battle of the 20 year olds and have too much for Thiem.
Prediction – Luke Saville in four sets
---
(Q) Samuel Groth (AUS)
Age:26 (19.10.1987)
Birthplace:Narrandera, Australia
Residence:Melbourne, Australia
Best Wimbledon showing: First appearance
Big serving Sam Groth has had a fantastic year so far winning his first Challenger tour title in Canada at the end of March and then narrowly missing out on a Wimbledon wildcard ,,,losing to fellow Aussie Nick Kyrgios in the final of Nottingham-2 Challenger.
His serve has proven to be a massive weapon on grass and has seen him through to this stage reaching his first Wimbledon main draw appearance and first grand slam main draw appearance outside his native Australia. He will need his big serve to be at full strength in the first round versus Alexandr Dolgopolov (UKR).
Although I expect Dolgopolov to win, if Groth serves like he's known to serve, he not only has a big chance of breaking the fastest serve speed at Wimbledon currently held by Taylor Dent, he also has a chance of getting his teeth into this match and make a match of things. Groth is definitely capable of serving big, recording a serve of 263km/h in a Challenger event in Busan, South Korea to break the previous fastest ever serve snatching the title from big Croat Ivo Karlovic.
If he has a bad service day though, it could be over fairly quickly.
Prediction – Alexandr Dolgopolov in four sets.
---
(Q) Yuichi Sugita (JPN)
Age:25 (18.09.1988)
Birthplace: Sendai, Japan
Residence: Sendai, Japan
Best Wimbledon showing: First appearance
25yo Yuichi Sugita is another player making their grand slam debut at Wimbledon this year. Yuichi definitely has talent on a grass court playing well in qualifying defeating Marco Chiudinelli (SUI) to take his place in the main draw.
The draw hasn't been kind to him though, pitting him against Queens Club and Eastbourne finalist Feliciano Lopez (ESP). Lopez has shown a considerable amount of skill the past weeks on a grass court, just narrowly missing out to Grigor Dimitrov in the final of Queens. Although he can play on the grass, I just don't think Sugita will have enough to out-power Lopez. I would think Lopez will continue his confident start to his grass court campaign and win this match.
Prediction – Feliciano Lopez in three sets.
---
(Q) Ante Pavic (CRO)
Age:25 (07.03.1989)
Birthplace:Ogulin, Croatia
Residence:Zagreb, Croatia
Best Wimbledon showing: First appearance
Another player that the draw hasn't been kind to is Ante Pavic of Croatia. He faces Alejandro Falla of Colombia, a player that enjoys the grass of Wimbledon famously taking a two set lead on Roger Federer at Wimbledon 2010 as well as being three points away from victory. Falla couldn't find the finish line though on this occasion as Federer battled back to win in five sets. The two men met again in the final of Halle this year where it was a different story altogether. Although it was a close contest, Federer took the initiative in the second set to win his seventh Halle title in two tiebreaker sets. Falla has a game that fits well with grass courts and although he prefers hard courts, he definitely will have too much experience for Ante Pavic in the first round.
Prediction – Alejandro Falla in four sets
---
(Q) Gilles Muller (LUX)
Age:31 (09.05.1983)
Birthplace:Schifflange, Luxembourg
Residence:Leudelange, Luxembourg
Best Wimbledon showing: 3R (2005, 2011)
Gilles Muller has had a resurgence as of late with the 31 year old Luxembourgish left-hander coming back from a left elbow injury that has been troubling him since 2012, to win four Challenger tour titles this year. He has done extremely well this year elevating his ATP ranking from a low of 374 at the end of last year to just below top 100 status at 102 in the world. He has said he desperately wants to get back into the top 100 and with his game he can definitely still do that.
He was impressive in Wimbledon qualifying not dropping a set in any of his three qualifying matches. He comes into Wimbledon full of confidence to succeed. Muller isn't a stranger to Wimbledon, as he is arguably most famous for defeating Rafael Nadal at Wimbledon 2005. His big serve gives him life on the grass. He faces Julien Benneteau (FRA) in the first round in what could be a very interesting match. This match could go either way but I think it will be Muller that will get the breakthrough and go on to face Roger Federer in the second round.
Prediction – Gilles Muller in five sets.
---
(Q) Pierre-Hugues Herbert (FRA)
Age:23 (18.03.1991)
Birthplace:Schiltigheim, France
Residence:Mittelhausbergen, France
Best Wimbledon showing: First appearance
Pierre-Hugues Herbert is just one of a group of young Frenchmen that have a lot of talent. The 23 year old from Alsace has had a breakthrough season reaching his highest career ranking of 130 in the world. He is definitely capable of bettering that. He faces Jack Sock (USA) in the first round of his maiden Wimbledon.
Sock started his Wimbledon preparation well winning two of his four warm up matches on the grass at The Boodles exhibition event this week, winning against Dominic Thiem (AUT) and compatriot John Isner as well as losing to Jerzy Janowicz (POL) and Kevin Anderson (RSA).
This could be a fairly close match but Herbert really has shown that he is a player to look so he is my pick for the match.
Prediction – Pierre-Hugues Herbert in four sets.
---
(Q) Tatsuma Ito (JPN)
Age:26 (18.05.1988)
Birthplace:Mie, Japan
Residence:Tokyo, Japan
Best Wimbledon showing: 1R (2012)
As a fan of Ricardas Berankis (LTU), this is a tough pill to swallow. Berankis was two sets and a break up and looked like he was going to sail into the Wimbledon draw. It wasn't to be though, as Ito battled back to win in five sets, bagelling the Lithuanian in the fifth set to add insult to injury and further salt to the wound.
Tatsuma Ito faces lucky loser Simone Bolelli (ITA) in what could be a close match. Looking at things from an objective point-of-view, Ito has a fair chance of winning this match and it isn't the worst draw in the world for him. Bolelli reached the third round in 2011 so has the know-how to give the Japanese player a Bolelli-ache *sic* and take out the match.
Prediction – Simone Bolelli in four sets
---
(Q) Denis Kudla (USA) and Marsel Ilhan (TUR)
Denis Kudla
Age:21 (17.08.1992)
Birthplace:Kiev, Ukraine
Residence:Arlington, Virginia, USA
Best Wimbledon showing: 2R (2013)
Marsel Ilhan
Age:27 (11.06.1987)
Birthplace:Samarkand, Uzbekistan
Residence:Istanbul, Turkey
Best Wimbledon showing: 2R (2010)
Next we have a good old qualifier versus qualifier match and one thing is for sure, a qualifier will be victorious ... Moving swiftly on, 21yo Denis Kudla from Virginia in the United States should really win this match and show considerably more skill than his Turkish opponent. This is the second time that Marsel Ilhan has qualified for Wimbledon, the first was in 2010 when he reached the second round. This could be a close encounter but I do expect Kudla to be the qualifier going forward to second round.
Prediction – Denis Kudla in four sets
---
(Q) James Duckworth (AUS)
Age:22 (21.01.1992)
Birthplace: Sydney, Australia
Residence: Sydney, Australia
Best Wimbledon showing: 1R (2013)
James Duckworth or 'Ducky' as he is known in his native Australia reached his second Wimbledon main draw this year. There he will face one of this week's Eastbourne finalists Richard Gasquet (FRA). A former Wimbledon semi-finalist in 2007, Gasquet isn't an easy match for the 22 year old Aussie but he showed in his match against Tomas Berdych (CZE) at Queens Club that he can hit hard, with flashes of brilliance during this match.
He will need to hope nerves don't get the better of him though as they did in the Berdych match, losing a 3-0 lead in the first set tiebreaker. He did win a set versus the Czech with some lovely grass court play but Berdych got the better of him in the end.
This may be close for a set but ultimately Richard Gasquet should come through in the grand slam best of five sets format.
Prediction – Richard Gasquet in four sets
---
(LL) Malek Jaziri (TUN) 
Age:30 (20.01.1984)
Birthplace:Bizerte, Tunisia
Residence:Tunis, Tunisia
Best Wimbledon showing: 2R (2012)
Malek Jaziri from Tunisia was named as the third lucky loser for the main draw of Wimbledon 2014. Malek is arguably best known for the controversy at the end of 2013 where the Tunisian Tennis Federation had forbidden him from taking part in a match versus Israeli Amir Weintraub at a Challenger event in Tashkent due to political reasons.
Although Jaziri and Weintraub are good friends, he didn't play as he thought it could have harmed his career if he did. Jaziri was cleared of all wrongdoing but Tunisia were banned from the Davis Cup. He will face Gael Monfils (FRA) in the first round of Wimbledon. Malek reached the second round of Wimbledon in 2012 but did so by beating qualifier Jurgen Zopp (EST) before being beaten in the second round by Philipp Kohlschreiber (GER). If he is fully fit, Monfils should win this without much trouble.
Prediction – Gael Monfils in four sets
---
(LL) Frank Dancevic (CAN)
Age:29 (26.09.1984)
Birthplace:Niagara Falls, Canada
Residence:Niagara Falls, Canada
Best Wimbledon showing: 2R (2007, 2008)
Last but by no means least is Canadian Frank Dancevic. He was named as the fourth and final lucky loser and rightly so after he revealed that he was treated badly at Roehampton during qualifying. He wasn't impressed with the fact that there wasn't an ice bath on site with players filling a bin full of ice, as well as having just a couple of hospitality staff on site for over 100 players. At a top level tournament such as Wimbledon, this just isn't good enough.
The Canadian known as 'Fancy Frank' faces big serving Ivo Karlovic (CRO) in the first round in a match that he could definitely win. If he can tame the serve of the big Croat, he could cause the upset here and potentially set up a third round encounter with Rafael Nadal (ESP) in the third round should both players get there.
Prediction – Frank Dancevic in four sets
---
Well there we have it, hopefully now you know a bit more about all of the qualifiers that will be taking part in Wimbledon 2014. They shouldn't be taken lightly as the vast majority of them are really good players. Which of the qualifiers will progress to the second round? Will there be any big upsets involving qualifiers?
Wimbledon 2014 starts on Monday 23rd June 2014.
---
Stay tuned to VAVEL Tennis this grass court season to find out! We will be providing extensive coverage from Wimbledon over the following weeks, as well as tournaments all over the world. We are the place to be for all the biggest tennis news this Summer.
---