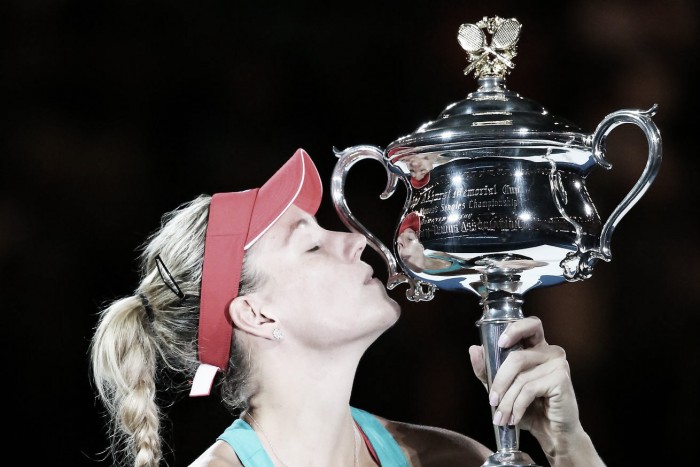 Angelique Kerber is the Australian Open champion after stunning Serena Williams with a hard-fought three set victory. Kerber was relentless in applying pressure on the world number one from start to finish, and fully deserves her first Grand Slam title.
It was an enthralling match, changes of momentum frequent, and both players were able to produce some stunning tennis as they fought to the very last point for the title.
Serena had been the overwhelming favourite having won 21 of her 25 major finals, and three of the four major titles in 2015. She's been untroubled all the way through the draw and looked to be powering her way to her 22nd major title.
Kerber had started slowly this fortnight, needing to save a match point in her first round match, before growing stronger as she moved through the draw. The German had already put out Victoria Azarenka, and added the WTA's biggest scalp, exhibiting some spectacular defence as she battled her was to a famous victory.
Kerber resists early Serena pressure
It looked as though it was going to be business as usual for Serena as she moved to 15-30 on the Kerber serve after a double fault from the German. Kerber was not interested in giving Serena any more encouragement early on though, and won the next three points in a row. And in the very next game, the tables turned.
Kerber was getting real depth on her second serve returns, and some tight angles on her groundstrokes helped her get to 15-40 and two break points. She only needed the first, breaking Serena early on to take a surprise early lead.
Despite Serena unloading on her own second serve returns, Kerber was strong on serve, and defended her break with a solid hold. The German continued to pile the pressure on her opponent, getting to 0-30 on Serena's very next service game, but Serena held firm to avoid the double break with an unreturnable serve down the middle.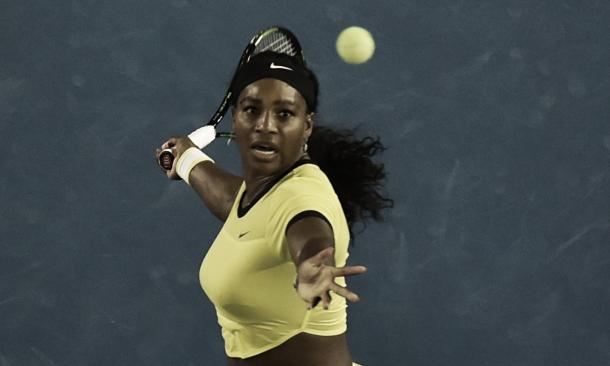 Error-strewn Serena breaks back
Unforced errors were flying from Serena's racquet, the count reaching ten in just the sixth game. Kerber had been by far the steadier of the two players with just two unforced errors, but her inability to find her first serve gave Serena the chance to break back, and the American didn't need telling twice.
From here, it looked as though Serena would take control. Back on serve in the first set, the tennis world has seen Serena speed away from her opponents so many times in this situation, but this time it was not to be. Kerber showed off some superb defence and more deep hitting with her groundstrokes to reach 30-30 in Serena's very next service game. Two inexplicable errors from the world number one when in total control of the point then gave the break straight back to Kerber.
Serena was not about to give up, firing a return winner early in the next game, but the errors continued, two more in the game helping Kerber to hold to 15.
Defending champion attempts to fire herself up
By this point, the defending champion knew she was in trouble, and let out huge roars to go with her two winners in the next game. The unforced errors kept coming, but this time Serena was serving well enough to get through the game and force Kerber to serve for the set.
Kerber had no problems closing out the set, some more excellent defense eventually giving rise to Serena errors, and a superb shot at the American's feet as she approached the net helping the seventh seed hold to love to take the set.
Serena still has a winning record after dropping the first set though, and this match was far from over. After both women got through their early service games, Serena made her move.
Kerber double faults allow Serena in
Kerber opened the fourth game with a double fault, and Serena cranked up the power on her groundstrokes to take a 0-30 lead. Another double fault followed to give the defending champion three break points, and after a good serve from Kerber and another unforced error from Serena, she took her third opportunity to move 3-1 ahead.
Kerber threatened to break straight back - a stunning forehand pass after a Serena drive volley helping her on her way to 0-30. The world number one had found her game by now though, and was able to take the next three points and consolidate her break of serve.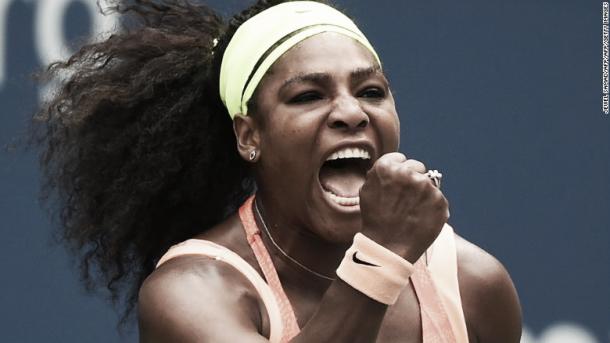 Serena in control of second set
From there, Kerber was unable to exert much pressure on the Serena serve, and did well to get out of trouble at 0-30 down when serving to stay in the set. Although Serena was untroubled in serving out the set 6-3, Kerber's hold had sent a message that she was not about to throw in the towel, and gave her the advantage of serving first in the final set.
The match was into a decider, and with Serena's improvement in the second set, it seemed that the momentum and the odds were with her. It was crucial for Kerber to start well, and she did, some good serving and another forehand pass helping her to a hold to 15, as Serena began to look increasingly troubled with her volleys.
Kerber grabs initiative in final set
The second game of the final set somewhat summed up the match. It featured Serena missing a volley and hitting a forehand long, spectacular defence from Kerber ending with another forehand pass, but most importantly it featured a break of serve for Kerber, a huge forehand setting up an easy putaway on break point.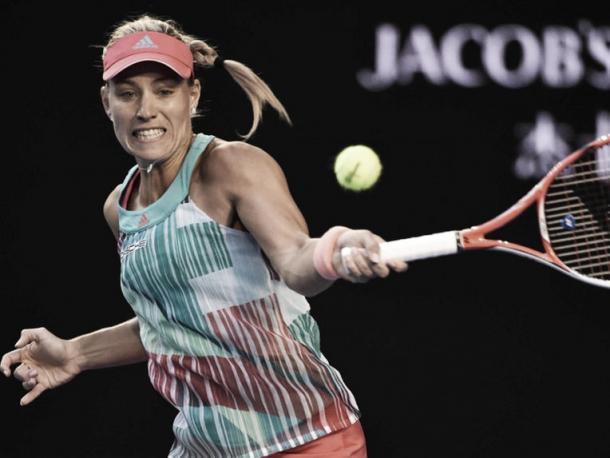 Lesser players may have struggled to keep going at this point, but the 21-time major champion is not a lesser player, and some huge returns in the very next game earned Serena an immediate break back to get back on serve.
The world number one was noisily urging herself on, recovering from being passed yet again after another weak volley to hold to 15 and get the match on level terms at two games all in the final set
The match was finely poised, and after a Kerber hold to 30 came possibly the most important game of the match.
Kerber breakthrough in marathon game
In a service game lasting well over ten minutes, Serena was forced to save four break points, including two in a row from 15-40. It was an intense battle, some stunning rallies interspersed with more struggles from Serena at the net as Kerber applied colossal pressure on the defending champion at a crucial stage of the match
A double fault, followed by the second of two gorgeous drop shots from Kerber, followed by Serena hitting long finally gave the German a break on her fifth break point of the game.
After some wild groundstrokes from Serena allowed Kerber to consolidate her break and move one game away at 5-2, the American held serve rather unconvincingly, and it was Kerber's chance to serve for the title.
Kerber unable to serve it out
Even at 5-3 down, Serena should never be counted out. Some nervy Kerber groundstrokes gave Serena the chance she needed of two break points, and she emphatically took the second after a huge, deep return forced an error from Kerber.
The set was again back on serve, and the pressure seemed as though it may finally be starting to impact on Kerber. Serena has won from losing positions countless times, and looked increasingly as though she may do again.
But then came two groundstrokes into the net to give Kerber a chance at 0-30. Serena was able to power her way to 40-30 and looked set to hold and put the pressure back on Kerber, but the German had other ideas.
Kerber breaks to take the title
A massive 2nd serve return that was too much for Serena to handle erased the game point at deuce, and Kerber was again just two points away. Kerber forced a forehand error from Serena to bring up her first championship point, and it proved to be the only one she needed, as the defending champion allowed another volley to drift long.
Kerber fell to her back in celebration, the first player to defeat Serena in a major final for over four years, and the first German to win a Grand Slam title since the great Steffi Graf in 1999. This was a thoroughly deserved win, her incredible defence drawing frustrated errors from the world number one, who simply couldn't find a way through Kerber's defences.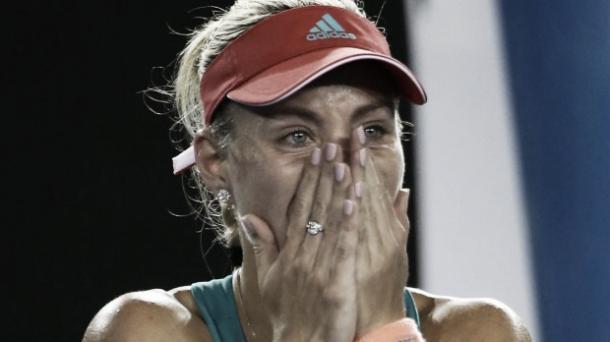 Self belief rewarded for Kerber
Kerber went into the match believing she could win - not something that could be said for all of Serena's opponents - and proved herself right, fighting hard to earn herself victory in a match where Serena, for once, was not the better player.
The German couldn't quite believe what she'd achieved, saying that it "sounds crazy" to call herself the Australian Open champion. In an emotional speech, she remembered how close she was to defeat in the first round, saying that she "had one foot in the plane to Germany. Now, I have beaten Serena and won the championship!"
Serena, for her part, was gracious in defeat, telling her opponent "you deserve this and I'm so happy for you," and to "enjoy this moment."
Serena not unbeatable
Kerber's win will give hope to the rest of the WTA, who had been in thrall to Serena's power as she won four major titles in a row before succumbing to the pressure as she neared the Grand Slam in 2015. The German showed that Serena's power can be absorbed, and that she is not indestructible in the biggest matches.
For now though, Kerber deserves all the plaudits. The new world number two has achieved what had been looking increasingly impossible - defeating Serena in a Grand Slam final.