 Following on from their successes in Rio, British Canoeing have already turned their attention to making improvements ahead of the Tokyo Olympics in 2020.
Having picked up two gold's and two silver's, shared between Slalom and Sprint events, the team passed their medal target set out by UK Sport, meaning they will continue to receive top-end funding over the next Olympic cycle.
The medals accumulated saw them finish behind Germany, Spain and Hungary in terms of Canoeing events and if the sport in Britain can continue to grow there is no reason to believe that top spot is attainable in the future.
Golden duo Clarke and Heath help GB better London tally
Four years ago in London, the duo of Tim Baillie and Etienne Stott won gold in the C-2 slalom, which was followed up later in the Games by a golden triumph for Ed McKeever in the K-1 200m sprint.
The two gold's, which came alongside a silver and bronze in two other events had given Great Britain their best ever medal return in the sport, something they managed to surpass in Rio.
Joe Clarke was the first to top the podium, claiming a surprise victory in the Men's K-1 Slalom event. The 23-year-old finished third in the semi-final, before setting a time of 88.53 seconds in the final which his competitors failed to beat.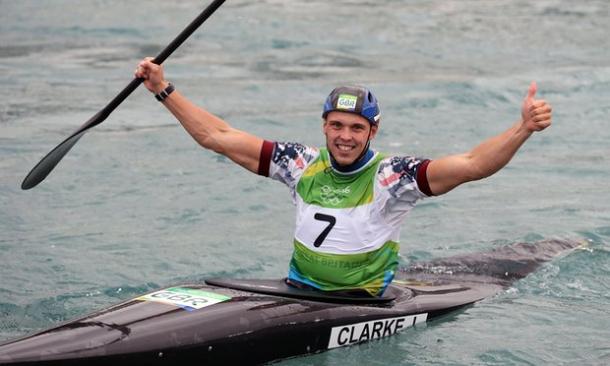 Then, towards the end of the Rio Games, Liam Heath powered through the field to win gold in Men's K-1 200m Sprint, maintaining Britain's dominance in that discipline following on from McKeever and Tim Brabants' victories in Beijing and London.
To go alongside the gold's, David Florence and Richard Hounslow picked up silver in the C-2 Slalom, with Heath teaming up with Jon Schofield for another silver in the K-2 Sprint to help topple the London medal haul.
British Canoeing's Performance Director, John Anderson MBE, was full of praise, when announcing that "Rio has been our best ever games," while adding that the team had "a lot of other finalists" when talking to britishcanoeing.org.uk.
Anderson says team will not 'stand still' despite record haul
Despite being over the moon with their "massive achievement" in South America, Anderson is already looking ahead to the future.
"We don't focus on outcomes and podiums," said Anderson. "We focus on having a world class process and our preparation has been absolutely the best."
The team had been in Brazil every year since London, "preparing and training", which is something they will continue ahead of Tokyo, and the Canoe chief believes "the two golds and the two silvers are a meaure of that preparation."
Anderson ended by saying that "You can't stand still and canoeing will move on and we will be looking for those gains for Tokyo", as British Canoeing make their first move in the aim to better their Rio performance in 2020.