Defending Olympic champions Russia missed only three targets on their way to gold in the men's 4x7.5km relay at the Biathlon World Championships in Hochfilzen.
The Russians held off the challenge of France to win gold ahead of their rivals by 5.8 seconds, with Martin Fourcade failing to haul in Anton Shipulin during the final leg.
Hosts Austria finally have their first medal of the Championships, after Dominik Landertinger surged ahead of Simon Schempp over the final climb to beat Germany by 9.5 seconds to claim a terrific bronze.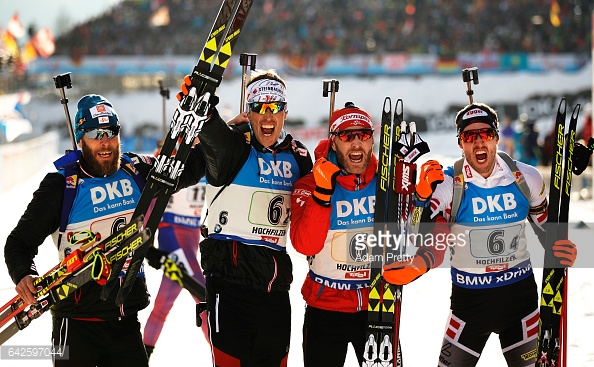 Russians claim gold thanks to exceptional shooting
The gold medallists only needed three spare rounds to clear their targets which played a big part in their gold medal win.
The trio of Alexey Volkov, Maxim Tsvetkov and, Anton Babikov, moved up through the field during the first three legs to place team leader Anton Shipulin in position to claim gold.
Shipulin would need to stay ahead of the number one ranked Biathlete in the field, Martin Fourcade, and despite missing one shot on the final standing shoot, as opposed to Fourcade who shot clear, his speed over the final lap saw him hold off the Frenchman's fight.
For France, all was going well until the third leg, when Simon Desthieux lost 30 seconds on his rivals with three errant shots in the prone shoot which proved vital as he gave Fourcade too much work to do, and they had to settle with silver.
'Landy' flies up final hill to secure hosts first medal
One of the biggest disappointments at these terrific championships to date had been the performance of the host nation, Austria.
With plenty of high-ranked biathletes, more was expected from the Austrian biathletes, and following solid performances from Daniel Mesotitsch, Julian Eberhard and Simon Eder they were in second place going into the final leg. With Russia and France battling for gold, it was left for Daniel Landertinger to battle with Simon Schempp of Germany for the bronze medal.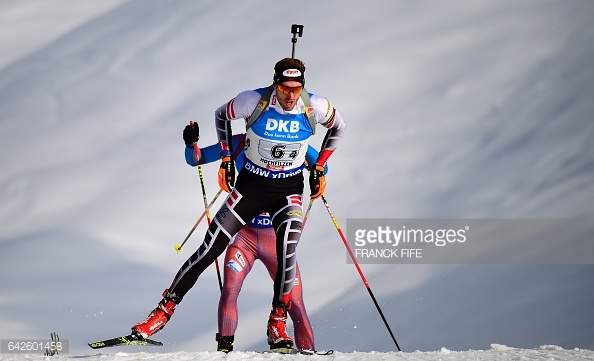 'Landy' as he is affectionately known, had only a two-second lead over Schempp coming out of the final shoot, meaning he had two kilometres to hold off one of the best sprinters for the final medal.
After heading into the penultimate kilometre alongside one another, Landertinger used his superior knowledge of the home conditions, powering up the final climb and putting considerable distance between himself and Schempp.
The German had been sitting on his rivals tail for much of the final lap and looked destined to jump him close to the finish, yet he had nothing to give after Landertinger's final push and was made to settle with fourth place.
The final day of competition on Sunday sees the men and women compete in the Mass Start races, with Fourcade and Laura Dahlmeier likely to be the pre-race favourites once again.