 The 2017 World Swimming Championships was given a perfect ending on the final day of competition, with Hungarian hero Katinka Hosszu taking home a terrific gold medal.
Hosszu has been greeted with huge roars of appreciation all week in Budapest, and this time they accompanied her all the way to finish of her race at the Duna Arena.
Hosszu's early attack leads her to medley gold
In a race for which the 'Iron Lady' was overwhelming favourite, Hosszu went out like a shot over the first two lengths, finishing the butterfly leg just outside of world record pace.
The chasing pack were already in the rear-view mirror, and thanks to a breathtakingly fast backstroke leg the race was all but won at the halfway stage. Her lead stood at 2.70 seconds at the 200 metre mark, and the crowd were at fever pitch.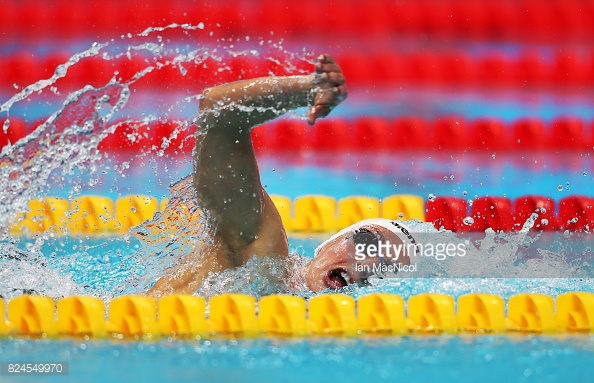 Her lead extended even more following the 100 metres of backstroke, with Canada's Sydney Pickrem and Yui Ohashi of Japan sitting in the other medal positions ahead of the freestyle.
Then followed the predictable surge by Mireia Belmonte over the final 100, with the Olympic bronze medallist making her push for the podium. The 26-year-old was comfortably fastest at the back-end of the race, moving past, first Ohashi, and then eventual bronze medalist Pickrem to take silver, but the race was all about one women.
Finishing in a championship record time of 4:29.33, Hosszu had decimated the field to complete the triple-triple, having now won both the 200 & 400m IM's in Budapest, Kazan and Barcelona.
Kalisz completes double with 400 gold
Earlier in the final session, America's Chase Kalisz picked up his second gold in Budapest, winning by over two seconds in the 400m IM final.
Kalisz did most of his damage on the breaststroke leg to complete the medley double following victory in the 200 IM earlier in the week.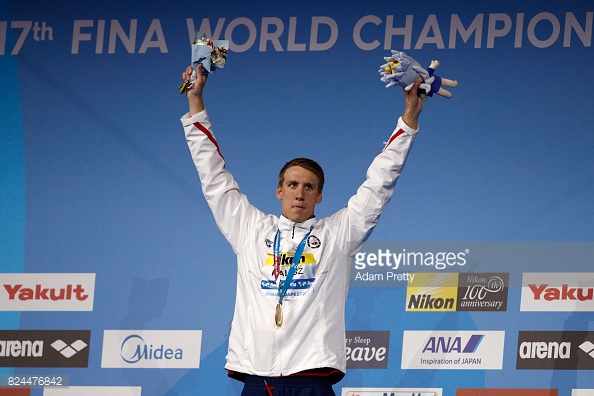 The winning time of 4:05.90 dwarfed Michael Phelps' previous Championship Record which had stood for over ten years, with the home crowd cheering home a thrilling silver by David Verraszto.
Kosuke Hagino who claimed gold in this event at the Rio Olympics one year ago finished down in sixth this time around, with his teammate Daiya Seto taking bronze.
Unfortunately for Britain's Max Litchfield, a national record time of 4:09.62 saw him repeat the fourth-place finish which he also had to make do with in Rio last August.