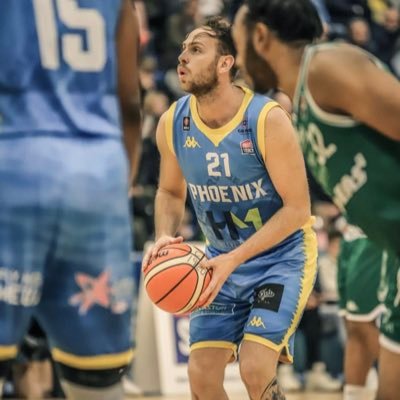 After joining the Cheshire Phoenix at the mid-way stage of the 2019/20 British Basketball League season, small forward Mark Rangeley has committed to another year with the Nix.
The 6'6 forward from Manchester was only able to rack up four performances for the Nix before the season came to an abrupt end, due to the coronavirus pandemic.
Despite the 29-year-old's lack of appearances last year, he could yet be a key part to the Phoenix's success on the court, and retaining the forward is a quality piece of business for the side.
Rangeley's Career So Far
Rangeley began his career for hometown team and local rivals the Manchester Giants, playing 22 times for them in the 2017/18 BBL season.
In just an average of ten minutes of action, the forward managed to average 3.2 points per game along with one assist and 1.3 rebounds.
After a year away from the BBL, Rangeley returned to the Phoenix at the half way mark of the season, and didn't get time to really show of his abilities on the court.
After signing, Rangeley played four games for the Phoenix, averaging only 4.2 minutes.
This would have been due to his recent arrival, and the forward may be expecting to see many more minutes and opportunities for the upcoming 2020/21 season.
Rangeley Confident in his Decision
It may have been a season full of unforeseen circumstances, but Rangeley knew all along that Cheshire was where he wanted to call home.
Speaking to the Cheshire Phoenix website, Rangeley said: "I can't wait to be back at the Cheshire Phoenix family.
"It was a natural decision for me after spending half the season there last year."
Coach Ben and the whole organisation made me feel welcome and I feel like we have unfinished Buisness after the league finished early last season. I can't wait to get back to it with the guys."
Coach Thomas Confident in Rangeley's Ability
Coach Ben Thomas knows that this season things will be different at the Phoenix due to having a smaller roster at hand, and he knew he wanted Rangeley's ability to be a key part in this squad.
Speaking to the Cheshire Phoenix website, Coach Thomas said: "I'm really happy that we have Mark with us next season.
"With a smaller roster, we need guys on the team who will be able to contribute and he definitely showed us that he can do that with the opportunities he had last season."
I'm looking forward to working with him this season and I know he is hungry to get some more opportunities!"