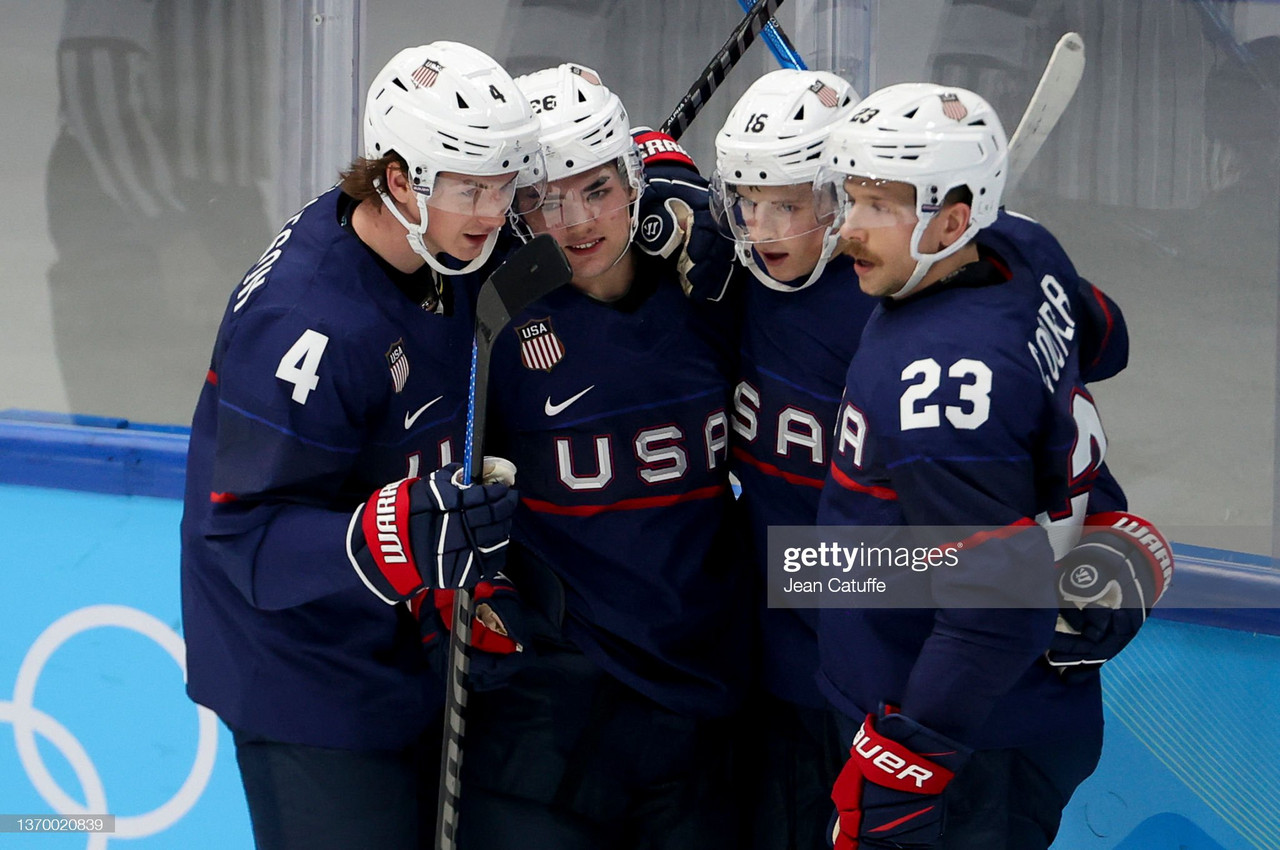 Team USA opened their quest for their first gold medal in men's hockey since 1980 with a 8-0 rout of China in Group A play at the 2022 Winter Olympics.
Sean Farrell had a five-point night, including a hat-trick while Drew Commesso made 29 saves for the shutout.
China wasn't going to be intimidated as Zesan Zhang laid a big hit on Brock Faber. Team USA had the majority of early chances, but the hosts weren't to be taken lightly.
Jang Fu spun past Nick Cerbix and shot at Commesso, but he was called for running over the American goalkeeper.
With the man-advantage, Brendan Brisson tried to play in Sean Knies before gathering in an underhit clearance by Taile Wang.
Brisson's second shot was wired in past Jieruimi Shimisi, who made 47 saves on 55 Team USA shots.
"It was really nice to score the first goal", he said. "Hopefully I have a couple more in me the rest of the tournament to help the team win some more games.
"We had a lot of shots, we ended up putting eight goals in, but their goalie played well. It's something we're going to run into all tournament long, good goaltending."
Despite being competitive for most of the first period, China never seriously looked like they would tie the game. In the second, the Americans pulled away, scoring three times.
Five minutes in, Farrell passed to Noah Cates, who was behind the Chinese net to double the lead. On a power play, Shuai Fu was whistled for high-sticking and Andy Miele found Brian O'Neill a nifty behind other back pass.
It became 4-0 as Farrell converted on an odd-man rush after China got tangled up at center ice. He found the back of the net again at the start of the third after being set up by Steven Kampher.
Jiang Fu nearly grabbed China's first-ever Olympic goal as he took brother Shuai's pass and shot it short side, Comes so blocking it away.
A late power play gave the hosts more chances, Juncheng Yan going just wide.
Farrell picked up his fourth point of the night on Ben Meyers' goal, Matty Beniers scored from the right-hand dot and Farrell completed his hat-trick and the scoring on the power play.
Despite the heavy defeat, China took pride in their Olympic debut.
"It was a great experience", said Jakie Kailiaosi. " It wasn't the result that we wanted, but all of us got the chance to play at the Olympics.
"The last few years we've been working for this, there's been so much anticipation and it's been such an awesome experience."
"To be the first goalie in Olympic history for China is an honor", Shimisi said. "I'm thankful for the opportunity and it's pretty surreal."