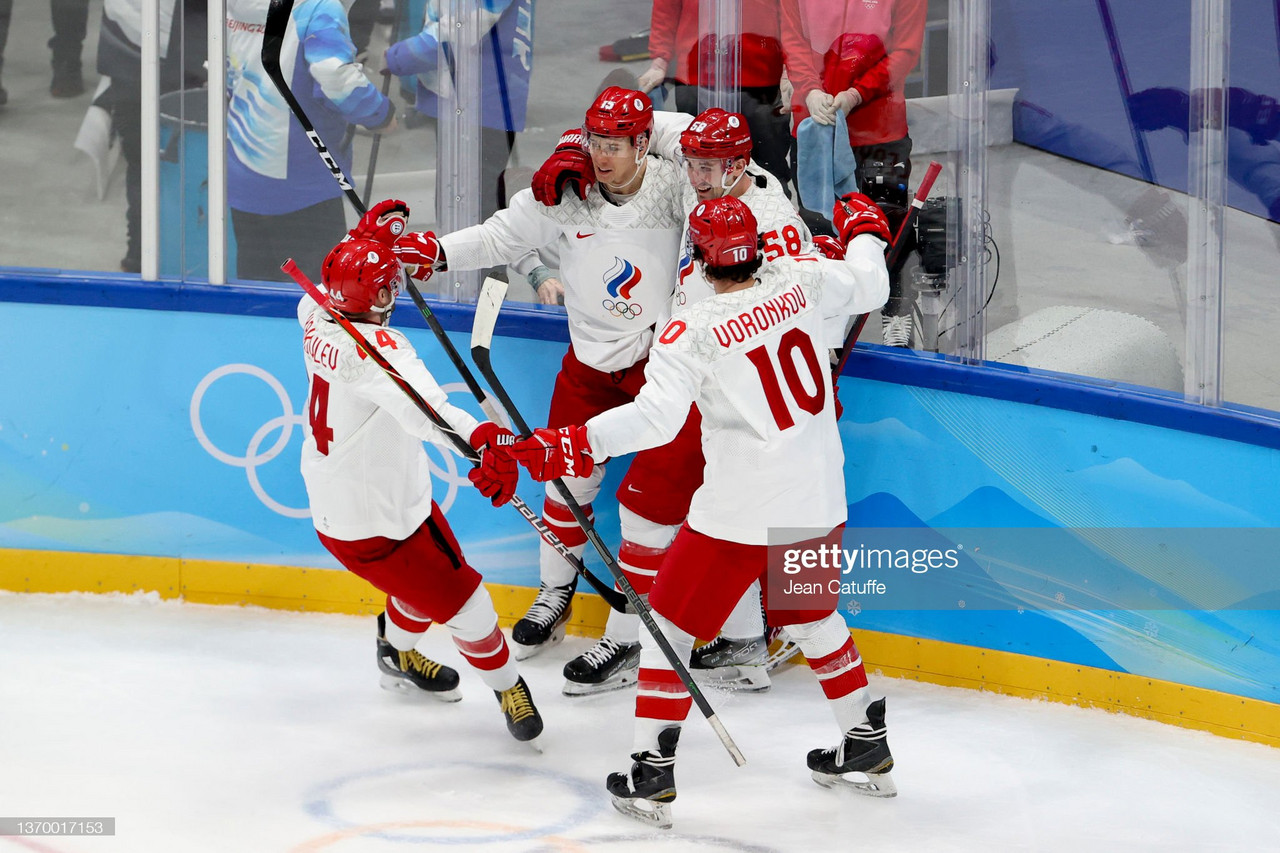 Defending champion ROC was made to work for their second victory of the 2022 Winter Olympics as they defeated Denmark in Group B action at the Capital Indoor Stadium.
"It's nice to get a shutout, but like I said, the most important games are still to come", said ROC goalkeeper Ivan Fedotov. "Right now, it doesn't matter if we win 1-0, 2-0 or 5-4, the most important thing is to win.
"It was a good game. Not as many shots as against Switzerland, but I tried to keep myself alert. There were times when I needed to be in the game."
Fredrik Dichow started in goal in place of Sebastian Dahm and the 20-year old stopped 31 of 32 ROC shots.
"It's definitely better", he said about playing against a team full of KHLers. "More skill, more speed, but at the end of the day it's the same game.
"I just need to stop the shots, so i'm just trying to do my job the same as I always do."
Story of the game
Denmark's defense was solid in the first period, limiting the ROC to just four shots over the first 19 minutes despite much of the play being in the Danish end.
Late in the period, Dichow faced a couple of shots and in the second, they put on even more pressure thanks to a couple of penalties by Jesper Jensen Aabo.
Anton Slepyshev, who scored in the opening game against Switzerland, had a good look from the left faceoff circle, but Dichow kicked it away.
After not converting on a third power-play opportunity, the ROC finally broke through at even strength. Dmitri Voronkov recovered the rebound of a long shot, fed Slepyshev, whose one-timer was blocked, but Pavel Kharnaukov put in a rebound of his own shot.
"They got a deflected on my pads, which created a rebound. I hit it with the glove and it went in", Dichow said.
Fedotov was called into action with five minutes to play in the period as Nicklas Jensen came in on a breakaway, but the ROC netminder denied him room on the forehand deke.
"He's done his job and I think he's playing well right now", coach Alexei Zhamnov said of Fedotov. 'We have a goalie coach who decides who will play the next game, but right now he's on top of his game and I hope he continues that the whole tournament."
The ROC outshot Denmark 19-5 in the second.
"We started taking penalties, which makes it harder to defend", said Danish captain Peter Regin said. "Certain guys get tired and other guys don't get ice time, so it ruins the momentum a little bit when that happens."
Early in the third period, Dichow was forced to react quickly after a long shot by the ROC from the neutral zone bounced off the end boards to Nikita Gusev, who tried to beat the Danish goalie to the near side.
Denmark went on its first power play midway through the third period when Karnaukhov was sent off for interference, and Jensen had a great chance to tie the score, but his backhand from the slot was just wide on the open side.
"It's very disappointing", he said. We could have tied the game up and got one, maybe even two points out of this game, but we didn't. Obviously, I shouldn't show emotion like that, but it's a disappointing feeling."
The ROC got some more shots on Dichow while Jensen was in the penalty box, but the young Danish netminder had no trouble with any of them.
Back at full strength, Denmark had to begin pressing offensively in the last five minutes. With just two minutes to play, Regin dropped to Frederik Storm in the slot, but he was denied by Fedotov.
With Dichow pulled for the extra attacker, they passed the puck around the ROC zone but got little in the way of clear-cut chances and Kirill Semyonov hit the open net with 5.1 seconds left to seal it.
"We followed our game plan and tried to get a result. It didn't happen today but we'll move on and look forward to Switzerland."