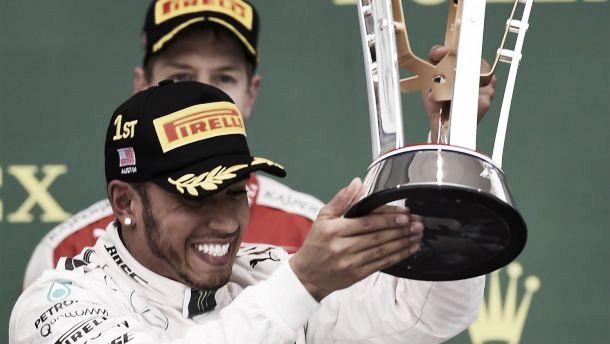 Lewis Hamilton sensationally won his third Formula One World title at the Circuit of the America's in a crazy United States Grand Prix. In becoming triple world champion, Hamilton has emulated his boyhood hero Ayrton Senna's haul of world championships. The Brit is also now upto third on the all-time win list with 43 victories.
With just a handful a handful of laps left Mercedes teammate Nico Rosberg lead Hamilton and Ferrari's Sebastian Vettel, a scenario that would not have seen Hamilton clinch the title, but then Rosberg made a critical mistake. Exiting turn 16 the Rosberg got a massive amount of wheelspin and went onto the soggy grass, handing the lead to Hamilton which he maintained to the chequered flag.
Rosberg takes Sunday Pole
With the remnants of Hurricane Patricia battering Austin, qualifying on Saturday was abandoned to Sunday morning and Rosberg got the crucial advantage of Pole Position, for the 19th time, edging Hamilton out by a tenth of a second. In Intermediate tyre conditions at the start, Hamilton got the better get away and edged Rosberg to the outside of turn 1, a move the German claimed was "very aggressive".
The Red Bull duo of Daniel Ricciardo and Danill Kvyat in the early stages were pressurising the Mercedes, with the Russian close behind when a Virtual Safety Car was called on Lap 7 for various debries around the track, including from a Turn 1 incident involving Fernando Alonso and Felipe Massa, who along with Williams teammate Valterri Bottas retired. At the restart Rosberg jumped Ricciardo and began to chase down Kvyat.
The track was drying very quickly, and Lotus's Romain Grosjean was the first to pjt for slicks, however the circuit was still too wet, and so the front runners had to carefully manage their tyres as to not burn them out early and cause a unneccessary pit-stop. Soon afterwards Ricciardo took the lead and Hamilton was the first of the front runners to box for slicks on lap 16. After the first round of stops, it was Rosberg who led, with Hamilton fourth.
As the track dried the Red Bull suffered from a lack of engine grunt and the Silver Arrows began to escape down the road. With his lead at 10 seconds and seemingly all set to take the battle for the title to Mexico, Rosberg's advantage was wiped out when a safety car was called for to help remove Marrcus Ericsson's stricken Sauber.
As racing resumed the battle in the midfield between Force India's of Sergio Perez - who finished a fine fifth, to add to his podium from Russia Nico Hulkenberg, Toro Rosso's of Max Verstappen and Carlos Sainz were engaging in some terrific wheel-to-wheel racing, although it came to an end for Hulkenberg when he tangled with the rapidly falling back Ricciardo. This brought out the VSC for a second time. Vettel, was now Ferrari sole runner after Kimi Raikkonen suffered a off and then btrake trouble, was brought in as well leader Rosberg.
It seemed that Hamilton would have to wait until Mexico to claim the title, as there were serious doubts that he could do the race on a effective one-stopper. Danill Kvyat soon helped Hamilton out. Exiting turn 19 the Russian got onto the wet artifical grass and cannoned into the wall opposite, bringing out the safety car for a second time. Hamilton was able to pit and emerge ahead of Vettel and close right up to Rosberg in the que.
It was with Rosberg's error soon after the restart that the race and title were handed to Hamilton, and despite Vettel late efforts, the Brit emaulated Sir Jack Brabham, Sir Jackie Stewart, Niki Lauda, Nelson Piquet and Senna in becoming triple world champion.
McLaren show strong performance
In qualifying, the McLaren-Honda's of Jenson Button and Alonso showed strong pace, with the duo starting a sesason best 11th and nineth respectivly. Some clever strategy from the team enabled Button to be a fresh rubber at the end and he finished a sixth a season best for him, whilst Alonso suffered a sensor issues and dropped out of the points, but showed some promise for the beleaguered Woking outift.
Max Verstappen was running well in the points and was dicing with Vettel, at one point overtaking him into the T12 hairpin. At one point he was in contention for a podium, before finishing a career best equalling fourth. Sainz, suffered a five second penalty before collecting six points for a seventh place finish. Pastor Maldonado was once again in the points for Lotus, who announced Jolyon Palmer as a race driver for 2016, whilst Grosjean recorded another DNF with floor damage.
Due to the high number of retirements, eight in total, it seemed that Alexander Rossi would score a point, although he evantually finished a 12th, just behind Alonso. Sauber's Felipe Nasr, after earlier clashing with teammate Marcus Ericsson recovered to yet another points scoring position in nineth, with one-time race leader Ricciardo claiming 10th place.
"Greatest Moment"
After he crossed the line for his 43rd win, Hamilton's engineer, Peter Bonnington was the first to tell him that he had done it, the Brit then obviously emotional delcared that this "is the greatest moment of my life" and was "hard to believe I'm sat here as a three-time champion". Rosberg was at a loss to desribe his costly mistake saying that "it has never happened to me before in testing or a race" before adding his congratulations to the World Champion.
In the drivers cool-down room, Hamilton, visibly overcome, appeared to toss the second place cap to the annoyed Rosberg. Rather a innocent act you would think, but it was soon thrown back, with Rosberg sure there was more to Hamilton's intentions, with the seoncd place cap.
After everything that has happened this season, it's hard to argue Hamilton is not a worthy champion and will surely begin next season as favourite to join Alain Prost and Vettel as a quadruple World Champion.