Daniel Ricciardo finally broke his 2016 win duck by holding off team-mate Max Verstappen to take top spot in the Malaysian Grand Prix. However, the Australian's fine drive will be overshadowed by the events of lap 41. Leading comfortably, with strategy pointing toward a close finish, Lewis Hamilton's Mercedes Power Unit erupted into flames, forcing a DNF, and severely denting his hopes of a fourth world title.
Hamilton's team-mate Nico Rosberg recovered from a first corner incident with Ferrari's Sebastian Vettel, who retired as a result, to take third, although he was penalised 10s for a lunge and successful move on Kimi Raikkonen, who came home fourth again.
In a dramatic race, Valtteri Bottas hauled 10 crucial points for Williams in their battle with Force India for fourth in the constructors, with Sergio Perez (sixth) and Nico Hulkenberg (eighth) claiming 12 points for the latter. McLaren were once again in the points, with a fantastic opening lap from Fernando Alonso from last, to P13 which set him up for another P7 finish.
The other two Brit's both scored points, with Jenson Button hauling two on his 300th start and Jolyon Palmer, at the 16th attempt registering a point, holding off Carlos Sainz Jr for the position toward the end.
Despite the dramatic action in the race, Ricciardo's win will be overshadowed by Hamilton's post-race lashing out at Mercedes, claiming "​someone doesn't want me to win this year".
​Vettel's season summed up
On the run down to T1, Vettel, making a good start tried his chances up the inside of Rosberg and Verstappen, but misjudged his braking and, smashed into the rear of Rosberg, spinning the Mercedes down to last, and braking the Ferrari's front suspension. Verstappen who emerged unscathed made his thoughts on the incident known, by, radioing in "He smashed into Rosberg like an idiot." Vettel has been the nearly man of 2016, with all the ingredients there for a win, but something always goes awry.
After being held for a long-time, both Esteban Ocon and Alonso made rocket getaways, as the VSC was called for to clean up the Ferrari. As yhe track went green again, Verstappen overtook Raikkonen on the restart, although Perez thought it was a little too soon, suggesting the move was made under VSC conditions, the stewards didn't as there was no indication of an investigation. Raikkonen then overcame early overheating brake problems by overtaking Perez and beginning to set off after the top four.
Rosberg switched onto the Hard's, during another VSC to allow the stricken Haas of Romain Grosjean to be recovered from the T15 gravel trap after another brake failure for the Frenchman. The German was the carving his way through the field, overtaking slower cars with relative ease, before getting onto the back of the top 10, where his progress stalled a little.
​Strategy key once more
As the VSC period's allowed drivers to stay out for longer, the leaders pitted in on around lap 20, Hamilton on L21, although Verstappen did so under the Grosjean VSC, but going onto Softs, meaning he would still need to pit for the mandatory Hard tyre, but an intriguing chase down in the final laps was in store. Verstappen made his second stop on Lap 27, emerging behind Hamilton and Ricciardo who was around 12s down on the Mercedes, who planned to stop again.
Making an audacious lunge on Raikkonen into T1 saw Rosberg get through and up to P4, although the stewards wer not happy at the move, investigated the incident, and giving Rosberg a 10s penalty for causing a collision, something that was harsh to say the least. If you can't be aggressive when overtaking, drivers won't attempt to do so, and therein lies Formula One's inherent problem with the Sporting regulations. Way too complex.
After reeling the Australian in, the duo raced, side-by-side from T1 to T8, with barely a width of paper between them, reminiscent of the infamous multi-21 gate episode of 2013. Ricciardo, on much older tyres managed to stay ahead, as the TV feed then picked up the crowd making an unusually loud noise down the pit-straight.
"​No.No No"​, exclaimed the driver, as he pulled off to the side of T1, with yet another engine failure. As things stood, Lewis Hamilton was set to go to Japan with a seven point lead, but as his Mercedes went pop, so did he, lashing out in extraordinary scenes in the media pen, by telling the press "​someone needs to give me answers, because this is not acceptable. Someone doesn't want me to win this year".​ An extraordinary claim, that surely has no substance, although team-boss Toto Wolff was quickly on the defensive, suggesting Hamilton had cooled down a bit.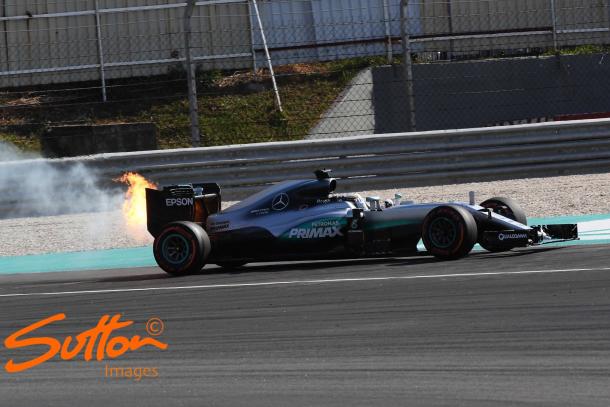 Meanwhile, Esteban Gutierrez's left-front detached itself, leading to another VSC, which is when Red Bull double-shuffled Ricciardo and Verstappen for the final 15 or so laps to the flag. It was relative plain sailing for the Aussie after that, as Verstappen never got in DRS range, despite Christian Horner's adamancy that they were free to race. After the pain of Spain and heartbreak of Monaco, it was a well-earned fourth career win for the popular driver. It was also Red Bull's first 1-2 finish since the 2013 Brazilian Grand Prix.
Palmer comes good
After struggling for most of the season, Palmer finally brought home a maiden point for Renault, after a strong Friday practice, although his qualifying still needs work. Team-mate Kevin Magnussen was hit in the first turn chaos and a difficult afternoon was eventually ended in retirement. From 10th on the grid, Felipe Massa had an issue on the formation lap dummy grid, and was unfortunately not a factor in the race, finishing well-down in P13.
Marcus Ericsson showed that Sauber are continuing their slow-revival with a credible P12, with the Toro Rosso's not scoring, as their 2015 Ferrari PU continues to hamper them.
The Manor's had a good scrap between them, although Esteban Ocon had two separate pit-lane speeding incidents, giving himself a 10s penalty into total, he finished last out of the 16 classified finishers.
Alongside Hamilton, Gutierrez, Grosjean, Magnussen and Vettel, Felipe Nasr was a late retirement with apparent brake issues.
On the podium, an emotional Ricciardo was relived to have won, and after support from the crowd, done his now obligatory 'Shoey' celebration, drinking the bubbles from his boot. Red Bull boss Horner, also did one, as did fellow podium winners Verstappen and Rosberg, all from the same boot.
However, podium interviewer Mark Webber refused to do so, citing the sweat in the boot, lobbing it into the crowd. Later on, Ricciardo dedicated the win to the late Jules Bianchi, a close friend of the Aussie, and whose death in July 2015 is still as raw today.
Conclusions
Depsite Hamilton's outburst overshadowing Ricciardo's fine drive, if a win was ever deserved in F1, this was it. Having scored podiums in all but Italy since Hungary, Daniel Ricciardo has been the man in form. He is within 85 points of Rosberg at the summit, a fine effort, seeing as the German has won eight races this year, to Ricciardo's one. He expertly defended, looked after his tyres and was in control, after Hamilton exploded.
The mere suggestion that Mercedes should want to hamper one of their own drivers is ludicrous. Hamilton's dynamite comments may've been heat of the moment, but team boss Wolff, despite sticking up for the Brit, will demand an apology. Why would Mercedes sabotage their own World Champion? Well, if you listen to certain parts of Twitter, it would be so "a German can win in a German car". Mercedes don't care who wins, as long as a Mercedes wins.
Anyhow, the constructors championship was not wrapped up today, and will go onto Japan next weekend. Hamilton now needs to make up 23 points in five races, it is doable, but Nico Rosberg will growing confident day by day that 2016 is his year.
2016 Malaysian Grand Prix - The Results

| | | | | |
| --- | --- | --- | --- | --- |
| Position | Driver | Team | Time | Points |
| 1. | Daniel Ricciardo | Red Bull | 1:37:12.776 | 25 |
| 2. | Max Verstappen | Red Bull | +2.443 | 18 |
| 3. | Nico Rosberg | Mercedes | +25.516 | 15 |
| 4. | Kimi Raikkonen | Ferrari | +28.785 | 12 |
| 5. | Valtteri Bottas | Williams | +1:01.582 | 10 |
| 6. | Sergio Perez | Force India | +1:03.794 | 8 |
| 7. | Fernando Alonso | McLaren | +1:05.205 | 6 |
| 8. | Nico Hulkenberg | Force India | +1:14.062 | 4 |
| 9. | Jenson Button | McLaren | +1:21.816 | 2 |
| 10. | Jolyon Palmer | Renault | +1:35.466 | 1 |
| 11. | Carlos Sainz Jr | Toro Rosso | +1:38.878 | 0 |
| 12. | Marcus Ericsson | Sauber | +1 lap | 0 |
| 13. | Felipe Massa | Williams | +1 lap | 0 |
| 14. | Danill Kvyat | Toro Rosso | +1 lap | 0 |
| 15. | Pascal Wehrlein | Manor | +1 lap | 0 |
| 16. | Esteban Ocon | Manor | +1 lap | 0 |
| DNF | Felipe Nasr | Sauber | N/A Brakes | 0 |
| DNF | Esteban Gutierrez | Haas | N/A mechanical | 0 |
| DNF | Lewis Hamilton | Mercedes | N/A Engine | 0 |
| DNF | Kevin Magnussen | Renault | N/A mechanical | 0 |
| DNF | Romain Grosjean | Haas | N/A Brakes | 0 |
| DNF | Sebastian Vettel | Ferrari | N/A Collision | 0 |