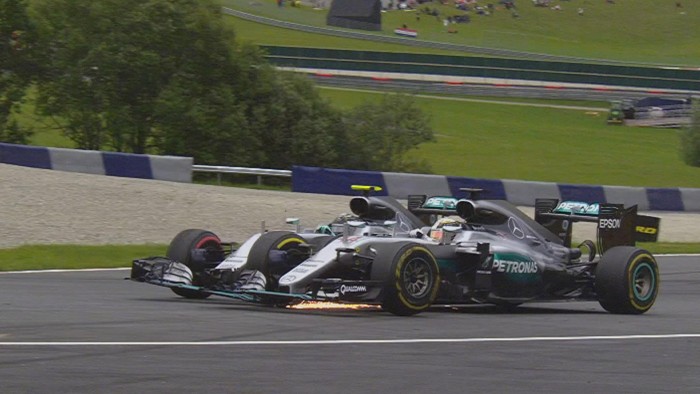 Part one of the season review can be found here
Things were beginning to boil over nicely after Monaco, as the calendar began to take in some ​of the more traditional races. And Azerbaijan.
​Attack of the seagullls
Canada, always a popular destination, proved to be something of a turning point. For the race in Montreal proved to be the zenith of the Ferrari challenge to Mercedes. Things were about to go downhill fast at Maranello after the visit to the Ile Notre-Dame.
A rocket start from third saw ​Sebastian Vettel jump the Mercedes duo, with Nico Rosberg pushed wide by Lewis Hamilton for good measure. More strategy faux pas from the pit-wall cost Vettel the win, assisted in that by two brave seagulls on the apex of turn one, that led to a fantastic interview with Hamilton on Sky Sports F1 post-race.
Valterri Bottas claimed Williams' only podium visit of 2016 in Montreal, an excellent one-stopper bringing him his ninth podium in F1, and somehow Max Verstappen held off the recovering Rosberg for fourth.
Just a week later, F1 had moved itself literally to the other side of the planet, to Azerbaijan and Baku, for the 'European Grand Prix' – whether Azerbaijan is actually in Europe is highly debateable.
Things weren't helped with the race clashing with the Le Mans 24 Hours, and led to a difficult choice. Either stay up through the night to watch the LMP1 cars battle, or miss that for the F1.
Those who opted for the latter were treated to arguably the dullest race of 2016, as Rosberg wasn't seen after the first lap.
A crash in Q3 meant Hamilton was only P10 on the grid, and incorrect engine settings frustrated him in the race as under the new rules regarding team radio, he couldn't be told what switch to change to fix it. He came home fifth.
For Sergio Perez, the chance of a Ferrari drive in 2017 was beginning to gather real traction around this point of the campaign.
Having nicely rebuilt his career after McLaren and 2013, at Force India, he was on it from the go in Baku, and qualifying on the front row – albeit a five place penalty relegated him, he, on track passed Kimi Raikkonen for third, his second podium in three races. Ultimately however, the team opted to retain Raikkonen for '17.
For the first time, Vettel questioned a strategy call from the pit-wall in 2016. Although he raced to second, he would visit the podium, legitimately, on just two more occasions, internal Ferrari politics hampering his form on-track.
Up to their old tricks
For most of the Austrian Grand Prix, it was a slow burner. A FP3 crash and gearbox change put Rosberg seventh, Hamilton on pole, and Nico Hulkenberg and Jenson Button a surprise second and third on the grid.
On lap 25 Vettel's left rear Pirelli went bang, his birthday present being another DNF. Anyway, fast forward to lap 71 out of 71.
A quicker second stop had vaulted Rosberg ahead of Hamilton on track, meaning if the Brit wanted to win, he'd have to pass on track. To add fuel to the conspiracy theorists fire, Rosberg was on supersoft tyres for the final stint, Hamilton on softs.
The former quickly burnt through them and a bad exit from turn one on the final lap, set up fireworks at turn two.
A cynic might say here that suddenly Rosberg forgot how to turn right, almost akin to qualifying in Monaco 2014.
But whatever the reasons behind it, Rosberg turned much later for the apex of T2, forcing Hamilton – treating the sister W07 Hybrid like the rear of a donkey, to hit his sidepod, when the World Champion was eventually forced to turn for the corner himself.
A broken front wing was Rosberg's reward, and to rub salt into his fresh flesh wounds, Verstappen and Raikkonen then mugged him for the podium. From the jaws of a 1-2, Mercedes had snatched a 1-4.
Toto Wolff was apoplectic at his drivers crashing. Again. In the days that followed Austria, the team tightening their 'Rules of Engagement' – something that would come under close scrutiny in Abu Dhabi.
In, ultimately his 17th and final F1 season, Austria marked the best race of Button's farewall tour. On track 12 months before, both McLaren's hadn't finished, Button was running second early on, before finishing an amazing sixth. There was life in the old dog yet.
As one old dog showed he still had it, a young dog was showing his tricks. In the tricky qualifying conditions on Saturday, Pascal Wehrlein put his Manor P12 on the grid, their best ever grid slot.
71 laps of the Red Bull ring later, Manor had their first point of the season, Wehrlein familiar with the layout having raced there in DTM. The Mercedes protégé was placed at Manor to cut his teeth at the pinnacle, with the Finnishing goal a seat at Brackley.
Pilgramage to Northants
For two of the three Brits on the grid, the British Grand Prix was forgettable. Out of Jenson Button, Jolyon Palmer and Lewis Hamilton, guess which two that was…
Exactly, as one toiled to finishing well down the field, one endured a nightmare maiden home GP, a time penalty ruining his race, before a haywire Renault gearbox ended things.
For the other however, it was a fourth win at home, and third in succession. Lewis Hamilton was once again the darling of the British crowd, easing comfortably home ahead of Rosberg.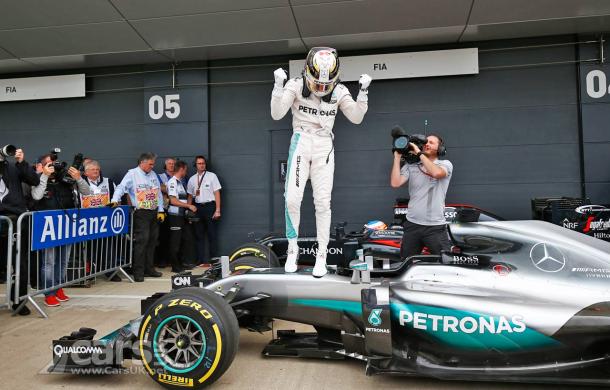 However, in a twist hours after the chequer had flown on a crazy wet-dry race, Rosberg was demoted from second to third, a time penalty.
This was issued as late on, his gearbox, and seventh gear went for a wonder, the team told him to avoid that gear, and the comment "Affirm, Nico, you need to shift through it" was deemed against the tighter team radio rules brought in.
Needless to say, F1 had done itself no favours. Now, where have we heard that before?
Ferrari chose to announce that Raikkonen would be kept on for 2017 at Silverstone, and almost immediately the Finn began to improve his performance. Despite not getting the better of Vettel on a Sunday, by the end of the campaign, he had out-qualified Vettel 11-10. Only one word can sum that up. Bwoah.
With Rosberg's demotion to third, the gap at the top was just one point. In the space of five races, Hamilton had made up 42 points, and had even lost 10 to Rosberg in Azerbaijan.
No brakes? No problem
Prior to the Hungarian Grand Prix, Rosberg penned a new deal at Mercedes for 2017 and 2018, shadowing the deal that Hamilton signed in 2015. 11 races into the new contract, Rosberg called it quits.
Once again, in Budapest, F1 did its best to strangle itself. Prior to the season opener in Melbourne, complex new team radio rules were brought in, limiting what the 'prat-perch' – to quote Rob Smedley – could tell the driver about.
The aim was to stop messages like "try fifth gear at turn 13" or "break 8 metres later at the hairpin" – driver coaching messages. The FIA believed that the driver "should drive the car alone and unaided." Fair enough, but for the casual viewer, the only way they can understand what's going on is via the radio.
Crucially the teams couldn't inform their drivers of impending brake failure. In Austria, Perez crashed on the final lap, brakes having failed. It was outright dangerous. Fans, drivers and marshals were all at risk, as when a driver presses the left pedal at nearly 200mph, they expect it to work.
Anyway, in the race, Button's brakes went missing, and he was given a drive through after "illegal radio messages." Never shy to give an opinion, the 2009 champion, almost hysterically, made his thoughts known saying "It's interesting that a brake pedal going to the floor isn't a safety issue, interesting."
After that, by the time of the German GP a week later, the rules had been relaxed fully so that any kind of radio message was permitted, that was only after they were tightened further for Hungary.
Not knowing the order of the podium in Britain was trumped in Hungary by not knowing who was on pole. In a crazy qualifying session, hit by torrential rain, that saw Q1 last an hour, and four red flags, it was the nature of Rosberg's pole that irked Hamilton.
Fernando Alonso had spun his McLaren in sector two, on the final runs, bringing out the yellow flags. Hamilton's provisional pole was safe, as everyone would abort their lap.
But no-one told Rosberg who slowed, just enough, to sneak pole. He was later hauled back from a sponsors event to make his case.
Anyhow, Hamilton jumped him off the line into T1, and that was pretty much that. A boring Hungarian Grand Prix is truly a collectors item.
For the first time, Verstappen's driving techniques came under fire, as defending from Raikkonen, out of place on the grid, owing to the lottery of Saturday afternoon. Waiting for the 2007 champion to commit one way, Verstappen moved under braking to block.
In the gentleman racers, ultra-sanitised F1 of today, moves like that aren't acceptable, but back in the day, fair cop. Anyhow, Verstappen's peers lambasted him, but in an almost arrogant manner he brushed off the criticism.
Things couldn't get much worse for Palmer and Renault, having only scored six points, courtesy of Kevin Magnussen in Russia, as the mid-season break approached. China was a disaster as Palmer was classified P22, having struggled all weekend.
However, the 2014 GP2 champion made a breakthrough in Budapest, and was all set for a maiden point, before he spun at T4 on lap 52, but from then on, he began to put Magnussen under some substantial pressure.
In the same Strategy Group meeting that binned the radio ban, they also agreed to delay the introduction of the Halo until 2018, so that it could be more pleasing on the eye, and for further tests. Throughout FP1 during the season, three or four drivers ran the Halo, for visibility tests.
It's good and well that F1 will get head protection, but to delay a further year, just because it doesn't look good if very flimsy ground should something bad happen in 2017.
The birth of the Shoey
A barnstorming lap in the dying Q3 embers saw Rosberg take pole, on the return to Germany after its 2015 hiatus, but he got bogged down at the start, allowing Hamilton, Ricciardo and Verstappen all past.
The afternoon went from worse to terrible for the home boy as he was penalised 5 seconds for forcing Verstappen off the track at the hairpin whilst making a move. The penalty was nonsense but a P4 finish allowed Hamilton to take win number six from seven and have a 19-points lead going into the summer break.
Meanwhile, Vettel once again questioned Ferrari's strategy, as they wanted to try and undercut Verstappen, some 8 seconds ahead. Optimistic to say the least.
It was hard not to feel sorry for Danill Kvyat ​after qualifying. Being demoted from Red Bull to Toro Rosso ​severly dented the young Rusian's confidence and after being knocked out in Q18, he was a broken man in the paddock. Visibly distraught, the world had fallen out from beneath him, and despite trying his best, he was in a serious rut.
Down at Manor, Rio Haryanto's funding from Indonesia had run out, and after the German GP, he was replaced with Esteban Ocon, a Mercedes junior driver, loaned to Renault, who placed him at Manor.
On the podium at Hockenheim, the 'Shoey' was introduced to the F1 world by Daniel Ricciardo, who then made it his customary podium celebration from then on.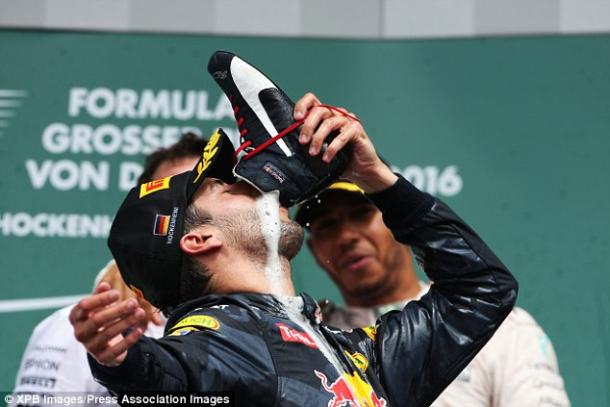 Part three of VAVEL UK's 2016 Formula One season review spans from Belgium to Japan. Look out for that in the coming days.
Part one available here.