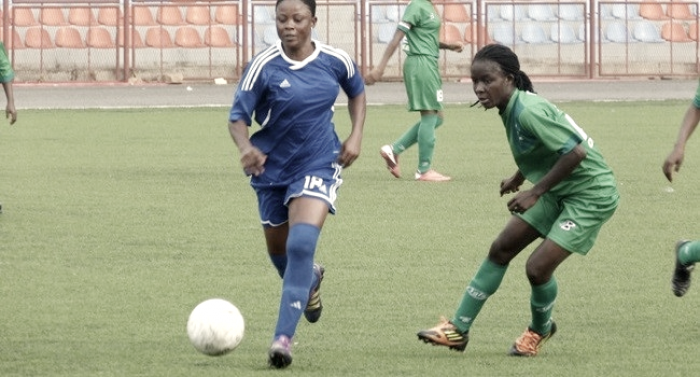 Last season, the lanky forward managed to hit six goals in the Premier League but admits she hoped to have contributed more.
"In the previous season I tried my best in all the games that I featured in and scored six goals," Reuben told Nwfl.com.ng.
"Every player wants to play as much as possible, that's obvious.We want to play, but we understand that there are eleven players in the starting line-up, seven on the bench and that it's only one team."
"It's part of the game. For anything in life you need confidence and opportunities. If those opportunities don't appear, it's tough. But I am never going to avoid a challenge.
"It's was a decent 2015/16 season for us, we ended up in 3rd place in our group, but now we have to forget this and look forward. Next season will be important for us."
The lanky striker joined from Rivers Angels in 2015 and says she remains grateful that Ibom Angels gave her the opportunity to showcase her talents.
"This club is special for me because it's the one that opened the doors to me playing regular football."
"I have scored eleven goals in two seasons for Ibom Angels. I feel very well. I feel that I have grown up as a player, I am totally adapted to this team and that is the most positive thing of this season for me."
Reuben who defended the colours of Nigeria at the 2016 FIFA U20 Women's World Cup declared Ibom Angels' readiness for the season's opener against Sunshine Queens in Akure.
"It's a tough opener for us but the main thing is being focused and getting to do what is right. We are battle ready for the task that awaits us. The major target is to grab a positive result."
Will she score at the Akure Township Stadium? "Football is a tea game. It's not all about an individual. My team is more important than me. I will score if given the opportunity but want to help Ibom Angels perform to expectation."
"I'm over excited with the league expected to kickoff this weekend," she added.