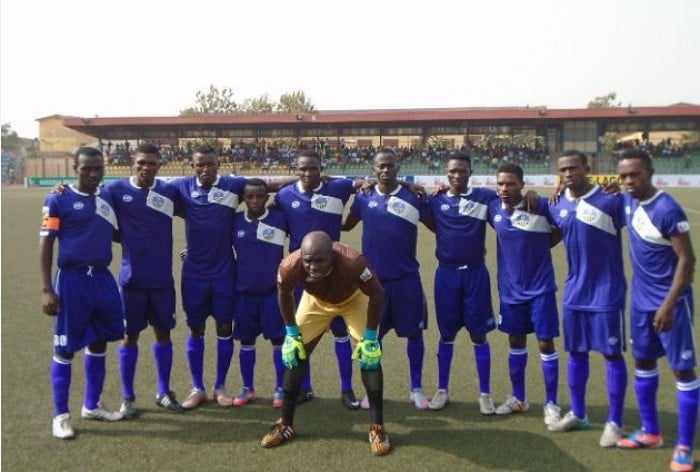 The management of Mountain of Fire Ministries Football Club (MFM FC) has denied media reports that fans of the club were seen taking alcoholic drinks during Matchday 16 of the Nigeria Football Federation (NPFL) fixture against Abia Warriors.
MFM FC supporters were reportedly taking alcoholic local pile drink popularly called 'jedi' during the Matchday 16 encounter against Abia Warriors but the management of the team led by the Director of Football, Emmanuel Adeyemi, condemned the report stating that the supporters of the team are people of good reputation who will never bring the name of the club to disrepute as a result of any unholy act.
"Our attention was drawn to a story claiming that our fans were spotted taking alcohol during our game against Abia Warriors. Well, I want to state here categorically, that the story is not accurate because our supporters are very modest they don't indulge in any unholy act" Adeyemi said.
"Every fan of the club have the proper knowledge of what the team stands for, they know that drinking of alcohol or smoking is against our belief and there has never been any case of such in all our games.
"I will like to use this opportunity to tell our fans to disregard the story and I want to appreciate them for their support toward the team. They have been very supportive in all our matches and we will continue to work hard and we will not disappoint them," he concluded.
The Lagos-based team defeated Abia Warriors 2-1 on Wednesday and are currently sitting on top of the NPFL table with 30 points from 16 league matches. Next stop will be in Lafia as the Fidelis Illechukwu led-side play Nasarawa United FC this weekend for Matchday 17 encounter.
MFM FC are yet to drop any point at the 'Soccer Temple' this season as they have been very impressive this season and are one of the early contenders for the NPFL title.