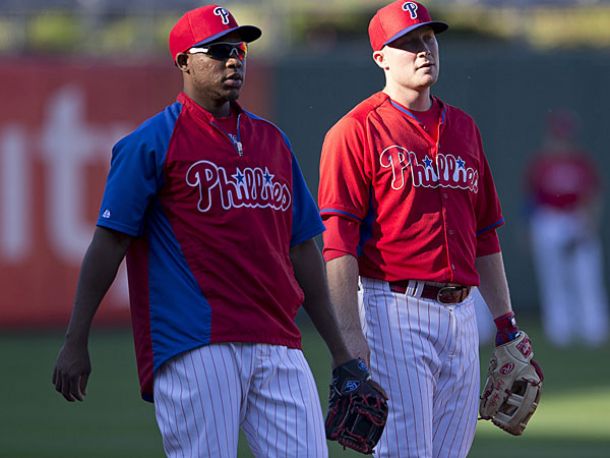 The Philadelphia Phillies find themselves towards the cellar of the National League East for the fourth straight season. It's already June, and the Phillies are well-below .500 and nine and a half games back of the Washington Nationals for first place in the N.L. East. If it was not for the Milwaukee Brewers, the Phillies would be the worst team in Major League Baseball; that's how horrific they have been. Part of the frustration within the Phillies front office is how to handle their veteran players out of their primes, along with the young players who have to prove whether or not they can produce in the big leagues.
There has been pressure from the fan base to trade or release veterans such as Ryan Howard, Chase Utley, Carlos Ruiz, Cole Hamels, and Jonathan Papelbon to speed up the rebuilding process. While general manager Ruben Amaro Jr. has yet to make any moves, manager Ryne Sandberg has been incorporating young talent throughout the first two months of the season. The primary prospects on the Phillies roster that Amaro and Sandberg will be keeping track of in terms of development are Freddy Galvis, Odubel Herrera, Cody Asche, and Maikel Franco.
Freddy Galvis leads the Phillies in hitting with a .282 batting average, an average that was .355 at the end of the April. Since then, Galvis has reverted back to the mean, regressing much like all professional baseball players do throughout a season. According to H4 Entertainment, Galvis' strikeout rate has risen from 6.1% in April to 19.8%. In his first few years with the Phillies prior to 2015, hitting was never Galvis' forte, and it is nice to see him stay above his past career high batting average of .234. Galvis will continue to be a broom for the Phillies at shortstop, and if he maintains a batting average above .270 until the end of the season, the Phillies might have themselves a future middle infielder.
Odubel Herrera was acquired by the Phillies via Rule Five Draft in the off-season, and has been an energy spark for a team that has shown very little of it on the field. Since arriving in Philly, he has transitioned to center field after playing second base for the majority of his career. Herrera has been a free-swinger at the plate this year, which shows in his 48 strikeouts; however, his speed has made up for his lack of plate discipline as Herrera has swiped six bags while hitting 16 doubles. The Phillies knew Herrera would not start off his major league career as an All-Star. Despite the average stat line that includes a .249 average and 0.1 WAR, Herrera has shown flashes of being a reliable everyday center fielder for the Phillies in the future.
Cody Asche's experience in 2015 has been a roller coaster ride. In Spring Training, Amaro Jr. talked about the possibility of Asche's becoming a left fielder with top third base prospect Maikel Franco on the rise. Even with Franco in play, Asche started off the season at the hot corner as the Phillies everyday third baseman. Then on May 12, the Phillies sent Asche down to Triple-A Lehigh Valley to play left field. "As a player and as a person, right away, I was a little bit mad," Asche told Comcast SportsNet Monday at the Phillies Phestival.
"I had an idea that at maybe some point I might play some left field, we had those conversations in spring training," Asche said. "But once the season got started, it was my job to be the third baseman every single day, and so that's the way I approached."
On May 29, the Phillies recalled Asche from Triple-A and he has since started in left field. Asche has been one of the more consistent players in Philadelphia this season, which does not say a lot but is an accomplishment nonetheless. In his time in the big leagues, he has posted average stats with a .256 batting average and .289 on-base percentage, but it is difficult to evaluate Asche at this point in time as a major league left fielder.
Maikel Franco was the reason why Asche was sent down to Triple-A, as Franco has been the Phillies top prospect for the past few years at third base. Franco was called up on May 15, and hit the ground running. Since his hot start, Franco found the ice machine and went into a major slump during the Phillies seven-game losing streak. Before Tuesday's series opener against the Cincinnati Reds, a game in which Franco had a clutch two-run home run in the bottom of the eighth to tie the ballgame up at four, Franco had two hits in his last 27 plate appearances.
"It's a game of adjustments," Phillies manager Ryne Sandberg told Jake Kaplan of Philly.com. "That's something that a young player has to go through and try and go for solid contact rather than too big of a swing."
Franco will be a major piece in the Phillies rebuilding puzzle. If he can develop into the top prospect he was predicted to be, Franco can expedite the rebuilding process, and turn the Phillies into a playoff ball club once again along with Galvis, Herrera, and Asche.