 The St. Louis Cardinals made a significant upgrade to their starting rotation as they signed right-handed starter Mike Leake, according to Ken Rosenthal of FOX Sports. Chris Cotillo of SB Nation reported on Monday night that Leake was nearing a deal and that the Cardinals were a strong suitor to land him.
According to Ken Rosenthal of FOX Sports, Leake's deal is worth five years and $80 million. There is also a mutual option for a sixth year that could make the deal worth upwards of $93 million. To sweeten the deal even more, the right-hander has a full no-trade clause.
It was no secret once the offseason began that the Cardinals needed to make an upgrade in the rotation. With the loss of John Lackey to the Chicago Cubs and Lance Lynn missing the upcoming 2016 season because of Tommy John surgery, St. Louis needed to loosen up the purse strings to strengthen the rotation. They were willing to back up the truck for ace left-hander David Price, but he decided to sign a long-term deal with the Boston Red Sox.
Mike Leake, 28, spent the 2015 season with the Cincinnati Reds and then was traded to the San Francisco Giants at the trade deadline. In 30 starts, Leake went 11-10 with a 3.70 ERA and accumulated 192 innings while striking out 119 batters. For the third consecutive season, Leake recorded a sub-3.70 ERA and accumulated at least 192 innings.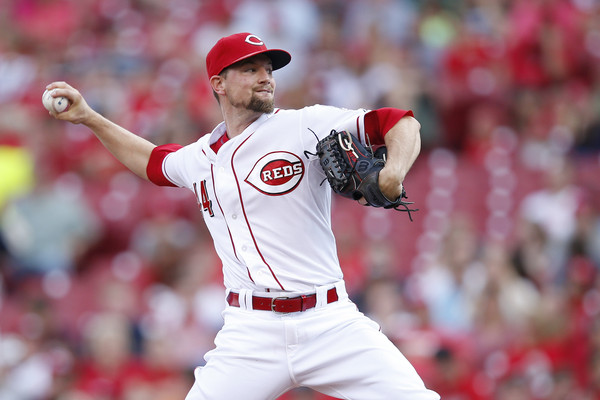 Joe Robbins/Getty Images
With Leake being traded during the 2015 season there wasn't any draft pick compensation attached to him on the free agent market. That made teams, especially the Cardinals, more interested in the durable right-hander because they wouldn't have to give up their first round draft pick.
Leake doesn't wow you with velocity, as he sits around 90-92 mph on the radar gun, but he does have excellent control and induces a ton of ground balls. An added bonus for the right-hander is that he's an exceptional athlete and can handle the bat very well for a pitcher.
With injury concerns and the unknown that comes with some of the Cardinals' young pitchers, the signing of Leake is a home run. The guy logs a ton of innings and you can bank that he'll give you close to 200 innings. With Leake spending six seasons with the Cincinnati Reds, there won't be too much of an adjustment period to the loaded NL Central.