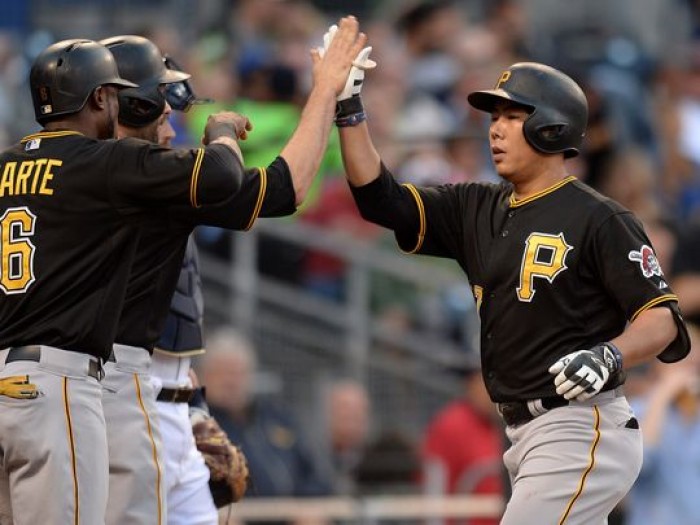 Last season, South Korean rookie Jung-Ho Kang stormed onto the scene with the Pittsburgh Pirates. Kang made a nice splash with Pittsburgh, hitting very well and with a lot of pop. Kang had a .287/.355/.461 slash line and an OPS of .816. This came in 126 games, as did 15 homers and 58 RBI's during that time. Kang also finished third overall in the National League Rookie of the Year voting in 2015. Chicago Cubs third baseman Kris Bryant would go on and win the award. As some may have forgotten, it was Bryant's teammate Chris Coghlan who took Kang out and ultimately ended Kang's season early in 2015. But how has Kang's progress been coming along?
Update On Kang
The Pirates beat writer for the Pittsburgh Tribune-Review, Rob Biertempfel, recently gave an update on Kang last week on sports radio 93.7 the Fan in Pittsburgh. Biertempfel reported that Kang was throwing the ball around at voluntary mini camp at Pirate City in Bradenton, Florida. Biertempfel said that Kang's workouts right now are "more upper body workouts right now and his power may increase (in 2016)." Biertempfel also said that as far as Kang's legs go he is "walking around and doing light jogging." So it appears as if Kang is progressing along very nicely heading towards Spring Training, which is followed just shortly after by Opening Day. As for Opening Day, what are the chances Kang can play Opening Day 2016 for the Pirates?
Kang Starting On Opening Day?
According to Ron Cook, who is a co-host of a radio show on the Fan in Pittsburgh and a columnist for the Pittsburgh Post-Gazette, things could be looking up for Kang's chances of returning to the field and starting on Opening Day. According to Cook, Kang will be ready for Opening Day "barring any setbacks in his rehab." While that sounds far-fetched, baseball players (Kang included) are professional athletes. Their bodies are in phenomenal shape and it is very possible Kang plays on Opening Day. There's also the chance the Pirates are more cautious and he won't be ready by then. But what happens if Kang is ready to go and does play for the Pirates on Opening Day?
Team Lift
If Kang can make his way into the starting lineup on Opening Day 2016 for Pittsburgh, that would be a huge lift to the entire team. One guy in particular, Andrew McCutchen, would have less of a burden offensively for the Pirates. Not only that but seeing him make his comeback and make his way on to the field when he was doubtful would be quite an inspiration to his teammates. It's something guys rally around and with the way Clint Hurdle leads his guys, he will make sure they use that as motivation. Another lift would be a more tangible one.
Filling The Void
With power bats like Pedro Alvarez and Neil Walker both gone now, many have called into question where the Pirates can find some power production in their lineup. One guy that has been overlooked in all of this is Kang. Kang belted 15 homers in just 126 games, hitting a home run once every 8.4 games. If he plays a full season, that translates to around 20 if not more. Kang is going into his second year in the majors and will have a better grasp on what pitchers are doing around the league, making Pirate fans feel better about this signing one offseason later.
No one really knows if Kang will be on the field when the St. Louis Cardinals head to PNC Park on Sunday, April 3rd to kick the season off in an NL Central showdown. But there are a couple of safe assumptions that can be made when looking at the situation with Kang. When he comes back, he is going to be a big piece in any success the Pirates may enjoy in 2016 as long as he does not get hurt again. And secondly, he will provide an emotional lift as he relieves some of the burden for his teammates around him. Hopefully for Kang's sake, he can stay healthy during the 2016 campaign. He has proven that when is healthy he does amazing things and is a heck of a baseball player.