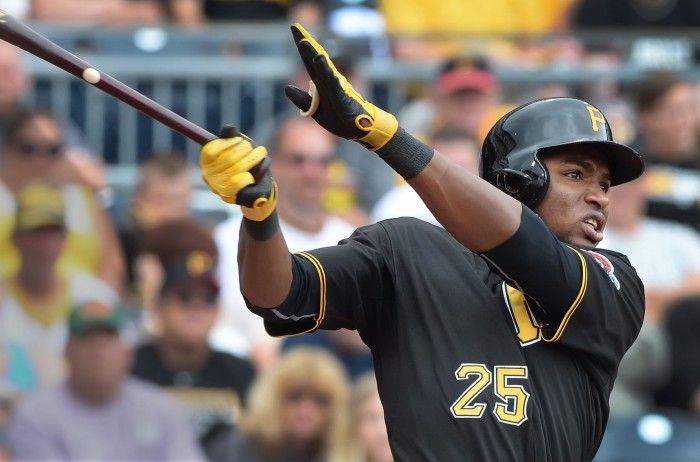 The Pittsburgh Pirates started off 2016 in all the right ways on Sunday. The essential icing on the cake was the news that broke after Sunday's 4-1 victory against the St. Louis Cardinals. Pittsburgh accomplished something that they had tried to do last year but were not able to. The Pirates were in talks with right fielder Gregory Polanco last year on a contract extension. However, those talks broke off and both parties decided to wait on the negotiating process. But now that process is finished and Polanco is not leaving the Pirates anytime soon, unless he were to be traded for some reason.
On Sunday, the Pirates and Polanco reached an agreement on a 5 year, $35 million contract extension. The 24-year-old outfielder went 2-for-3 on Sunday for Pittsburgh, adding a double and a walk in those three at-bats. The deal the Pirates and Polanco have agreed on is one that works very well in Pittsburgh's favor.
Potential
Polanco's ceiling is very high and he is one of the headliners of one of the best outfields in all of baseball. Polanco can reach that 20 HR/80 RBI total that teams like to get from their corner outfielders. One of the best aspects of Polanco's game, at least when it comes to his bat, is his smooth swing. Polanco does not try to hit for power, although he very well may be able to do that in the near future and end up elevating his home run total. He can elevate that total because Polanco's swing is more of a swing that gets through the ball and drives it, not one where he is up at the plate looking to mash every pitch out of the ballpark. That type of patience in Polanco's approach is what can help propel him to becoming an even bigger contributor when it comes to offensive production for Pittsburgh.
Downside
The one true downside to Polanco's game is his defense, which can be very shaky and frightful to watch at times. Most remember him tripping in Chicago at Wrigley Field last season in a game against the Chicago Cubs. Furthermore, Polanco has misplayed some balls in right field especially at PNC Park. But to his credit, most outfielders do have some trouble, or at least an adjustment to make, playing the ball off the 21 foot high Clemente wall at PNC Park. However, Polanco's defense can and will improve in time. 2016 is just Polanco's second full year in the major leagues with the Pirates and everyone knows that prospects do not always live up to their potential right away.
Closing Thoughts
This move is one that adds even more credibility to Pirates General Manager Neal Huntington's resume. Huntington constantly makes low key moves that get ripped and torn apart by many fans. But the agreement with Polanco means the Pirates are going to be able to keep a great, young, and talented core together for many years to come. That means that Pittsburgh is going to continue to contend year in and year out for years to come as well.