 April 15th will now forever be a day to remember for the city of Boston. On April 15, 2013, the city of Boston was struck with terror, as multiple bombs were exploded during the Boston Marathon.
Although the past two "Boston Day's" resulted with the Boston Red Sox coming out with a loss, the Red Sox were able to turn it around this season for the city of Boston.
The Red Sox defeated the Toronto Blue Jays on a series opener at Fenway Park Friday night by a final score of 5-3. Rick Porcello got the win for Boston, while R.A. Dickey was credited with the loss. Craig Kimbrel picked up his third save of the season. It was Jackie Robinson Day at Fenway, as all players wore #42 to honor Robinson.
Edwin Encarnacion The Only Blue Jay To Get To Red Sox Pitching
Ten games into the season, and many were surprised to see that Edwin Encarnacion would still be without a home run in his 2016 campaign. After the slugger connected with 39 in 2015, Encarnacion couldn't get his power swing going, although he still had a good average and RBI total to show for.
However, that would all change today. In the top of the second inning, after Porcello sent down Toronto in order in the first inning, Encarnacion launched a home run over the Green Monster that got out in a hurry. It had to been a relief for the slugger to finally be rounding those bases after ten games.
Encarnacion would not be done getting to Porcello. After Jose Bautista drew a leadoff walk in the seventh inning, Encarnacion would use the Green Monster to his advantage once again. He hit another shot over the Monster, bringing Toronto within two at the time. Encarnacion would also get another hit in the ninth inning.
However, other than Encarnacion's bat, Boston's pitching was flawless. In fact, Encarnacion was the only player to record a hit tonight, as he hit two off Porcello (both home runs) and a single off Kimbrel. Though Encarnacion would go 3-4, the rest of the lineup would go 0-25.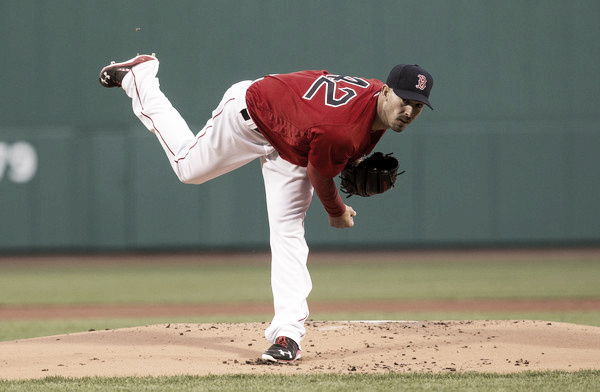 Porcello had a tremendous start. Through his best years with the Detroit Tigers, Porcello thrived in using his sinker to perfection to force groundballs. Porcello did force many groundballs today, and his command seemed to be a lot better for any batter not named Edwin Encarnacion. However, Porcello did have his strikeout game on today, striking out nine. Porcello would finish 6.1 innings allowing just two hits, three runs, and one walk while striking out nine.
In came the Red Sox bullpen in the seventh, and in came more dominance. The Japanese duo of Junichi Tazawa and Koji Uehara pitched the seventh and eighth innings respectively, and neither gave up a baserunner. Both have been exceptional in the early part of the season, as they have combined to give up just one run in 10.2 innings.
Kimbrel would give up the hit to Encarnacion, but he would retire the other three hitters to record the save. The bullpen is already looking solid, and with Carson Smith still waiting to return from the disabled list, Boston could secretly have one of the best bullpens in baseball.
Red Sox get to Dickey early
Dickey faced the Red Sox lineup already this season, and did not have the best start. He would pitch five innings while giving up seven runs on eight hits. The knuckleballer did not have the greatest defensive crew around him, and was hoping for a better outing tonight.
However, today seemed to be more of the same. In the first inning, Boston would jump on Dickey right away. After two leadoff outs, Xander Bogaerts would record a hit to right field. Following Bogaerts brings up David Ortiz, and Ortiz has been a very tough out all season. Ortiz would hit a shot that would hit high off the center field wall for a double, scoring Bogaerts from first base.
The very next batter, Hanley Ramirez, would benefit from Dickey's defense once again. Josh Thole has not seemed to be a perfect fit to catch the knuckleball this season, as he let a knuckleball sail to the backstop that would allow Ramirez to reach first base. Boston would take full advantage of the mistake, as Travis Shaw would hit a shot similar to "Big Papi's" double, as he would score both Ortiz and Ramirez before being caught up in a rundown between second and third base.
Boston would come right back in the second, as Mookie Betts would lace a single that would score Christian Vazquez. Vazquez would come around to score again in the sixth, where Dustin Pedroia recorded a hit that would score the catcher off switch-pitcher Pat Venditte. Vazquez would record two hits and two runs, while Jackie Bradley Jr. had two hits as well.
Game Notes
Before the game, both Vazquez and Marco Hernandez were called up to Boston, replacing both Blake Swihart and Pablo Sandoval (placed on the DL). Boston had issues with Swihart's defense, while Sandoval has been told he would not play until he loses weight and gets better conditioned. Vazquez thrived in both offense and defense today, as he also would pickoff Troy Tulowitzki at first base.
David Price will face his former team tomorrow night. Toronto will send Marco Estrada.