 Rick Porcello was in desperate need of a bounce back 2016. In 2015, the New Jersey native had the worst season of his career. He went just 9-15 with a 4.92 ERA and a .287 opposing batting average. Porcello was the main piece the Boston Red Sox acquired in a December, 2014 trade that sent Yoenis Cespedes to the Detroit Tigers. Porcello also got a huge contract extension before the 2015 season, signing a four year, $82.5 million contract. Porcello's rough season resulted with many jeers from a Red Sox fan base that is very tough on their team. 
Well, those Red Sox fans have quieted down. Porcello has been absolutely dominant so far this season. 
The Red Sox defeated their rival, the New York Yankees Saturday night. Porcello got the win, while Michael Pineda received his third loss of the season. Boston now improves to 14-10, while they continue to be a half game behind the Baltimore Orioles for first place in the AL East. New York, however, downgrades to 8-14, and continue to be in last place of the AL East.
Boston has now taken the first two games of the series. The win comes a day after a remarkable come from behind victory, and it may have been the sweetest of the year for the Red Sox. 
Porcello tosses a gem
Entering the game, Porcello was tied for third in the majors with four wins, and also had a solid 3.51 ERA. Porcello had a terrific start his last time out against the Atlanta Braves, tossing 6.1 scoreless innings. 
Those numbers sure got even better today, as Porcello tossed his best start of the season. Porcello finished seven innings, allowing five hits, no runs, one walk, and struck out six batters. He ended the night on 102 pitches, and may have gone back out there for the eighth inning if Boston didn't score four more runs. New York just looked confused all night long, as the 27 year-old's dominant sinker fooled the Yankees' hitters. Brian McCann was the only hitter to record multiple hits with two. He retired the Yankees in order in four of his seven innings. 
Porcello's only inning with trouble came in the fifth. He gave up a leadoff single to McCann, but would force Starlin Castro to ground into a double play on the very next pitch, which would be huge for him. Didi Gregorius would walk after that, and Chase Headley singled on the first pitch to send Gregorius to third. He would force the next batter Jacoby Ellsbury to ground out, and got out of the inning despite allowing three baserunners. 
With the win, Porcello now has five on the season. He is now apart of a four-way tie for the most wins in the league, tied with Jordan Zimmermann, Jake Arrieta and Chris Sale. Pretty impressive company, as all those players are all stars, and one of those is a Cy Young winner. He now has gone six or more innings in 13 consecutive starts, dating back to last season. 
Porcello's ERA went down to 2.76 after his start. If he keeps this going, he could be named to his first All Star Game this summer. Very impressive April for the sinker-baller, and will look to continue it the rest of the way. 
Robbie Ross Jr. and Junichi Tazawa would both toss hitless innings in the last two innings. 
Best offense in baseball continues their success
The Red Sox offense has been remarkable this season. Believe it or not, the Red Sox entering the game were leading the American League in runs, hits, doubles, triples, total bases, RBIs, batting average, OBP, and stolen bases, while they are second in slugging percentage and OPS. The amount of statistics the Red Sox are leading is simply incredible, and some of those surprise a lot of people, including stolen bases. What is interesting, however, is that Boston was dead last in the league in home runs.
The best offense in the league would add to those already impressive numbers tonight, and would stretch those numbers by a large margin. The offense poured on eight more runs and 13 more hits tonight, and would also add another stolen base from Mookie Betts. 
They got it going in the second inning. Christian Vazquez would connect with a two out single that extended his hit streak to five, and Jackie Bradley Jr. followed it up with a double. Betts would come to the plate after Bradley, and would hit a soft double that would score both runners.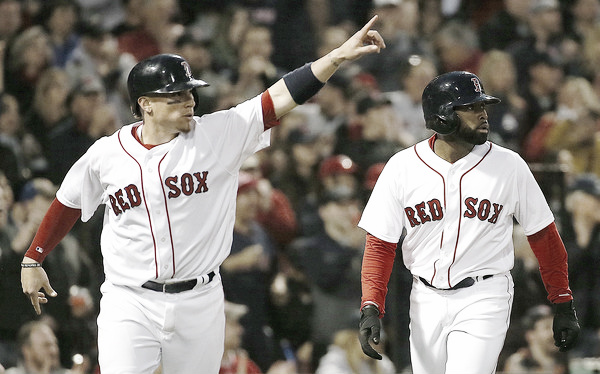 Pineda would begin to settle down, and turned in a respectable performance, but his pitch count doomed him. The Red Sox wouldn't score again off Pineda, and he would finish five innings giving up five hits, two runs, three walks, and struck out three batters. He finished with 108 pitches, and had 77 after just three innings. 
The Red Sox got a chance to see members of the Yankees bullpen not named Andrew Miller, Dellin Betances, or Aroldis Chapman, and took full advantage. Chasen Shreeve came on to pitch the sixth inning, and gave up two runs after Bradley's RBI triple and Betts' RBI single. Betts finished the night with 3 RBIs. 
In the seventh, Boston's offense took off. David Ortiz led things off, and did so with a bang. Ortiz hit a monster shot off newly entered Johnny Barbato, and recorded his second home run in as many nights. This was one a shot, and Ortiz knew it was gone right off the bat. The home run was Big Papi's 508th of all time.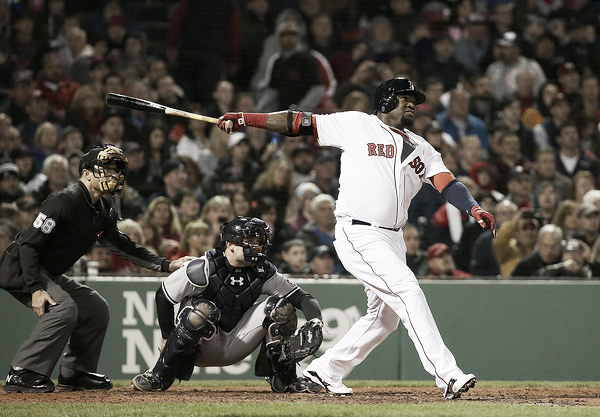 Boston would continue on with a hot seventh inning. The next two runners reached, as Hanley Ramirez walked and Travis Shaw laced a single. Brock Holt would be the next batter, and would nearly hit a three run home run, but it was reviewed and was declared foul. Holt would instead hit a grounder to Castro, who would misplay it and the Red Sox scored their sixth run. Jackie Bradley Jr. who has been on a tear recently, would stay hot. Bradley ripped his second triple of the night, scoring Holt and Shaw. The lead was extended to 8-0, as Bradley recorded his third RBI. 
Up next
The teams will play their series finale as part of ESPN's "Sunday Night Baseball" tomorrow night at 8:05 p.m. ET. David Price will take the hill for the Sox seeking a sweep, while New York will send out Nathan Eovaldi.