As the great Ernie Banks said, "Let's play two!"
After Monday night's game was postponed, the Boston Red Sox and Kansas City Royals will play a doubleheader at Kauffman Stadium on Wednesday. The first game will be played at 2:15 p.m. ET, while game two will be played at 8:15 p.m. ET.
Last night, the Royals got the best of Rick Porcello and the Red Sox by a final score of 8-4. Eric Hosmer hit a home run in the third inning, and Koji Uehara's rough eighth inning resulted in three runs for the Royals including a Paulo Orlando home run.
The double header will be between two of the best teams in baseball. The Red Sox sit at 24-15 and are tied for the lead in the AL East along with the Baltimore Orioles, while the defending champion Royals are 19-19 and sit 4.5 games behind the Chicago White Sox.
Steven Wright and Ian Kennedy look to get back on track in the first game
Surprisingly during his first six starts, Wright was one of the best pitchers in baseball. He capped it off with a sensational performance on May 8th against the New York Yankees, where he tossed all nine innings giving up just three hits and one run, which came one out away from a shutout once Brett Gardner went yard. Overall, during those six starts, the knuckleballer had a terrific 1.52 ERA and a .172 opposing batting average, and had a 3-3 record.
However, during his last start against the Houston Astros, he had by far his worst performance of the season. He was chased after just 4.1 innings allowing nine hits and five runs, both season highs. He also had just three strikeouts, a season low. The Red Sox would go on to lose the game 7-6, but Wright was not credited with the loss.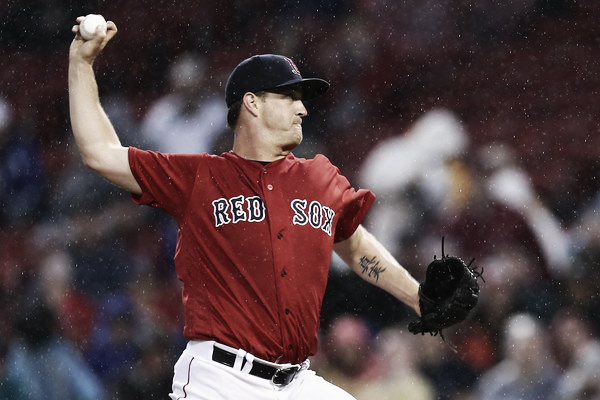 Wright will look to get back on track against a tough and speedy Royals offense. It may not be surprising if the Royals do not hit a home run tonight, as they are 14th in the American League with 35 home runs, and Wright has given up just three home runs in seven starts. Therefore, the Royals will need to rally all game long, and will look to chase the knuckleballer out of the game early.
For the Royals, Ian Kennedy will get the nod to pitch the first game. In his first year in Kansas City, the right-hander is 4-3 with a 3.25 ERA. Similar to Wright, Kennedy is coming off a very bad start. Against his former team the New York Yankees, he did end up finishing 6.1 innings, but was tagged for seven runs.
Kennedy will be forced to go up against a red-hot Red Sox offense, as they lead in numerous offensive categories in the American League. Jackie Bradley Jr. has been sensational, and looks to extend his hitting streak to 23 games.
David Price looks to build off his last start in game two
If there have been any disappointments so far in 2016 for the Red Sox, David Price has to be the biggest disappointment of all. After signing a 7 year, $217 million contract in December, Price has struggled. The Vanderbilt alumni has a 6.00 ERA and a 1.33 WHIP, although he is 5-1. The 30-year-old has had several rough starts, including a dismal start on April 21st against his former team, the Tampa Bay Rays. During that start, Price went just 3.2 innings allowing eight hits, eight runs, and walked two hitters.
However, Price has worked hard with pitching coach Carl Willis, specifically looking at both his command and unusual leg kick. During his last start, it appeared as if Price's work paid off. Against the Houston Astros, the former Cy Young award winner tossed 6.2 innings allowing six hits, one run, and struck out an incredible 12 hitters.
Tonight at 8:15, Price will look to prove that his last performance was not just a fluke. Over his career, Price had been known to get off to rough starts, but this season was by far the worst start he has had to a season. The Royals as a team do not strike out very much unlike the Atlanta Braves, Cleveland Indians, and the Astros, as he threw more than 10 strikeouts in all of those.
For the home team, Edinson Volquez will get the start against the Red Sox. Volquez has also had a solid beginning to his 2016 campaign, as he has a respectable 3.51 ERA with a 1.34 WHIP.
Current Red Sox hitters have had a lot of success against the right-hander, as current hitters are hitting .287 with, 33 hits, two home runs, and 16 runs scored in 115 at bats.
Volquez is coming off a terrific start against the Atlanta Braves, where he tossed seven innings yielding six hits, one run, and no walks. The Red Sox offense has certainly produced more than the Braves, and Volquez may have to count on his offense to produce some runs to keep them in the game.