 "The Next Wave" is the slogan that was used to describe guys like Tyler Glasnow, Jameson Taillon, and others in the Pittsburgh Pirates farm system entering the 2016 campaign. Things started when the Pirates called up Taillon and he got the bump on June 8th against the New York Mets at PNC Park. Now it is time to get prepared for the debut of another highly-touted pitcher that has been waiting for his opportunity in the minor leagues. Glasnow will make his debut Thursday in St. Louis at Busch Stadium, according to multiple reports.
Stuff
The 6' 8", 225-pound Glasnow has quite an arsenal of pitches that have helped him dominate the minor leagues throughout his career thus far. Glasnow can throw heaters of 97 miles per hour and can effectively throw them on the inside part of the plate. Glasnow also has an impressive curveball and it's a pitch that has influenced his high strikeout numbers as he has used this pitch to get swings and misses quite often. Glasnow is also developing his changeup, which is a pitch that a lot of scouts believe he can and will one day make an above average pitch.
Road To The Show
Glasnow's career started when the Pirates drafted him in the fifth round (152nd overall) in the 2011 MLB Draft. Glasnow owned the minors, pitching to some incredible numbers through his time there. Glasnow was phenomenal in 2014 when he pitched for the Pirates High-A team, the Bradenton Marauders. Glasnow started 23 games and compiled a 12-5 record across those starts. He finished the season with an ERA of 1.74, a WHIP of 1.05, and had a SO/9 rate of 11.36. The success did not stop there as Glasnow found more success in 2015 with both the Double-A Altoona Curve and Triple-A Indianapolis Indians. With the Curve, Glasnow went 5-3 in twelve starts, with an ERA of 2.43 as well as a WHIP of just 0.95 and a SO/9 of 11.71. In Indianapolis, Glasnow went 2-1 with a 2.20 ERA in 8 starts.
With this callup, much hype will follow Glasnow and deservedly so. The numbers are impressive and his 2016 campaign in Indianapolis was just as impressive. Glasnow went 7-2 with a 1.78 ERA, a WHIP of 1.14 and a SO/9 rate of 10.59. Now it's time to see if Glasnow can live up to the hype surrounding his name.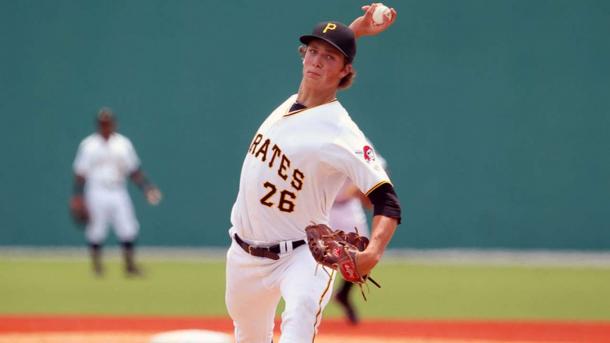 Joining Former Teammates
Glasnow will be joining many former AAA teammates of his in the likes of Taillon, Chad Kuhl, and Adam Frazier. The Pirates needed some help, especially with the injury to Gerrit Cole, and that is one of the reasons Pirate fans saw the debut of Kuhl when they did. Kuhl bested Los Angeles Dodgers star ace Clayton Kershaw in his debut and earned his first career major league win. As for Frazier, he's made quite an impact in a sample size of at-bats. In 16 at-bats, Frazier has seven hits (.438 average) and two RBI's.
Admitting Faults
Pirates GM Neal Huntington is essentially admitting his faults in not getting enough help in the starting pitching department this offseason by making some of these callups. While it is also because of injuries that have started to compile, Huntington could not have seriously thought that a guy like Juan Nicasio would make it all season and start effectively for Pittsburgh. Huntington is a great baseball mind, and this writer has written before that he has revived Pittsburgh's baseball culture, but even he knows he messed up. Now a guy like Nicasio is much more fitting, and so far has proved so, for a role in the bullpen. But Huntington knew that with the way this Pirate team was trending a couple weeks ago that it was time to see what they could get from the talent they had in the minors.
Thursday is a day that many Pirate fans have been waiting a long time for. They are finally getting what they wanted and they will get a chance to fire up their television sets to see what Glasnow has. It will be interesting to see what this piece of "The Next Wave" can bring to the table as the Pirates look to keep their momentum going as they head into the All-Star Break. Glasnow will oppose Cardinals starter Adam Wainwright in his debut on Thursday.