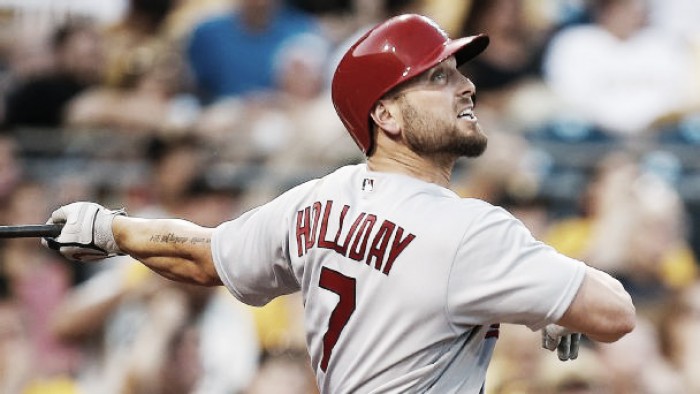 Looking for a proven designated hitter at an affordable price, the New York Yankees scored, landing Matt Holliday with a 1-year, 13 million dollar contract. Holliday will see most his time at DH, but he has experience playing both first base and outfield as well.
Yankees miss out on Beltran, get Holliday for cheap
The Yankees had expressed significant interest in bringing back Carlos Beltran to the Bronx. They had traded the 39-year old at the deadline last season, but his production (.295 batting average) made him an appealing choice to fill their void at designated hitter. However, the Yanks failed to tender an offer to Beltran, who signed with the Houston Astros earlier this week. The Yankees had also looked into signing Edwin Encarnacion, but the price tag ultimately scared the Bronx Bombers away. With their top two options taken away, the Yankees still managed to land a seasoned veteran, and 7-time all-star, in Holliday.
Although coming off a down year, Holliday was an All-Star as recently as 2015. He hit just .246 last, but he still ripped 20 home runs over just 110 games from the St. Louis Cardinals. At 36 years old, his durability is a question mark, has he has played just 183 games in the past 2 seasons. However, the Yankees hope that the extra rest that comes with the DH position will give Holliday the legs he needs to last an entire season. Excluding a 2015 game that saw his second half cut short by injury, Holliday has knocked at least 20 long balls in every season since 2006. He was an all-star four times in his eight-year stint with the Cardinals, with whom he hit .293 and 156 home runs total. The Yankees hope he can resurrect some of those numbers, especially after Holliday's numbers hit career lows last year in both batting average and on-base percentage (.322).
Holliday will serve mainly in the role Beltran had last year for the Yankees, who are looking to make it past the Wild-Card round for the first time since 2012. He will play mostly DH, but he gives New York the option to put him in left field or at first base if they want to give another starter a day off his feet.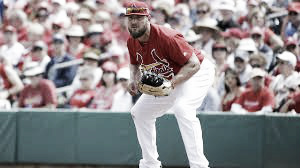 Yankees can focus on pitching at Winter Meetings
With their major offensive need taken care of at a cheap price, the Yankees can focus on adding pitching to their staff. Yankee personnel have already said the team will focus on signing a starting pitcher to round out their rotation and possibly reuniting with Aroldis Chapman. The flamethrowing closer, fresh off a World Series title with the Chicago Cubs, was another player the Yankees dealt at the deadline last year, but he has already expressed interest in playing the next few years of his career in the Yankee pinstripes. These moves will be critical, as the Yankees look to challenge the Boston Red Sox, Toronto Blue Jays, and the Baltimore Orioles for the A.L East. They finished fourth a year ago, ahead only of the lackluster Tampa Bay Rays. With their offense largely intact heading forward, a few key additions could get this team to the next level.