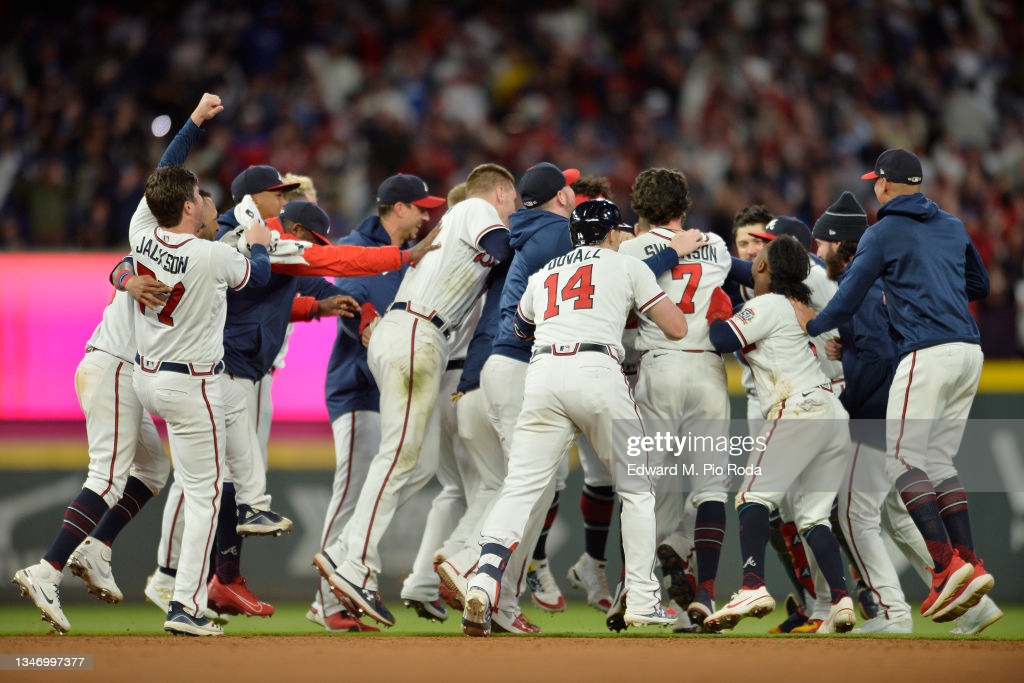 The Atlanta Braves opened the National League Championship Series with a 3-2, walkoff victory over the Los Angeles Dodgers at Truist Park.
Austin Riley's single in the bottom of the ninth won the game for Atlanta after he had homered earlier in the game to tie things up. Max Fried started, allowing two runs over six innings.
Los Angeles went with a full bullpen game, Corey Knebel the first of eight Dodgers pitchers on the night. Will Smith and Chris Taylor drove in the Los Angeles runs.
Story of the game
Atlanta manufactured the first run of the game in the bottom of the first as newly installed leadoff hitter Eddie Rosario singled and stole second. Ozzie Albies advanced him to third with a groundout and he came home on a wild pitch from Knebel.
It didn't take long for the Dodgers to respond as A.J. Pollock doubled with two outs and Taylor brought him home with a single to tie the game.
Smith led off the fourth with a solo homer on an 0-2 fastball to put the defending world champions in front 2-1. Riley responded with a solo dinger of his own and the game was again even.
Both pitching staffs pretty much shut the offenses down for the remainder of the game. Will Smith came on for the Braves in the top of the ninth and he gave up a two-out walk to Taylor. Pinch-hitter Cody Bellinger singled, but Taylor was thrown out on the bases.
That set the stage for the bottom of the ninth as Blake Treinen struck out Freddie Freeman, but Albies singled and stole second and Riley delivered with a game-winning single to end a wonderful game.
Dodgers look to their ace for Game 2
Los Angeles will turn to Max Scherzer to even the series after the 37-year old came on for the save in Game 5 of the NLDS against San Francisco. He also started Game 3 of that series and has pitched 12 2/3 innings in total, allowing just two earned runs.
Ian Anderson gets the ball for the Braves, making his second start of the 2021 postseason following a win in Game 3 of the NLDS, tossing five shutout innings against Milwaukee.
TBS will have coverage of the game with Brian Anderson doing the play-by-play, Jeff Francoeur and Ron Darling serving as analysts and Lauren Shehadi handling on-field duties. First pitch is at 7:38pm Eastern.