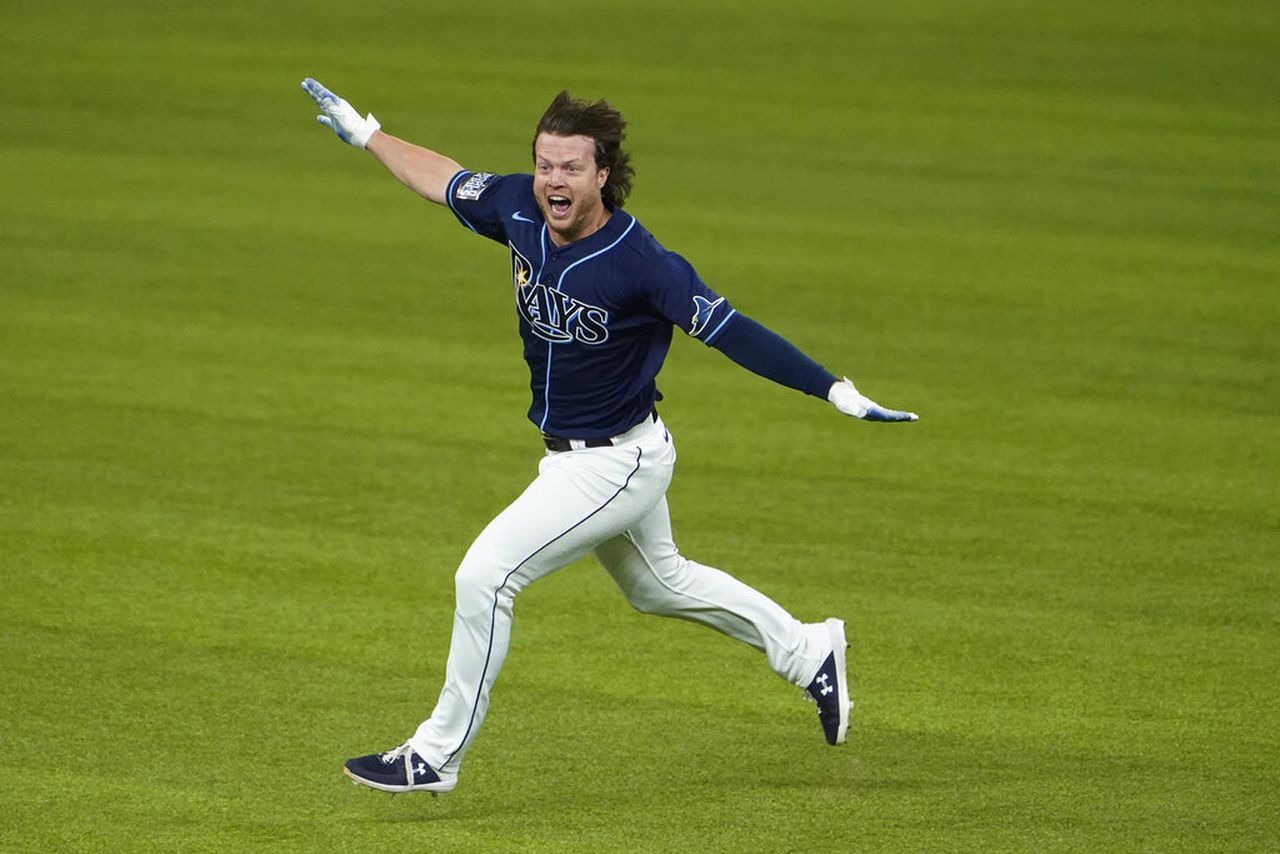 The Tampa Bay Rays have levelled the World Series at two games apiece with a 8-7 victory over the Los Angeles Dodgers in Game 4.
Trailing 7-6 entering the bottom of the ninth, Rays pinch-hitter Brett Phillips singled off of Dodgers closer Kenley Jansen to tie the game and after a pair of Los Angeles errors, Randy Arozarena eventually came home with the winning run.
The game featured three lead changes in the final four innings with the two teams combining for six home runs. John Curtiss picked up the win while Jensen took the loss, although his defense is as much to blame as he is.
Dodgers get off to a fast start
For the second straight game, Justin Turner put Los Angeles ahead early when he took a 2-0 cutter from Tampa Bay starter Ryan Yarbrough and deposited it over the center-field fence to give the Dodgers a 1-0 lead.
With starter Julio Urias cruising through the first two innings, the NL champions doubled their lead as Corey Seager blasted his eighth homer of the playoffs into right field. Yarbrough was pulled after giving up a fourth-inning double to A.J. Pollock.
Arozarena would continue his incredible playoff run with his ninth long ball to cut the Los Angeles lead in half in the bottom of the fourthm but the Dodgers got that run back in the fifth when Max Muncy drove in Seager with a single to make it 3-1.
Teams trade blows in middle innings
Again, the Rays would respond as Hunter Renfroe crushed a 444-foot home run off of Urias to pull Tampa Bay within 3-2. Diego Castillo came on for the sixth and surrendered an RBI single to Enrique Hernandez as Los Angeles again doubled their lead.
Pedro Baez relieved Urias and after putting two men on, struck out pinch-hitter Manuel Margot, but he gave up an opposite-field, three-run dinger to Brandon Lowe, his third of the series and Tampa Bay had their first lead of Game 4 at 5-4.
Aaron Loup started the top of the seventh and gave up a single to Seager and a double to Turner before striking out Muncy. Nick Anderson was next to be summoned out of the Rays bullpen and he blew Will Smith away until pinch-hitter Joc Pederson lined a single off of the outstretched Lowe's glove to give the Dodgers a 6-5 lead.
The lead wouldn't last long as Kevin Kiermaier tied the game with a homer off of Baez to tie the game again at 6-6 after seven innings, setting the stage for one of the most memorable finishes in World Series history.
Dodgers take the lead, commit two costly errors as Rays claim improbable win
Chris Taylor led off the top of the eighth with a double off of Anderson and after Hernandez failed to bunt him over and Mookie Betts, Seager blooped a single into left field, scoring Taylor to put the Dodgers ahead 7-6.
The Rays got two men on in the bottom of the eighth, but Renfroe flew out and after Curtiss, who relieved Anderson and got the final out of the eighth, pitched a scoreless ninth, Tampa Bay went to work against Jansen.
Yoshi Tsutsugo would strike out to lead things off, but Kiermaier singled after shattering his bat. Joey Wendle made the second out, and Arozarena walked, pushing Kiermaier down to second, leaving it to Phillips, who hadn't gotten a hit since September 25th.
With two outs and two strikes, the former Kansas City Royal singled into center field, scoring Kiermaier to tie the game. Taylor mishandled the ball, unable to field it cleanly, but he did make a good throw in to Muncy, who fired it home.
As he was rounding third, Arozarena tripped and fell and when Smith got himself in position to field Muncy's throw, it looked like the Rays superstar rookie would be caught in a rundown, but in an improbable turn of events, Smith failed to field the ball as he turned to see where Arozarena was, allowing him to score as the ball got behind him.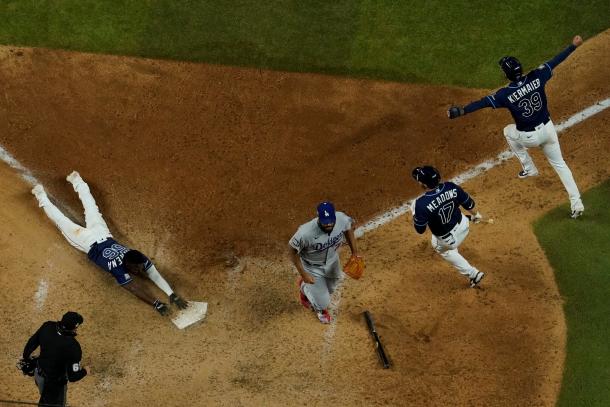 Looking ahead to Game 5
In a rematch of the Game 1 starters, Clayton Kershaw will get the start for the Dodgers while Tyler Glasnow will be called upon by the Rays.
Kershaw was masterful in Los Angeles' Game 1 victory, tossing two-hit ball over six innings while striking out eight. Glasnow matched the Los Angeles lefty with eight K's, but gave up six runs while throwing 112 pitches.
Quotes
Phillips: "I think everyone in that situation wants to be up there and be the man. And that's exactly what was going through my head. The next thing I know I had no energy or breath left to yell. I don't know if i'm going to sleep."
Kiermaier: "I'm at a loss for words. I don't know if anything like that has ever happened, especially in the World Series. I don't know if we'll ever see it again."
Notes
This was the first game in postseason history in which there was at least one run scored in eight straight half innings.
Turner became the first player to ever homer in the first inning of consecutive World Series games.
The Dodgers 15 hits was the second most ever for a losing team in a World Series game.