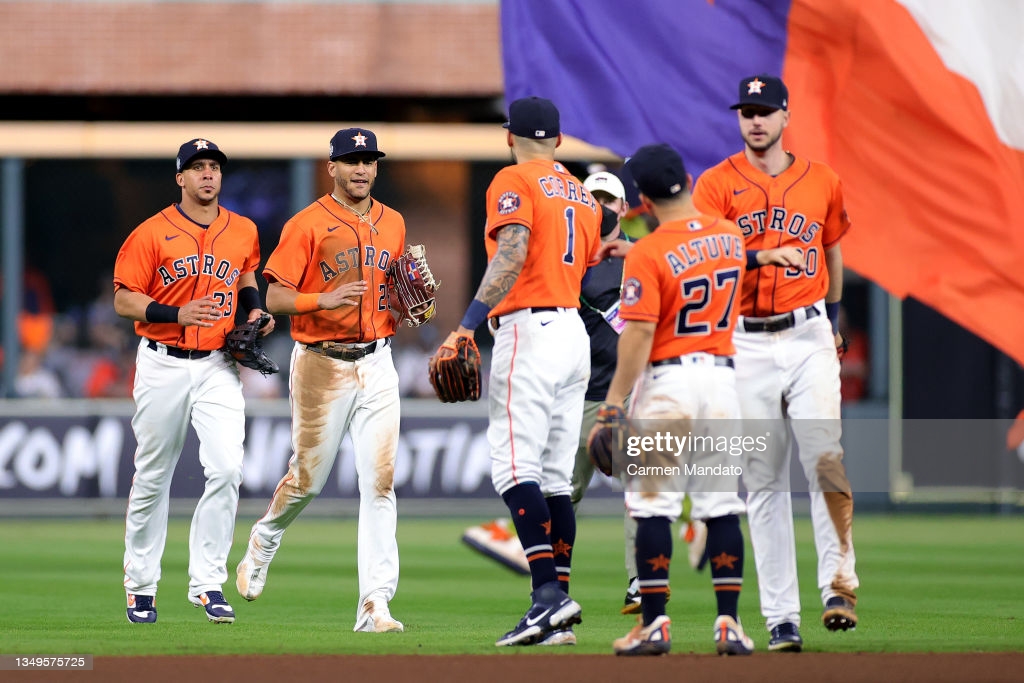 The Houston Astros have evened the 2021 World Series at one game apiece with a 7-2 victory over the Atlanta Braves at Minute Maid Park.
Jose Urquidy delivered five solid innings, allowing just a pair of runs on six hits with seven strikeouts and no walks. Jose Altuve snapped out of a 3-for-29 slump with a double and home run.
"They knew that we needed that game", said Houston manager Dusty Baker. "And the roof being open, I mean rarely is it open. Usually it's not that cool.
"Usually it's humid and muggy and you welcome the roof closed. So it was different."
Braves starter Max Fried gave up six runs and seven hits over five innings to take the loss.
"Obviously, i'm not happy about it", he said of his outing. "Playoffs is a big momentum game. You got to do everything you can to keep the crooked number off the scoreboard.
"At the end of the day, they put up four runs in that inning. You need to do better next time, just making pitches, getting out of it."
Story of the game
Altuve hit a leadoff double that set up the Astros' first run in the first. The score was tied in the top of the second on a solo home run by Travis d'Arnaud.
Kyle Tucker, Yuli Gurriel and Jose Siri reached on three straight ground-ball singles, the last of which scored a run to put Houston in front for good.
Martin Maldonado singled through the hole on the left side of the infield, Gurriel scored from second and Siri from first, thanks to a throwing error by Atlanta left fielder Eddie Rosario that went to an uncovered third base to make it 4-1.
After one more ground-ball RBI single from Michael Brantley with two out, the Astros had jumped out to a 5-1 lead. Fried was able to pitch into the sixth inning and give the Braves bullpen a much-needed rest in the wake of Charlie Morton's injury.
"It wasn't like [Fried] was getting banged around", stated Atlanta manager Brian Snitker. "Balls that found holed, checked swings, we threw a ball away. It was just a weird inning."
Atlanta made it a three-run game when Freddie Freeman singled in a run in the fifth. Houston added on when Yordan Alvarez scored on a sixth-inning fielder's choice and Altuve capped the scoring with a solo shot off Drew Smyly that went deep into the Crawford Boxes in the seventh.
"I would say it was a must-win today", said Altuve. "We didn't want to go to Atlanta down by two. So we left everything we had in there tonight. Obviously, very important win to tie the series".
Game 3 look-ahead
The series shifts to Atlanta for the next three games with Game 3 scheduled for Friday night. Luis Garcia will get the start for Houston. He's given up 10 runs in 9 2/3 innings this postseason.
He did pitch 5 2/3 innings of one-hit baseball in the ALCS clincher against Boston.
Ian Anderson will take the mound for Atlanta. The right-hander owns a 1.47 career postseason ERA and 2.25 in the 2021 playoffs despite only going past the fifth inning in one of his three starts.
First pitch is at 8:09pm ET on FOX with Joe Buck as the play-by-play man, John Smoltz as the color analyst and Tom Verducci and Ken Rosenthal handling on-field interviews.