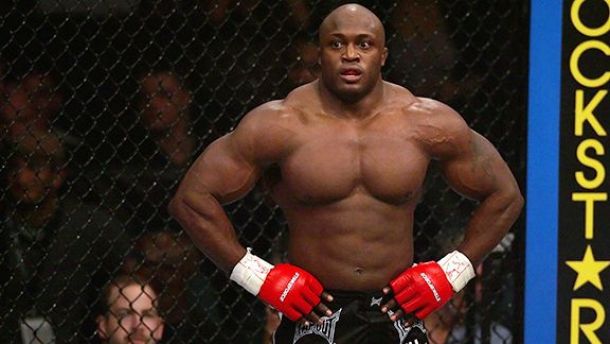 It was announced on Monday that TNA and Bellator MMA star Bobby Lashley (12-2) will return to the cage on June 19th at Bellator Unfinished Business. Also local addictions have been added to card which includes both a new strawweight and welterweight scrap. These are both included on the card that will air live on Spike TV from the Scottrade Center from St. Louis, Mo.
The former TNA Heavyweight title holder (well it could be his again but we aren't sure because the shows are taped) Bobby Lashley was scheduled to fight for Bellator back in February but had to pull out due to injury. The two sport mega star will face James Thompson (20-14) who was his original opponent for the British Invasion card. People will think this is a pro wrestling match as these two guys are more of the put together heavyweights in the world. Each fighter is on a five fight win streak so this should be an explosive match that you can't miss.
Later that day it was announced that local Missouri prospects Dan "Johnny Irish" O'Conner (5-4) will face Miles McDonald (0-1) in a straweight affair. Connor is a submission specialist but has participating in boxing events as well. McDonald first professional fight was a loss by armbar so that will be something to keep an eye out for.
Each making their Bellator debut is Iowa's Steve Mann (10-1) matching up against Colorado's Justin Guthrie (17-8). Mann is a finisher who has never fought past the first round. Eight of his ten wins come from submission. Guthrie is an well rounded fighter who has shown the ability to go the distance in battle. He looks to get back into the win column after two losses.
More local fighters have been announced on the upcoming card and we should see match ups in the upcoming weeks. Bellator: Unfinished Business is headlined by a heavyweight fight between Kimbo Slice and Ken Shamrock. The co main in a fight for the featherweight title between Patricio Pitbull and Georgi Karakhanyan The updated card is displayed below.
"Bellator: Unfinished Business" – Friday, June 19, Scottrade Center, St. Louis, Mo.
Main Card on Spike (9 P.M. ET)
Bellator Heavyweight Main Event: Kimbo Slice (4-2) vs. Ken Shamrock (28-15)
Bellator Featherweight Championship: Patricio Pitbull (23-2) vs. Georgi Karakhanyan (24-4)
Bellator Heavyweight Feature Fight: Bobby Lashley (12-2) vs. James Thompson (20-14)
Bellator Lightweight Feature Fight: Michael Chandler (12-3) vs. Derek Campos (15-4)
Preliminary Card on Spike.com (7 P.M.. ET)
Bellator welterweight prelim fight: Steve Mann (10-1) vs. Justin Guthrie (17-8)
Bellator strawweight prelim fight: Dan O'Connor (5-4) vs. Miles McDonald (0-1)