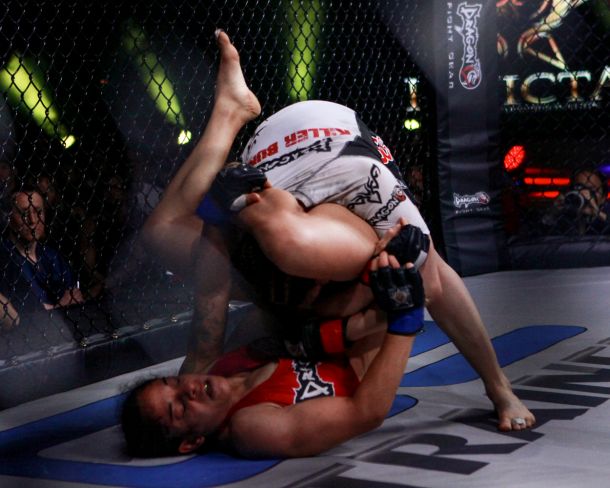 In what could clearly go down as one of the best grappling matches in some time Livia Renata Souza (8-0) pulled off an impressive submission victory over Katja Kankaanpaa. The ability to change guard and positions seemed to come naturally for the young Brazilian as she frustrated Katja the entire night. One of the most impressive things about the exceptional grappling was her ability to endure the strong ground and pound of the now former champion. She is the new strawweight champion in Invicta and will be a tough out for any of the women uncomfortable with their grappling ability. In the co main event Vanessa Porto put on a striking clinic as she leg kicked her way to an unanimous victory over the surging Roxanne Modafferi. It was a great night of fights for the pound for pound best promotion in the world for women's mixed martial arts.
Livia Souza's first trip to America will surely be memorable. She faced the highly well rounded Katja Kankaanpaa and after a few exchanges the grappling clinic ensured. Both of these ladies showcased their high caliber wrestling and BJJ and from the start we could tell Livia was just one step ahead of the former champion. There were multiple times when Livia jumped guard and with her tiny frame was still able to drag down Killer Bunny but at first could not finish. In the third round her pace was just too much for Katja and she couldn't deal with the pace of Souza. However, we saw some glimpses that she would not be going away easy. Unfortunately, that was not the case and the fourth round felt similar to the first two and a second attempt at a triangle choke sealed the deal, giving us a new champion in the strawweight division for Invicta. With Stephanie Eggink out raising a child it's possible we could see Alexa Grasso get a shot at the champion. Regardless, the 115 division in Invicta is still very strong and gives hopes to what is to come.
Vanessa Porto (18-6) told us she was very excited to get a chance to face Barb Honchak and not only avenge her loss but grab the 125 strap. If she puts on a performance like the one against Roxanne Modafferi (17-12) then we may possibly see a clean sweep of titles occupied by Brazilians in Invicta. Roxanne started off great by showcasing her now patent footwork and picking up a multitude of strikes and landing kicks. Vanessa brushed them all aside and after a few exchanges she went on the attack, landing flawless inside and outside leg kicks. They eventually took their toll and slowed down Roxanne tremendously. Rounds two and three went similar even with Modafferi landing a few flurries to the Brazilian. When it was all said and done it was a dominant victory for Porto and we should get a hell of a match once again between her and Honchak.
Faith Van Duin (5-1) made a great first impression in her Invicta debut by beating the always exciting Amanda Bell (3-3). Seriously one of the best walkouts in all of MMA belongs to Bell. Unfortunately, her intensity may have been her undoing. She shot out like a cannon on Faith and was immediately taken down. She worked her self out of trouble and did a great job escaping guard to land a few blows. Faith trusted her grappling and once again late in the second she was able to get behind the back of Amanda and pull off the rear naked. These two ladies are still a force in the 145 division and we are sure Bell will come back stronger than ever. Faith called out Cyborg after the fight to make you know understand where her focus is. Only time will tell if she has the ability to beat the 145 champion.
When you think of the fight of the night just look at the fight between Ediane Gomes (10-4) and Raquel Pa'aluhi (5-4). Raquel showed why so many people are big on her abilities as she outmatched Gomes in striking and also showed a dominant ground game during the process. Ediane brought the fight to her in the second round and had pressed Raquel's head against the cage while she was on the canvas. Pa'aluhi regrouped and finished the second and third round in an impressive manner. This gives us many reasons to be excited for the 135 division as she, Irene Aldana or Tonya Evinger are at the top of the list and should provide us a great match up for the bantamweight title.
Latoya Walker (5-0) may have made the impression of the night with an outstanding stand up performance against Peggy Morgan (3-3). Her head movement and hands made the difference . She easily won all three rounds and almost finished Morgan late. If anyone in the 145 division showed they have a skill set that could give anyone problems it is her. Her boxing is at another level that women in the division can't match. Her ability to get under the range of Morgan and frustrate her was quite impressive to see. When you think of women who could give the champ an issue it would be one with a dominate skills set. Latoya proved she has that ability and we can't wait to see who she matches up with next.
In really one of the more dominant performances of the night Lacey Schuckman (11-8) had her way with Jenny Liou (3-2). Lacey had no issue messing it up on the feet and hurt Jenny early with a great hook. The damage continued as Lacey never let up. She wobbled Jenny but hesitated and took her time. It really didn't matter as a couple more blows sealed the deal for her to win by TKO stoppage. What a debut for Schuckman and we can't wait to see her perform again.
If you missed the flurry that is Sharon Jacobson (3-1), then all we can say is wow. You really have to give it up for Delaney Owens (3-2), who was able to endure the early assault and finished the first round strong. As Sharon slowed down in the first round Delaney began to find her range and almost pulled off an armbar. Sharon escaped but Delany continued to press and was able to win the second round. In the third Jacobson got her second win and sealed another strong round to pull off the victory. Her pace will be tough to deal with and if she is truly wrestling with the light of Sara McMann then her wrestling will give her an advantage in most matchups.
There was also a great second fight between Shannon Sinn (2-2) and Maureen Riordon (0-2). Both ladies really left everything in the cage. The stand up battle favored Sinn which was surprising but soon Riordon was able to put together some nice combinations and and she took the second round. Still, the fight seemed to favor Sinn as she consistently landed shot after shot which found its mark. The third round was very close, but Shannon did just enough to pull off the win. She really looked great and continues to improve her hands. It truly had FOTN potential.
In the first fight for Sijara Eubanks under the Invicta promotion she was able to to defeat Gina Begley with ease. Both ladies found minimal success on their feet but soon Eubanks was able to land a successful takedown and it was all she needed to get dominant position. Gina tried to escape but felt the wrath of the ground and pound of Eubanks and the fight was called off by referee John McCarthy. Eubanks still needs to improve in the hands but will be a force to reckon with in the division.
The full results for Invicta FC 12 are listed below:
Livia Renata Souza def. Katja Kankaanpää by submission (triangle choke). Round 4, 3:58 – for strawweight title
Vanessa Porto def. Roxanne Modafferi by unanimous decision (30-27 x3)
Faith Van Duin def. Amanda Bell by submission (schoolyard choke). Round 2, 0:38
Raquel Pa'aluhi def. Ediane Gomes by unanimous decision (29-28 x3)
Latoya Walker def. Peggy Morgan by unanimous decision (30-27 x3)
Lacey Schuckman def. Jenny Liou by TKO (strikes). Round 1, 1:53
Sharon Jacobson def. Delaney Owen by unanimous decision (30-27 x3)
Shannon Sinn def. Maureen Riordon by unanimous decision (30-27, 29-28, 29-28)
Sijara Eubanks def. Gina Begley by TKO (strikes). Round 1, 4:59