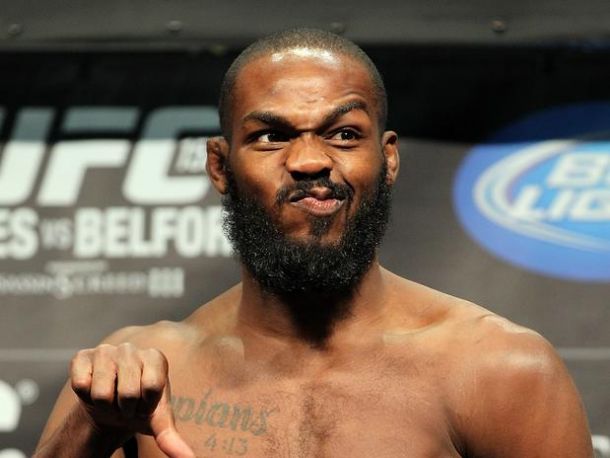 As of now the Albuquerque Police Department has Jon Jones in custody. According to the police report an off duty cop and a few bystanders witnessed Jones fleeing a three car accident on foot. Albuquerque PD spokesman Tanner Tixier confirmed to ESPN.com that Jones struck a car that contained a 25 year old woman who has sustained multiple injuries including a broken arm. An warrant was made for Jones arrest early this morning of which now he has turned himself in. In the early stages of this it was rumored that Jones has been taken off the upcoming UFC 187 card on May 23rd. The UFC made a statement late Sunday night so we should know in the next 48 hours what direction they choose to go for next months pay per view.
The story originated on Sunday afternoon when popular mma insider "Front Row Brian" issued a tweet saying that Jones was out of UFC 187. The rumor mill went wild and twitter exploded with theories and accusation that also involved drugs at the scene of the crime. While it was not cocaine as many suggested police did find a marijuana pipe that has marijuana in it with the rental car Jones occupied.It was also mentioned that Jones returned to the car to retrieve a wad of cash. While not as bad as coke it will be curious to see what Dana White and the UFC says regarding this is one of many times Jones has been surrounded by drug use.
Jon Jones (21-1) is a very polarizing figure in the world of mixed martial arts. He is still scheduled to face Anthony "Rumble" Johnson (19-4) at UFC 187 but it is clear that the fight may be in jeopardy. More details should come out in the next few days on the direction both the ABPD and UFC take.
Jon Jones was recently in the news for failing a drug test prior to his fight in back in December. He tested positive for cocaine metabolites in his system after his bout with Daniel Cormier. In 2012 Jones pleaded guilty to a DWI charge after he crashed his Bentley in Binghamton New York. No stranger to run ins with the law Jon Jones will have a lot to answer for in the coming days. The question on everyone's mind is should the UFC strip the title and or fire the fighter. TJ Desantis from Sherdog.com made a smart comment today in saying that is the UFC was to fire Jones he could possibly got to the compettion which would hurt the brand. For now we have pissed off fans , "i told you so" comments and every fighter in the top ten of the 205 division making a claim. More than likely we are stuck in wait and see mode as more details come to surface. We will revisit this once more information is made available.