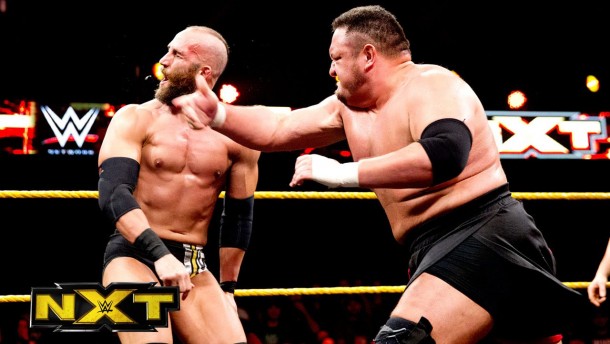 Baron Corbin def. Tye Dillinger
NXT kicked off this week with the Lone Wolf, Baron Corbin taking on the Perfect 10, Tye Dillinger in what was effectively a squash match to continue the build to the highly anticipated Corbin vs Apollo Crews match.
Crews was given a similar spot last week where he dominated and looked strong heading into Takeover and this week was the heels turn, Corbin dominated from start to finish hitting several big power moves to knock the wind out of Dillinger's sails.
Whilst Dillinger did manage to take the big man down, it was all very brief his minute of offense was quickly stopped by Corbin hitting end of days and the match was over after several minutes.
Analysis: It was done simply to make sure Corbin and Crews continue on the same path to make sure they are at the same level heading into Takeover:London in what is becoming a difficult match to predict.
The Lone Wolf has grown in ability and confidence greatly over the past few months and deserves the spot he is working in currently, his heel mannerisms throughout the match worked perfectly in riling the crowd, whilst Dillinger was fine in the spot he was given.
Note: They announced that next weeks main event would be Corbin and Samoa Joe teaming up to take on Finn Balor and Crews, that should be an exciting and entertaining main event.
Nia Jax def. Blue Pants
Blue Pants made her NXT return, featuring new entrance music to take on the rising force in the NXT women's division, Nia Jax in what was a very similar match to the one we had just witnessed, a squash.
Jax was made to look dominant and powerful as she tossed Blue Pants around the ring with ease to earn herself a very simple and comfortable victory, pinning her with her foot to show her confidence.
Analysis: It was a smart way to continue pushing Jax who seems to be heading for a title opportunity, she made light work of a popular and talented talent in Blue Pants.
As far as Blue Pants is concerned, her new theme song didn't seem to be quite as enjoyable as her previous one, whilst the change was very suttle it wasn't needed, however something that is needed is WWE to sign her on a permanent deal and give her some actual character development, the fans love her and she has the in-ring ability, it makes sense.
Interview with Scott Dawson and Dash Wilder
The NXT Tag Team Champions were interviewed regarding their recent behavior and aggression but the champs believed that it's the consequences of their actions that led to them becoming champions.
When asked about the return of Team SAWFT they referred to them as the 'catchphrase kings' and said they were cheap in attacking them after a title match, it was then revealed they will defend the titles against them at Takeover, which they found strange given they've done nothing to earn it after the injury, they wrapped up by threatening to break Colin Cassady's leg.
Analysis: It was a strong backstage promo from the champions who look and sound confident, they are one of the best teams in the entire WWE right now so it's good to see them being used so well.
Regarding the title match, it was expected after last weeks return but the champions made a good point about what they have actually done to earn the shot, especially when Jason Jordan and Chad Gable have been dominating the division.
James Storm def. Adam Rose
Adam Rose entered the ring first by cutting off his music and walking in silence to the ring (with the NXT fans singing his song for him) his opponent saw the return of James Storm to NXT, which the fans at Full Sail were happy with.
It was yet another quick match on a show that was full of them, with Storm continuing his winning streak since debuting in the WWE beating Rose comfortably before celebrating with the fans.
Analysis: It was good to see Storm back at NXT, there have been rumors he hasn't signed a contract with the company yet, but his second appearance should see those go away as it's likely he was just wrapping up pre-booked independent dates before committing.
Storm now needs a storyline and a rivalry to showcase his full potential and allow NXT to get the most use out of his experience, for Rose he continues to struggle with his career really hitting a standstill as of late.
Jordan & Gable def. The Vaudevillians
Before the match began we were treated to a backstage segment between the two teams as the former champions explained how they were desperate to get back to winning form until Jordan and Gable showed up to let them know how great they thought they were.
Analysis: Simple promo between the two teams which showed mutual respect before hand and got the fans ready for the match, there was a funny line to end with Jordan and Gable doing the, " ready, willing and Gable" line, with The Vaudevillians adding "and manly" to the end of it.
The match itself started with Gable dominating with his technical ability until he was thrown over the top rope to allow the manly duo to take some control in the match, until Jordan was tagged in to clean house and set up the assisted belly to back for the win.
After the match the upcoming team offered to shake hands with The Vaudevillians who opted against the idea to walk out on them, showing their frustration at yet another loss.
Analysis: The match was showing potential to be great but was just cut too short, the ending was interesting with The Vaudevillians not shaking hands, this could be a start of a heel turn for them to change up the team a little and keep them fresh.
Emma def. Liv Morgan
Emma and Dana Brooke started backstage before the match began, continuing their story with Asuka as they told her she had "messed with the wrong girls" and that last week was simply a "warning".
The matchup itself was yet another quick and simple bout to give someone who will be competing at Takeover the push to ensure they look stong heading into the event with Emma dominating the match with a very physical and aggressive performance.
Following the match, Asuka appeared with a kickboxing bag to simply say, "see you in London, Emma" alluding to the fact that the pair will be having a match at the upcoming Takeover.
Analysis: Emma is growing into one of the most fascinating characters on NXT television, her re-imagination of herself to a more darker heel has been done brilliantly and the fact it's translating into the ring is fantastic, the match between her and Asuka has great potential if given the time.
Backstage segment with Bayley
This was a simple way of setting up the NXT Women's Championship match for Takeover as Bayley was interviewed about having a target on her back now she hsa the belt, but she stated how she would defend it and this led to Jax challenging for the belt before simply leaving, only to return to take out the champion.
Analysis: The match is set for Takeover:London and should be a very interesting matchup, Jax has impressed since debuting and Bayley is the number one women in NXT, but this author is interested in what role Eva Marie will play, as it seems odd that they would just end the partnership after one week.
Main Event: Samoa Joe def. Tommaso Ciampa
Full Sail were treated to a short but fun main event as the pair went at it in a fast paced matchup, with Joe eventually defeating his challenger to make sure he continues to look strong going into his title match.
Joe started the match in sheer control, working the shoulder of Ciampa to set up for the coquina clutch, but several big slaps and shots from Ciampa saw him get right back into the match as he went blow for blow with the Samoan beast.
It would take a huge kick to the face and the fastest and smoothest scoop slam that this author has ever seen for the number one contender to regain his control, which led to the muscle buster and coquina clutch to wrap up the match and the night, as Joe screamed "BALOR."
Analysis: It was all relatively simple as a way of making Joe look good and seem like a realistic challenger, which he is. Ciampa managed to come out of it looking good too and his offense was good to see.
Score: 6.5/10
Last Week: 8.5/10
Whilst the show was weaker than the previous week, it was always going to be difficult beating such an action packed edition that featured two title matches and a contract signing, the amount of short matches hurt this weeks show but it was effective in ensuring talent look good going into Takeover.
There was three more matches confirmed for Takeover:London, making a card that looks incredibly strong and given the talent that is working the night it has the potential to be a very special night of wrestling.
Seeing talent like Storm and Ciampa get in the ring and showcase their ability was good to see and hopefully they continue to get pushes within the brand, another tease was given for the return of Sami Zayn, one of NXT's biggest stars, a return at Takeover could provide a very big pop.
Moment of the night: The main event stole the show, on a night of short matches this seemed to go on longer than most and given the time they had the two guys worked very hard to make it work, both men walked out looking better than they did going in so it was a success.
Star of the night: Emma- One of the best female talents in the entire company, Emma has huge potential and the changes she has made since returning to NXT have been brilliant to see, if she continues with this a title match wont be far away, her match with Asuka has the potential to be a show stealer considering the talent of both women.