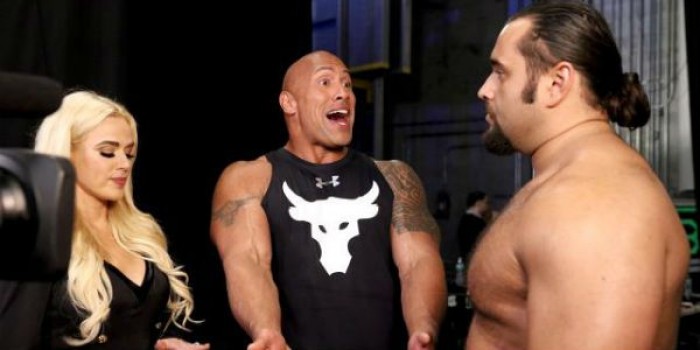 The company have today responded to claims of sexism from a member of the media, who accused the WWE of having their baby face characters, described as hero's as people who portray and promote sexism, leading to people questioning their morals and decisions.
Two storylines this week led to these outbursts, and it has forced the WWE to release the following statement:
"WWE programming, which features fictional characters that cover a range of personalities similar to movies and television shows, tells stories of good versus evil. In addition, as our on-going storylines develop, we will continue to position women as both strong competitors and compelling individuals."
Controversial Stories
The first storyline that created controversy featured two time Hall of Fame legend, Ric Flair, after he forced himself upon Diva, Becky Lynch at the Royal Rumble in the Diva's Championship match, a moment that created widespread negative backlash on social media.
Flair has been portrayed as a man who will do anything to win throughout his career, a trait which earned him the nickname of being the dirtiest player in the game, but the moment when he decided to kiss Lynch to give his daughter Charlotte the advantage at the Rumble was simply just dirty in the eyes of most fans.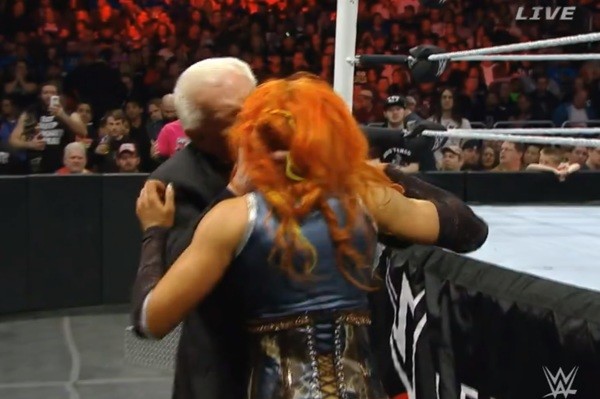 Whilst the WWE may have been able to get away with such ideas during the more controversial attitude era, the fact Flair is old enough to be her father, and with his own daughter involved in the segment seemed to be too far for most.
The second storyline included the surprise return of The Rock, who walked through the backstage area on his way to the ring during his return, interacting with several superstars on the way, but it was his moment with Lana that stirred the WWE Universe once again.
Rocky insinuated that there had been sexual encounters between the two of them previously during his speech, and unfortunately for the WWE, this isn't the first time Lana has been treat in this manner, as she has also felt the brink of both John Cena and Ryback's sexual jokes, at her expense.
Even though fans are always looking for the creative team to push the boundaries and create controversial, must-see television, the fact that they're doing so in such a manner is something that sparked some criticism.
Of course, with the WWE currently attempting a Diva's revolution, having content such as this undermines all the hard work the female talent has been putting in to the actual wrestling aspect of their work, and makes fans question how serious the company does take them.
The situation of course, is unlikely to go any further, but the fact WWE felt they needed to release a statement shows just how serious the WWE Universe felt the situation was, and perhaps storylines such as these may not appear on WWE programming again anytime soon.